Accent walls are an excellent way to add a luxurious feel to a room or even a hallway.
When you're tired of the same old walls and want to freshen up your space, consider some of these accent wall ideas for a luxurious decor lift.
Wallpaper with geometric patterns will add visual interest, texture and depth to a room, as well as hide imperfections you may have.
There has always been a vast choice of styles and colors but with the latest technologies and creative minds there are choices that can add wow factor like never before, so you're sure to find something that suits you.
The right modern wallpaper accent wall can instantly make your home look more luxurious and elegant. Think about giving it a try?
We gathered some magnificent accent wall ideas to give you some inspiration.
Let's look at some modern wallpaper accent wall ideas that will add some luxury style to your rooms!
Add a luxurious accent wall with wallpaper panels on a single wall
Many years ago, it was common to see all 4 walls of a room covered in wallpaper. In most cases, it's just too much. This method of decorating gave wallpaper a bad wrap.
Wallpaper became a no-no because it usually the room feel smaller and in many cases just tacky.
Today, wallpaper is often used to create modern, beautiful accent walls.
It can break up the monotonous look of 4 walls that are all painted the same color.
Wallpapering a feature wall in your bedroom, dining room, living room, or your hallway and make it a luxurious focal point.
Your wallpaper accent wall can be subtle, loud or somewhere in-between.
Use a contrasting color for visual impact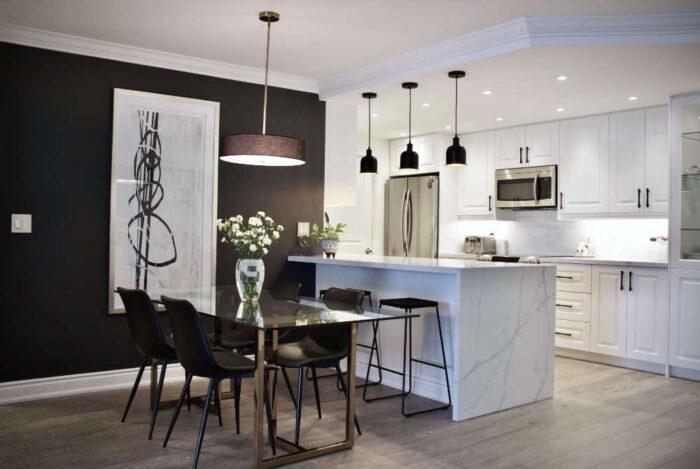 A dark contrasting paint color might be just the thing your room needs. It's simple but it can be dramatic and luxurious looking.
Add a framed picture or beautiful wall decor and you are done.
The decision to choose what color your wallpaper design will be can contribute to a sense of luxury and calm, no matter the style.
Light wallpapers such as off-white, creamy white or beige can allow natural light to reflect and create a more natural feel. For a more dramatic effect, these lighter shades should be paired with dark contrasting colors.
Add luxury to bathrooms
Bathrooms tend to be the one place where you can't escape from the outside world.
That's why some people go as far as to install specially designed wallpaper on their bathroom walls.
They might not seem like they need any more luxury, but it can still help make your bathroom feel like a little haven.
A room with a calming atmosphere has the ability to relax and unwind people.
By choosing wallpaper with textures such as sandstone, pebbles, marbles or terrazzo and adding a pop of colour with bright florals, it can create a space that is inviting and soothing.
You can even decide to go for a scenery style – imagine the feeling of a shower where you seem to be under a waterfall, deeply infused in nature.
Choose the fabric of wallpaper wisely
Choose wallpaper that's easy to install and remove.
There is a range of options whether you want wallpaper that has a cool, smooth finish or somewhere more breathable and soft.
All of these will can create an elegant and luxurious ambience.
Get creative with wallpaper placement
Wallpaper looks really effective when used to decorate frames or sides of drawers.
Wallpaper can add a dramatic and customised touch to any space in the home.
It transforms from being a necessary design element, to being an accessory that captures your own personal style.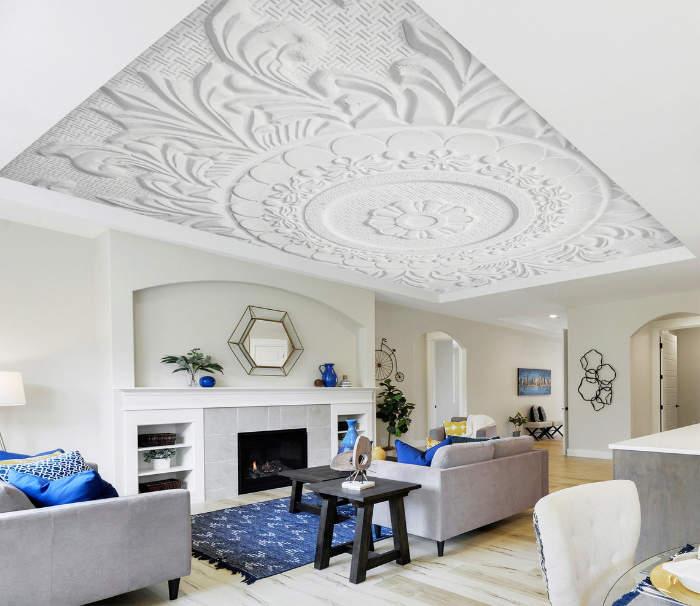 The ceiling is a hidden space that often goes overlooked. But when you really think about it, it's a blank space just waiting to be transformed into something beautiful.
Ceilings have the potential to add much-needed height, especially in small living spaces or bathrooms.
They can add much-needed privacy when placed over a bedroom or office desk.
How to Pick the Perfect Wallpaper Designs For Your Home
Picking the perfect wallpaper designs for your home can be a daunting task with all the different patterns, textures, and colors to choose from.
Luckily there are some great tools out there that will help you find the perfect design for your home.
With these tools you can upload pictures of your space and get suggestions for what designs might work best.
You can also browse through different designs to see what catches your eye.
Remarkable Wallpaper Panels
Wallpaper panels are a great way to add a unique and personal touch to your home.
They are also a cost-effective way of decorating because they can be easily removed and replaced with new designs.
Mind Blowing 3D Wallpaper Accent Wall Ideas
We know that walls are not just for displaying family photos or posters right?
Talk about visual impact… In this sense, 3D wallpaper is more of an interior decorating tool than anything else.
It allows you to customize your living space down to the minute detail and it's something that will really impress your guests as well!
The idea of 3D wallpaper may sound a bit abstract, but it's a new innovation that goes a step further than traditional wallpaper accent wall ideas.
It really pushes the bounds of what we think of as personalizing how we feel about spaces everyday.
You can go with something simple or bold, modern or traditional, or even opt for wallpaper that has a little bit of everything!
The wallpaper above would be spectacular in the right setting.
A large loft would be ideal or any large space where it wouldn't overwhelm the room.
Any room can be transformed by wallpaper
Adding pattern, color, and texture to walls can change the look and feel of a room in a way that paint simply can't.
The size of the room is not a constraint either; wallpaper ideas do not have to be restricted to large rooms.
A little bit of wallpaper can make a big difference in a small space.
In spite of the fact that papering can look amazing, it can be expensive so you want to make sure you get it right.
The best advice is to try a sample before you commit!
Everybody tries paint samples before they paint their walls but many people don't apply the same logic to purchasing wallpaper.
Before buying several rolls of wallpaper, it's a good idea to source out some samples.
Wallpaper samples should be viewed in natural light, to get a sense of the texture and colour of the wallpaper.
Almost all good retailers offer samples of their wallpaper.
You can plan your coordinating paint colors better when you have a sample.
Patterned wallpaper is not the only option
It is not necessary for wallpaper to be heavily patterned in order to be effective.
Adding colour and texture to any room is as simple as buying a plain, pretty wallpaper.
Subtle wallpaper can be a great alternative to paint to break up the monotony of 4 painted walls.
When it comes to small spaces, a common misconception is that colour and pattern should always be avoided.
When done correctly, however, this is not always the case.
There are some bold patterns that will look amazing in larger rooms like living rooms, but they can be overwhelming in a small bathroom. In this case try to choose wallpaper with smaller scale patterns.
Another way to avoid the wallpaper pattern becoming overbearing in a small room is to panel the lower part of the room and add wallpaper to the upper portion of the walls.
Since we are talking about accent wall ideas, you could consider using a big bold pattern on just one wall of your small bathroom. That can be spectacular.
Choose the right wallpaper for humid areas
We often fear wallpaper will not be suitable for environments with high humidity, including kitchens and bathrooms.
You just need to choose a wallpaper designed for damp and steamy environments.
If you want a wallpaper that will last in humid areas, search for vinyl finishes and wipe-clean surfaces.
To wallpaper a bathroom or kitchen is typically a much less expensive alternative to tiling.
Wallpaper is a design element that is often overlooked by many homeowners.
But, it is one of the best accent wall ideas and it can make a huge difference by adding a unique and luxurious touch to your home.
Some people take wallpaper off the list of considerations because the very idea of installing the wallpaper is just too intimidating.
There are many wallpapers that are easy to install and don't require pattern matching but if want nothing to do with it, a handyman can save you from this burden for a nominal fee.
Whatever you choose to do, there are plenty of accent wall ideas available to help you create the perfect look for your space can give your home an easy luxurious upgrade.
10 Online Stores That Sell Remarkable Wallpaper
Interested in the latest trends in the design world? Check out these 10 sources that sell remarkable wallpaper panels.
For more accent wall ideas, also check out 'The Coolest Accent Wall Decor Ideas for Your Home'
Watch the 3D Wallpaper Youtube Video