Should You Go DIY When It's Time To Remodel The Kitchen?
There's no question that the quality standards that people expect in a home are far beyond what they were just a few years ago especially when it comes to kitchens. It likely has a lot to do with the popularity of all the renovation shows on HGTV.
Real estate professionals often say, "The kitchen sells the home." This has been common knowledge for a long time but expectations are more sophisticated and the cost of building a kitchen that "wows" buyers is much, much higher.
Many house hunters look at the kitchen as the focal point of the house. You will need to carefully plan and budget to remodel the kitchen whether you intend to sell your home or build a culinary dream kitchen for yourself.
If you have decided to remodel the kitchen, it's important to understand the scope. It is a very complex project to undertake. If you have lived through a kitchen remodel before then you know what we are talking about. You might even be thinking about doing the remodeling work yourself to save money and perhaps hiring tradespeople for some tasks like wiring, plumbing and tiling.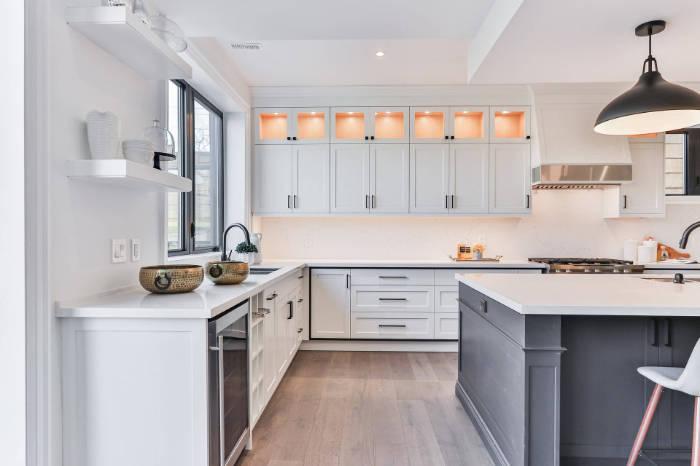 If you are considering DIY for your kitchen remodel let's take a look at an outline of what a contractor actually does and then you can decide whether you're up for the task.
Do I need a General Contractor?
Hiring a general contractor is a great way to get the kitchen of your dreams. Unlike you, who may have a great design in mind but have no experience remodeling large kitchens, a general contractor knows how to tackle a large project safely and handle all the aspects of planning. They are trained to know what to look for and how to fix problems, so your project will be completed without any glitches. Additionally, a good general contractor has the knowledge of the local building code and is fully insured if accidents happen.
Another benefit of hiring a general contractor for your kitchen remodeling project is the ease of handling multiple projects within a project. Because they handle so many different types of construction, a general contractor can handle multiple projects at one time, meaning the job will be completed faster and to a higher standard. Knowing the timing and creating a schedule for each task is vital to staying on budget and to the overall success of the project.
Your contractor will know when to hire each tradesman, when to order materials for each task, when to get the cabinets ordered etc.  If you are unsure about any aspect of the project, a general contractor will walk you through it step-by-step.
Hiring a general contractor for your kitchen remodel will make sure the quality workmanship is being done on every task. After demolition, they can assess whether there are any structural issues, moisture problems, electrical or HVAC challenges that need to be dealt with before moving forward. You will not have to worry about completing several projects at once and running out of time.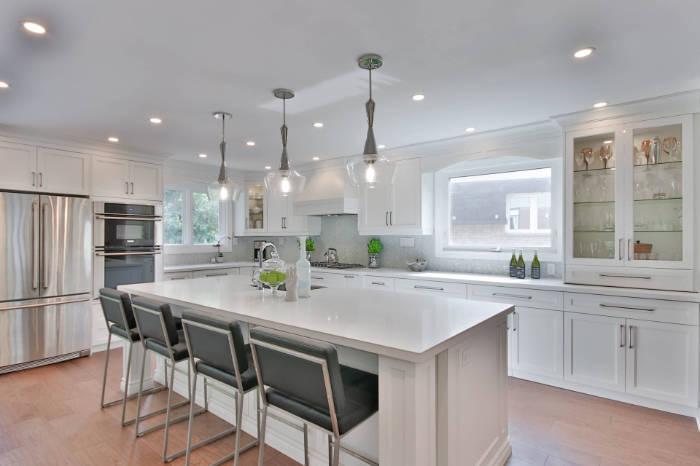 A general contractor will take care of all the planning and design of the kitchen. They will work with a designer to develop ideas and conceptual drawings for your kitchen remodel. You will be able to get a final design and discuss all aspects of the project with the designer. A general contractor will also have an architect to consult with and make sure your project will be done to the highest possible standards.
With the right guidance, you can decide what projects are realistic and which ones should be avoided. A good contractor can help you determine which projects are feasible and which ones won't. They can also advise you on decisions for the best materials for your renovation.
A general contractor may charge up to 30% of the total project cost. This is a major addition to the overall budget so when budgets are tight this is where many people face the difficult decision of whether or not they want to manage the project themselves.
Moving forward with your kitchen remodel
Whether you decide to hire a general contractor or not, you'll need to decide how much you can afford to spend on the renovation. You'll need to budget for building materials, permits, and labor costs. It is also important to set aside 10 – 20% of your overall budget to cover any unexpected costs. A detailed timeline is essential when it comes to a home renovation. This will be developed along with the tradespeople.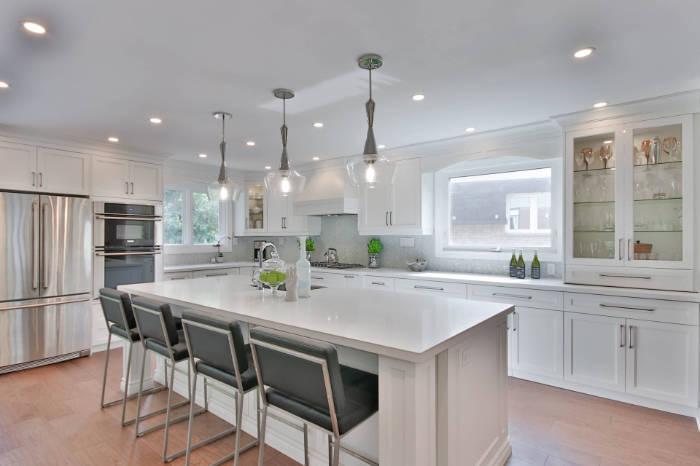 The range of cost for remodeling a kitchen is so wide that it's difficult to provide a useful number. However here are some ways to get a rough estimate:
Minor Remodel: $5,000 – $20,000
Mid-range Remodel: 100-150 sq.ft. $15,000 – $40,000
Major Remodel:  $30,000 – $60,000+
There is a great range because of many factors involved like the quality of finishes and the scope of the labor involved. Check out Home Depot and Home Advisor for some great resources to learn about remodeling costs.
If you're hiring a project manager, be sure to keep track of the materials and timelines to avoid unforeseen costs. Even if you're hiring a professional, it's a good idea to keep a daily diary of the progress. This will help you troubleshoot any issues that may arise and keep the renovation on schedule. Having a checklist of what's left to do is crucial.
Always consult experienced and reliable contractors before you start a home renovation. Depending on the type of project, you may need to hire a tiler, licensed electrician or a plumber. Make sure to ask about any special insurance coverage that might apply to the project.
You should also discuss any renovation plans you have with your insurer. It's better to avoid having the unexpected happen, since the process can cause more problems than you anticipated.
Depending on the scope of the project you and your family may have to find accommodations during the renovation so be sure to include that in your budget.
Step-By-Step Guide For Your Dream Kitchen Remodel
We'll take you through a step-by-step process for remodeling your kitchen. If you are hiring a General Contractor they will take care of the planning but this will help you know what to expect whether you are going to manage the project yourself or not. 
There are many steps involved in remodeling a kitchen so hiring a kitchen designer is definitely a good idea if your budget allows for it. This is especially important if you're budget is in the upper range because it does get more complex and their advice is well worth it.
If you are going DIY on this, you will want to use some kitchen planning software. Most of them are fairly quick to learn. Retailers like IKEA and Home Depot also have easy apps to help do this. When you use these you will be using their products to place in the room so you will also have an immediate cost or materials break down plus a visually helpful 3D rendering of how it will look.
All you need to get started is your room measurements. Be sure to take all the measurements like ceiling height, window sizes and distances between widows, walls, ducts, beams or any other fixed elements. You have a lot of decisions to make before you jump in and start doing 3D renderings so keep reading first. Just know that you have these great free tools available to help you.
A detailed list of goals must be prepared before the project can begin. Consider eliminating steps while cooking and changing the layout of the kitchen remodel. Also, determine the amount of change required, including wall removals, flooring, fixtures, appliances, lighting, windows and countertops.
You'll also need to decide the overall style of the kitchen. Create a mood board, that shows design styles that work well together and types of appliances you want. A designer will do this for you but you may want to collect some ideas to share with your designer. If you need some inspiration, visit Pinterest and Instagram.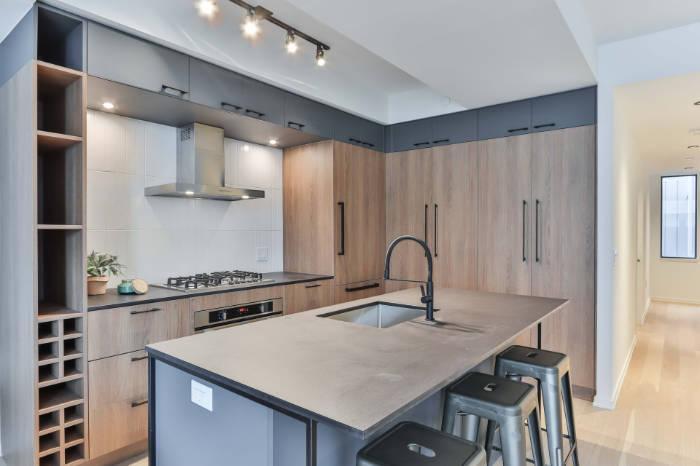 After you've made your style decisions, you're ready to decide on finishes and materials for your kitchen. Once you've chosen the materials, you'll need to make final decisions on the layout. While thinking about the overall kitchen you have probably already decided whether you are going to leave the size of the kitchen the way is is or if you have to removal walls to expand it.
These days it is common to want to remove walls to get that open floor plan that many people love. You'll also need to decide on the layout and the placement of appliances as well as what appliances because you need to know the exact size of the appliances in order to complete the plans.
Budget Saving Tips For Your Kitchen Remodel
There are some key items that you'll need that have a large price range. Decisions on these items can help you reduce the budget if needed.
Cabinetry
Cabinets have a major impact on the overall style and tone of your kitchen. Custom kitchen cabinets can also be a major part of your budget.
Consider affordable alternatives:
Stock cabinets could be a great option. If you can get all the pieces and sizes that you need, you just might be able to make this work and save thousands of dollars.
Reface your existing cabinets. Obviously this is only an option if your cabinet layout doesn't need to change but it would be a big money saver.
Flooring
There are so many great flooring options available at very reasonable prices. One money saving tip here is to install the new floor over the existing floor. It's not always an option but if it is possible it can save to time, money and avoid the mess of removing the old ceramic tile flooring.
Countertops
There are a variety of materials for kitchen countertops, so it is important to know not only what type matches your kitchen remodel but the price point for each one as well.
Seriously consider Quartz countertops
According to the National Kitchen & Bath Association, quartz has surpassed granite as the most popular countertop material. Quartz, unlike granite, does not require sealing which is a big pain and it's practically stain-proof, scratch-proof, and chip-proof.
Appliances
You can cross off this expense if your existing appliances are in good condition and fit into your kitchen remodel aesthetically and physically. If they need replacing, you can find stainless steel kitchen appliance packages that include a refrigerator, stove, dishwasher, and microwave makes it easy for under $2,000.
Next Steps
With your solid kitchen plan is in place, you, or your contractor will order materials, set the timeline and begin demolition. They plan for all the necessary changes to the structure and prepare the walls, floors, windows, wiring and plumbing to make it ready for cabinet installation.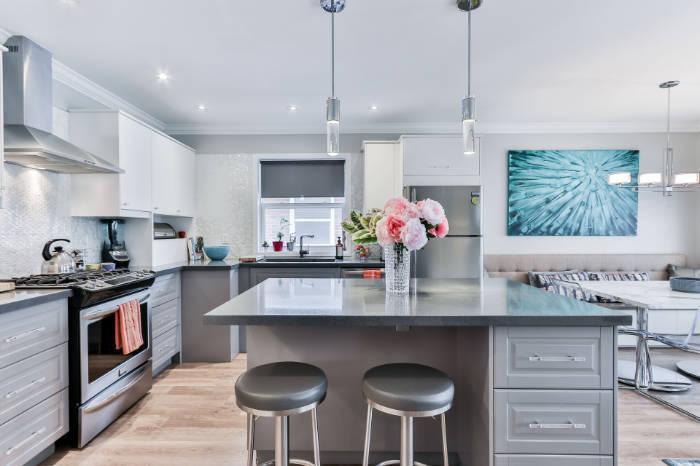 Even if you're planning to do some of the remodeling yourself, it is possible to hire a contractor to consult with you on some aspects of the project.
While you're remodeling your kitchen, it's important to make sure that your safety is your highest priority. If you're planning a remodel, it's important to follow safety standards. Ensure that you wear heavy-duty shoes and wear protective gear.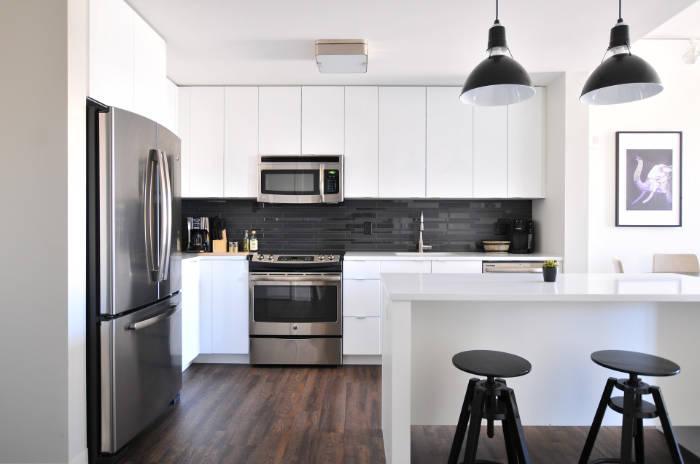 Choosing the right contractors for your project is essential. The right professional can provide you with all the information you need to successfully remodel your tasks done. You must also consult with a licensed electrician before attempting the remodeling process. You need to be prepared and well-prepared. If you don't have experience with remodeling your kitchen, you'll need to decide what tasks you are not going to tackle and then find reliable contractors and learn as much as you can from them before you even start your project.
Renovating your bathroom? Check out these Luxury Bathrooms Ideas
Remodel The Kitchen Checklist
Here's your checklist if you are going to do a DIY or partial DIY kitchen remodel:
Get inspiration for your design
Decide on a budget
Get some quotes
Determine the scope (do you need to remove walls, doors, windows etc)
Design and plan the kitchen layout
Find out if you need permits
Decide what tasks you will do yourself
Find reliable contractors for the tasks that you won't be doing and ask for advice
Make a list of materials buy and products that need to be ordered
Work out a schedule
Get to work or delegate
Check out these Beautiful Coastal Kitchens
Best tip of all
At every step along the way, in your DIY kitchen remodel, you will come up against things you won't have answers to but other people do.
Don't hesitate to ask questions. People are generally helpful by nature. Ask advice from others who have been through it. You can pick up valuable nuanced ideas and very helpful tips. Employees at Home Depot, Lowes, IKEA and other retailers have staff that can be extremely helpful. Just ask! Check out our post on Common Home Repairs.