When people walk into your home, do they say wow? If not, there's a chance that your walls are boring.
Accent walls are a simple and affordable way to elevate your decor and dramatically change the feel of a room. So, we rounded up some beautiful accent wall decor ideas for your inspiration.
It's not just about paint colors but it can be. There's all kinds of way you can add some wow factor.
Adding an accent wall not only gives you a chance to express yourself but can also help you transform your space in a whole new way. Here are some of the coolest accent wall decor ideas for apartments and homes.
Why Accent Walls?
Accent walls are a decorative way to add color and dimension to a room. It adds visual interest, making the space seem larger than it is. Wall colors can impact the mood of a room in many ways. For instance, soothing blue tones help you relax.
The definition of an accent wall is just that – an accent in the room. It doesn't need to be in every room of the house. In many cases, they are used in hallways, bedrooms or living rooms for additional detail and breaking up too much of one continuous color.
How to Choose an Accent Color?
Painting your accent wall a different color than the rest of the room is the most common method. It's easy and delivers a dramatic impact every time.
#1: If you are looking for something neutral, go with a black or gray accent wall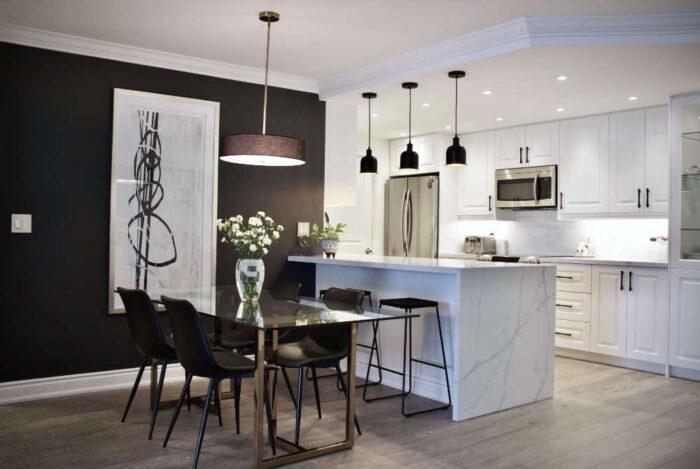 Use the base color of your furniture to determine how much gray to paint your walls. If you have dark furniture, you may only want to paint half of the wall in gray while if you have light furniture opt for painting at least three-quarters of the wall in gray. This will create more contrast and work well with light colors – which are usually used for accents – while muted colors are usually paired with darker walls.
You can add pops of color on top of some grays by painting shelves, window frames or wall decor pieces.
A black accent wall can really make your artwork pop without adding additional color to the room.
2. If you want the room to feel more natural, choose browns and tans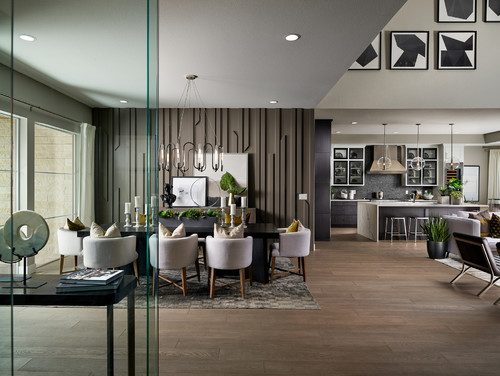 #3: For a bold look, try reds, oranges or yellows.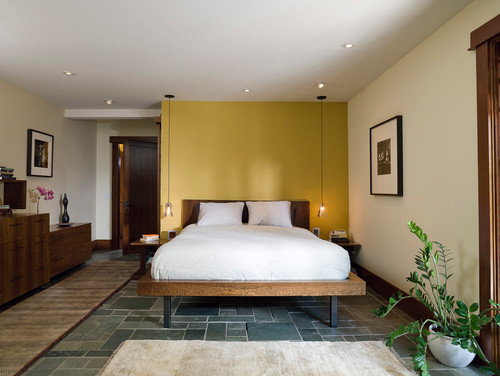 This yellow accent wall is perfect for adding an eye-catching pop of color without making the room feel too busy
#4: A green accent wall adds richness and creates a beautiful contrast against the white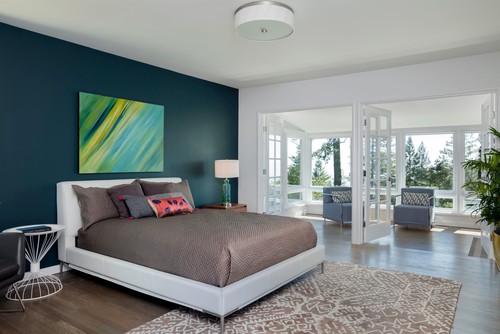 #5: For a dramatic look that adds charm and character try blues or purples
Blue accent walls are great for adding depth to any room, making it feel bigger and more spacious. These colors are also great for relaxing, making them perfect for bedrooms or other rooms where you want to chill out.
If you're looking for a bold splash of color consider painting your hallway blue with white molding details or painting your bedroom with dark navy walls and light wood furniture.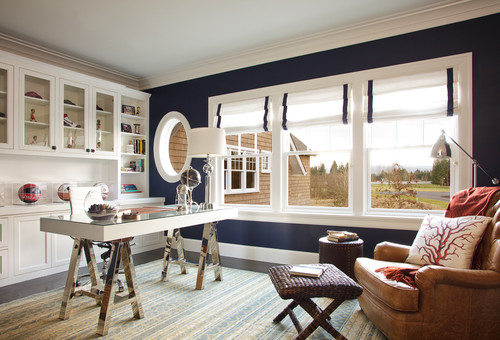 The right shade of blue will not only look great in the space but also make it feel serene and calm while still being vibrant enough to pop against other paint colors.
White Accent Wall Ideas For Your Home
White wall space is a great way to add more space and light to a room. It's also a great way to add more style while also being practical. If you're looking for some ideas on how to utilize this trend in your home or apartment, here are our top 5 white accent wall  ideas.
1) Divide the wall height with a chair rail or wainscoting
Fill the bottom half of an entire wall with color for a dramatic effect or keep it all the same color for an elegant, monochromatic style. A large flat wall can be difficult to decorate. Even if you have a tall enough ceiling, it's not impossible. Take advantage of the height and paint the bottom half of your tall walls white for a sleek and stylish look that will make any simple room feel more spacious.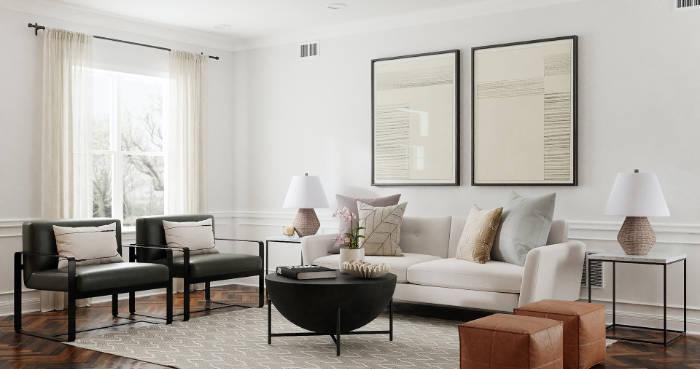 2) Accent wall ideas that make the windows pop
A plain white window frame might be stale and boring – but paint it black and watch your window turn into an instant focal point.
3) Add Hanging baskets
Hanging baskets are one of the all-time great accent wall decor ideas for a clean and natural look.
4) Add white paneling or shiplap
It's a classic, clean look that adds dimension and texture to the room.
5) Framed Art or Photo Gallery Wall
Add a beautiful framed art or photo gallery to your accent wall. (See more about this below).
Patterned Wallpaper – Beautiful Accent Decor Wall Ideas
Wallpaper is a great way to add some interest to a room. Patterned or geometric wallpaper is even more fun.
Patterned wallpaper can make a room feel larger or cozier, depending on the texture and colors. It can easily transform a dull solid color wall into something visually appealing and luxurious.
Beautiful Wood Panel Accent Walls
A great way to add some character to any room in your home is by adding a beautiful wood panel accent wall. This technique can be adapted for any size and style room and the end result is a really striking and elegant looking space that will impress guests and family members alike.
Wood panel accent walls are best placed in the center of the room, where they can be appreciated from all angles. They will make your living areas look more sophisticated and luxurious, without compromising on comfort or practicality.
Use Wainscoting For a Chic Accent Wall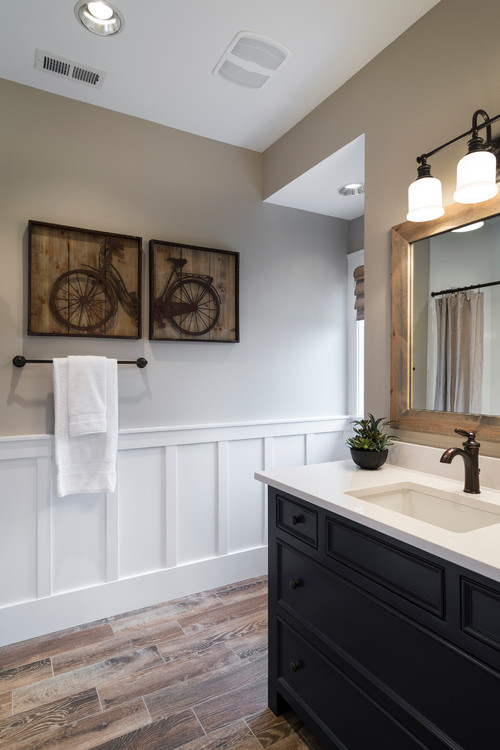 Wainscoting is a great way to add depth and beauty to your home. The best thing about this DIY project is that it's not that difficult to do and it's great for hiding wall imperfections. All you need are some basic tools and techniques. It has been traditionally used to cover the lower third of an interior wall, which adds character to any room.
Wainscoting can be installed by using either vertical boards or horizontal panels. There are many types of boards and panels available on the market, but most choose to go with simple styles for their walls.
Wainscoting creates a unique accent wall that can add elegance to any home or office space.
Use Wall Panels to Create Beautiful Accent Walls
Wall panels are an excellent way to create a beautiful accent wall. People can use them in any room of the house and they are easier to install than traditional wallpaper.
Most people think of accent walls as something that is painted or designed on the wall in one solid color. With these panels, you can get creative with its design so you can show off your personal style while not being limited by paint colors.
Wall Sculpture
Find unique wall sculptures to liven up your walls.
Wall Decals
When you need something unique and whimsical, wall decals might be just what you need.
Creative Ways To Display Art & Photos On Accent Walls
Galleries are a fun and creative way to make your space feel homier. If you have a collection of frames from when you've had photos taken or if you want to showcase some of your favorite moments then all you need is photos. Here are some tips on how to create a gallery wall and how to avoid common mistakes that people make with this decorating technique.
How to create a gallery wall with art or framed photos
The first step in creating your gallery wall is deciding on the right layout for it. Measure up the available wall space that you want to use. Then start by drawing up an idea of what you want it to look like, but don't worry if it has some flaws- we'll talk about fixing them later. The main point is just getting the general idea of where things should go before you start buying anything.
Here are some commonly used arrangements…
A Grid Gallery Wall
For an elegant and uniform look, create an evenly spaced arrangement of identical frames. Choose one frame style that you love and consider a theme for your grid, such as travel photos, wedding photos, or art prints.
Column Gallery Wall
Vertical Gallery Walls are great for narrow walls next to doors. Arrange 4-6 frames on the wall, have all photos or images facing outward, use simple frame shapes that can be purchased at IKEA, and you'll have an amazing gallery space in tight quarters.
Need home automation? Check out latest post about the 15 Best Smart Home Devices
Classic Gallery Wall
A classic gallery wall is perfect for all kinds of rooms, nooks or hallways. It's an arrangement of art or framed objects in a linear, asymmetrical pattern on the wall, usually with all items at about eye level.
Think about having one large focal point to make the space look cohesive. You can use all the same color frames or not. This type of gallery is not restricted to photos or art. You can mix in other elements like a clock or a branch. You just need to strike a balance with these accent wall ideas.
One of the great things about the classic gallery wall is that you can keep adding to it as you find or create new pieces.
Ledge Gallery Wall
Display a grouping of several framed photos or art prints on a narrow wall shelf leaned against each other. Use a mix of sizes to make it visually interesting.
The Easiest Way to Hang A Gallery Wall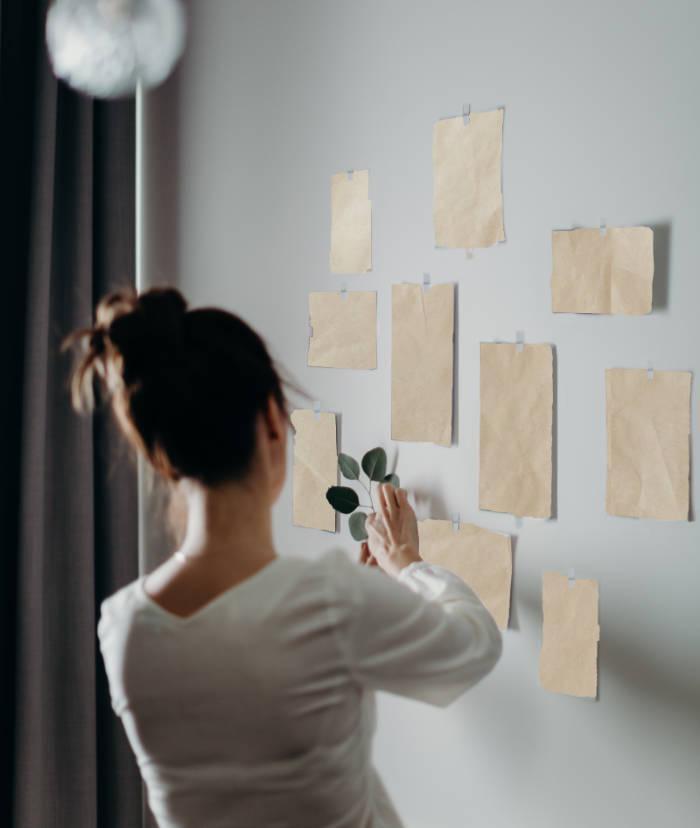 Once you have all your frames ready to hang, lay them on craft paper and outline them. Then cut the paper along the outlines and number the cut-out and put a little piece of tape with the same number on the actual picture frame so you don't confuse them.
Then tape the paper cut-outs on the wall with painter's tape in the positions that you sketched out earlier. Once you are happy with the layout, measure the position of the frame hook on the back of the frame and mark it on the craft paper that is now on the wall. Then you will drill your holes for the wall anchor or picture hooks that you plan to use.
TIP: Instead of measuring the position of the frame hook, you can put a dab of toothpaste on the hook and press it up against the craft paper to mark your screw/nail hole.
Once your holes are made, remove the craft paper from the wall, put in your screws or nails, and hang your frames!
If you want to show off your creativity with shapes, then don't hesitate! You can always think of different ways of displaying your Photo Gallery Wall that will make it more fun and attractive. For example, try hanging the picture frames in a way that creates an abstract shape…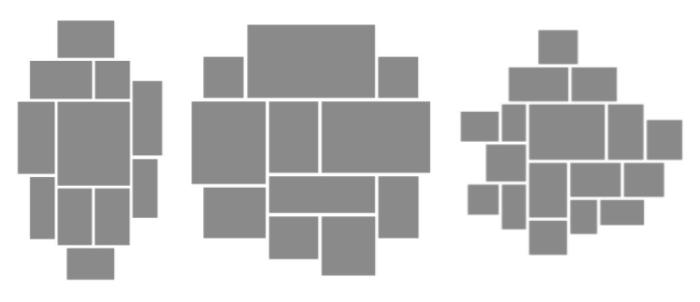 Check out Mixtiles where you can upload your photo, create the gallery visually and just order them. It's so easy and a huge time saver.
If you prefer to use a mobile app to work out your photo collage, check out Magic Shape Collage  IOS  | ANDROiD
Beautiful Accent Wall Decor Ideas For Your Home!
A beautiful accent wall can completely change the overall feel of a room and it is a technique that interior designers put to use all the time. We hope you get some inspiration and use these tips to create a beautiful accent wall in your home!
For some more accent wall ideas Also check out "Accent Wall Ideas". Also check out "Beautiful Hallway Ideas"
Do you have an accent wall idea you would like to share?