We put together some home office ideas for minimalists to create a comfortable space without a heavy price tag. Living in a small space and working from home can seem overwhelming at times. During the current Covid-19 pandemic this is especially prevalent with so many people having to work at home. It's important to create a work space for yourself that makes you comfortable and allows you to stay distraction-free and focused on your work for as long as you need.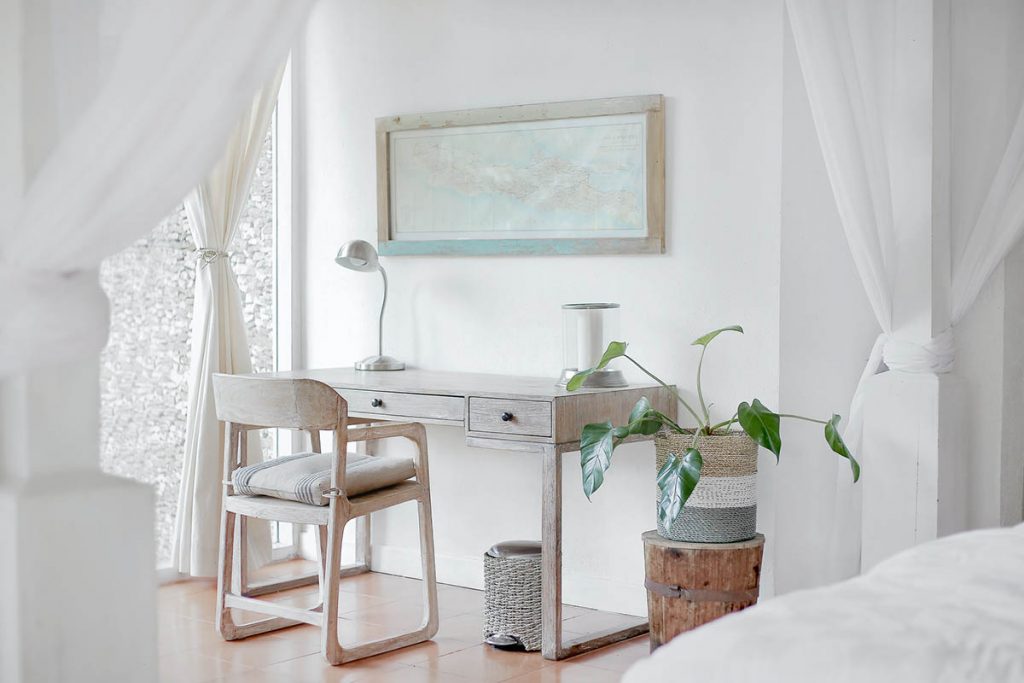 If there is enough room as in this space, dividing the room into two sections with elegant canopy bed panels on one side of your workspace and if you're lucky enough to have a window drapery can be a beautiful touch for privacy on the other side of your home office. This office has a beautiful green feel combining different wood elements, metal accessories and greenery, comfortable and pleasing to the eye.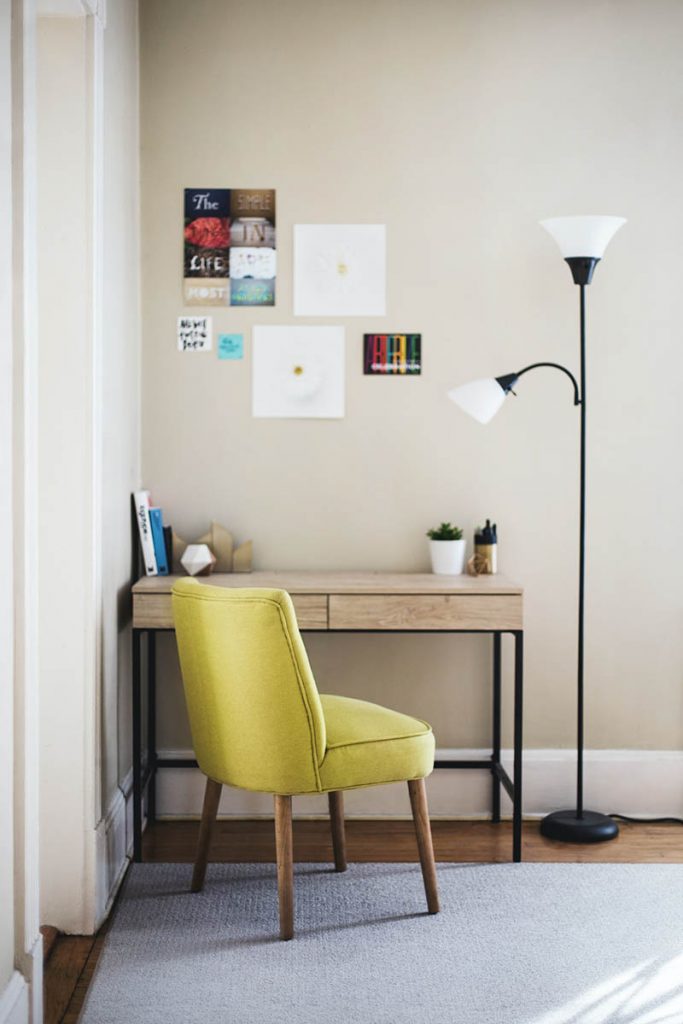 Not much space! Try clearing a corner in one of your rooms, there's always room for a small desk and chair. Picking a bright colored chair, as seen here, makes this little cozy corner pop.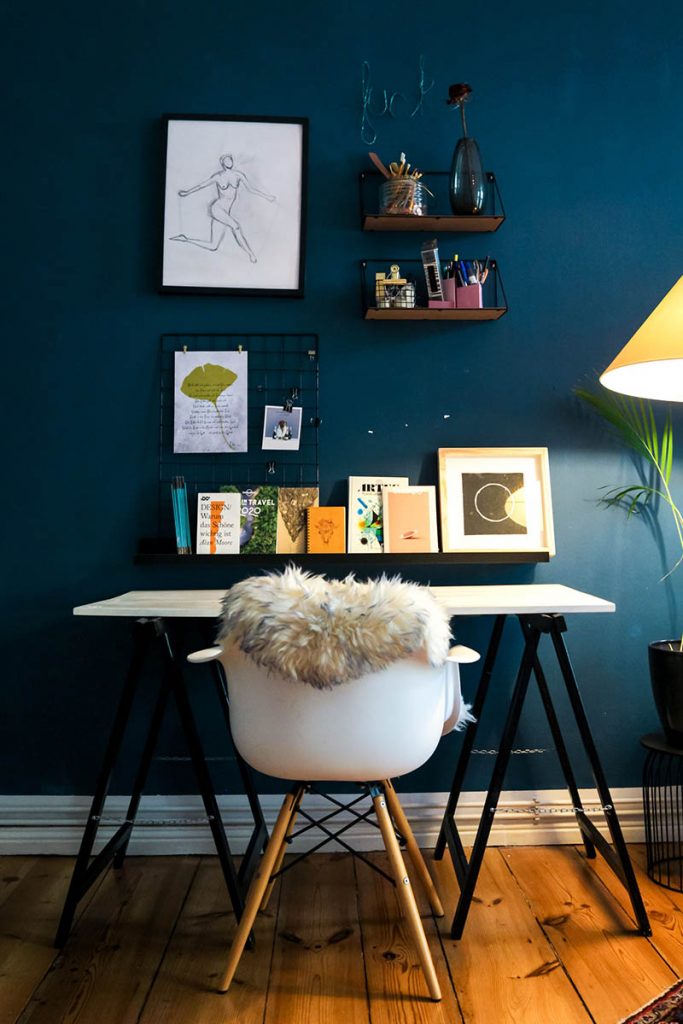 Want to add some drama to a simple desk and chair, try painting the wall a beautiful dramatic color. Also, adding a couple of inexpensive shelves, and the right balance of photos/accessories gives this small home office a rich inviting feel, making working from home an enjoyable experience.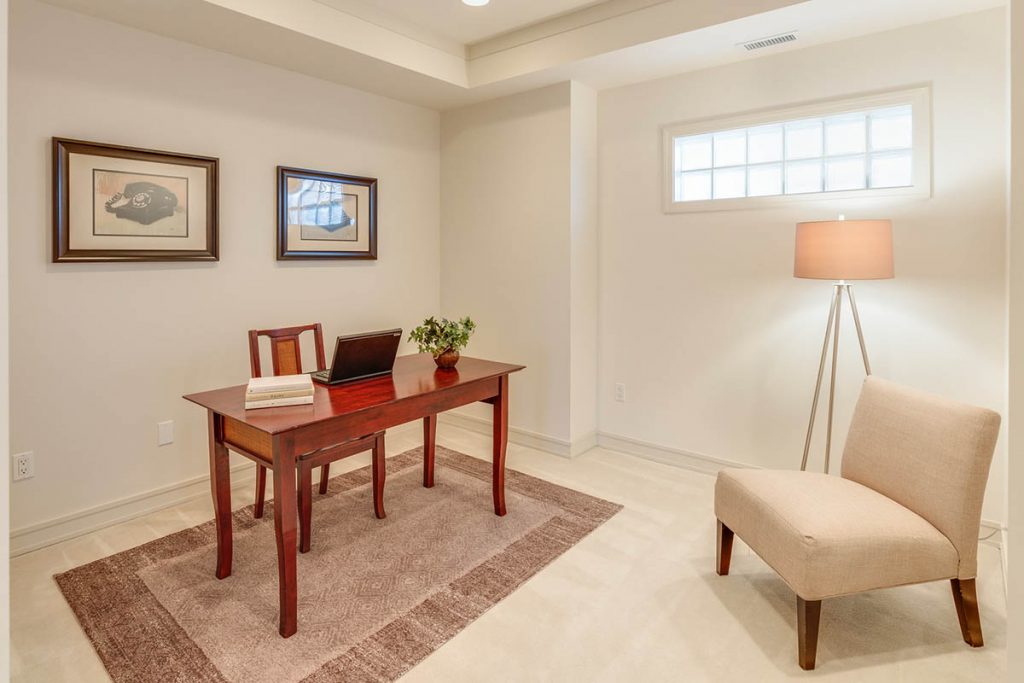 If you're lucky enough to have a basement where you can get a bit of privacy why not create a bright Inviting space for your home office. Purchase a contrasting color rug to the  existing carpet defines your space, it's saying this part of the room is mine! A nice floor lamp adds brightness as well as a comfy chair that adds an inviting charm.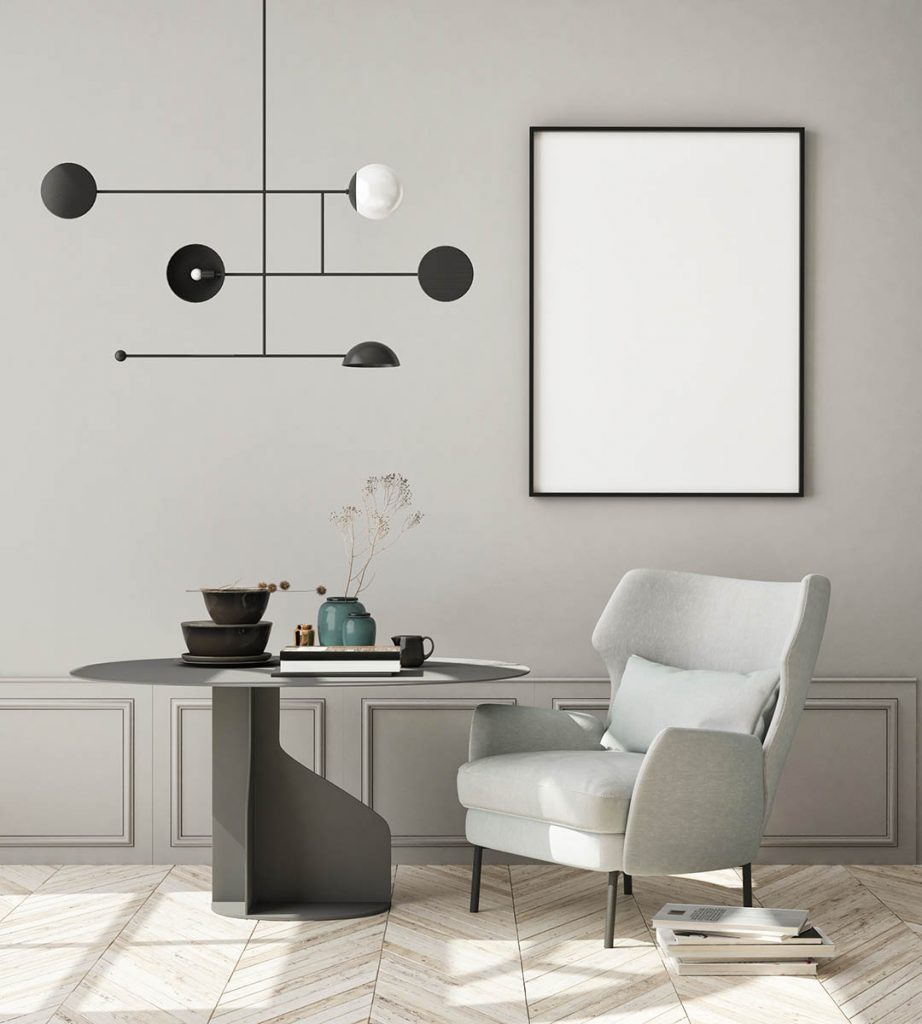 If you're more into a modern contemporary look this super modern desk may be the way to go. Surrounded by ultra modern elements such as the unique overhead lighting and beautiful custom made chair makes this room a real showstopper.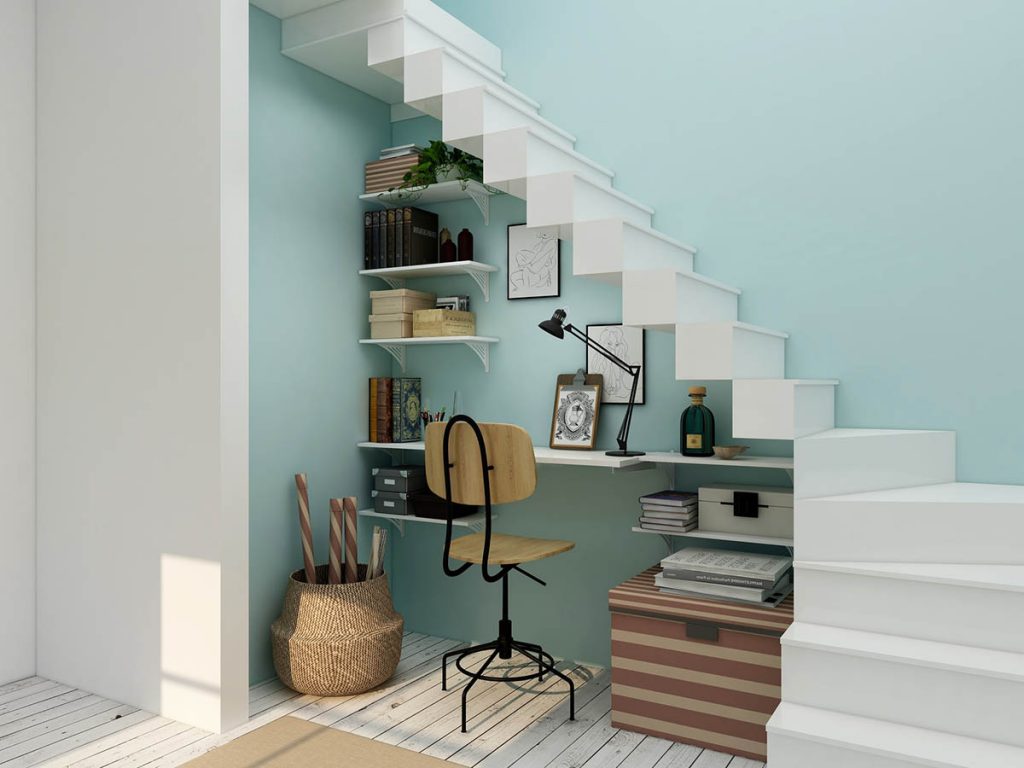 If you are lucky enough to have room under a stairway why not utilize the space by building a custom home office. You'd be surprised just how much room you can get out of a space this size. By placing shelving all the way up this gives it a feeling of height as well as excellent storage capabilities. Painting the wall behind this look brings out all the elements in your unique home office.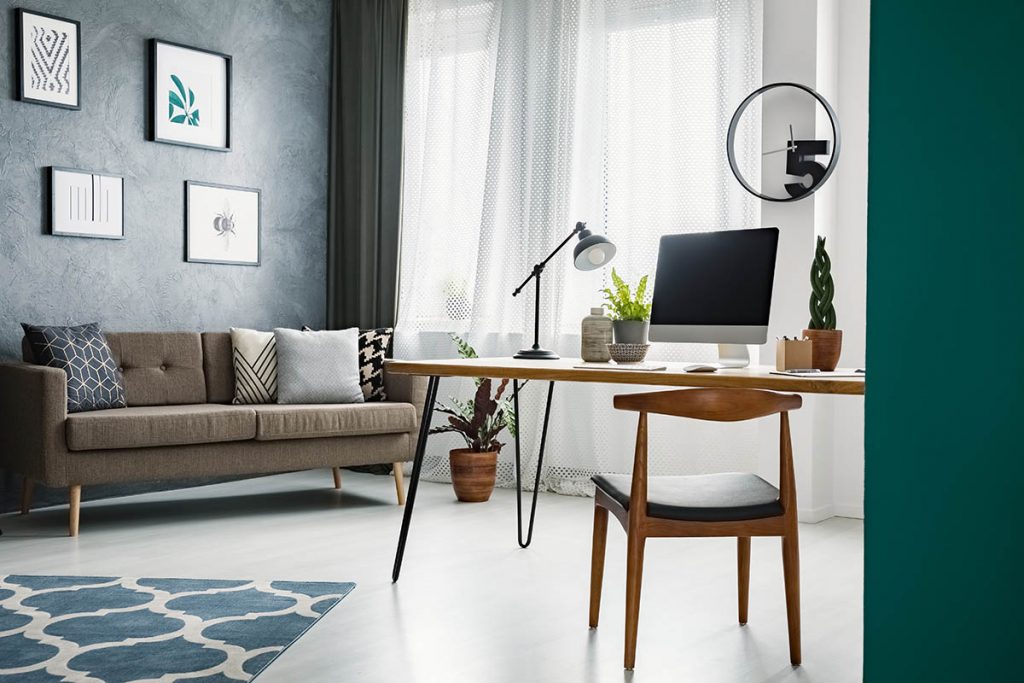 If you have an airy bright beautiful room with lots of light why not place your desk facing the windows for just the right amount of lighting for your online Zoom conferences. This Scandinavian style desk and chair complimented by a neutral modern sofa and beautiful teal accent walls and carpet make this home office dramatic yet inviting.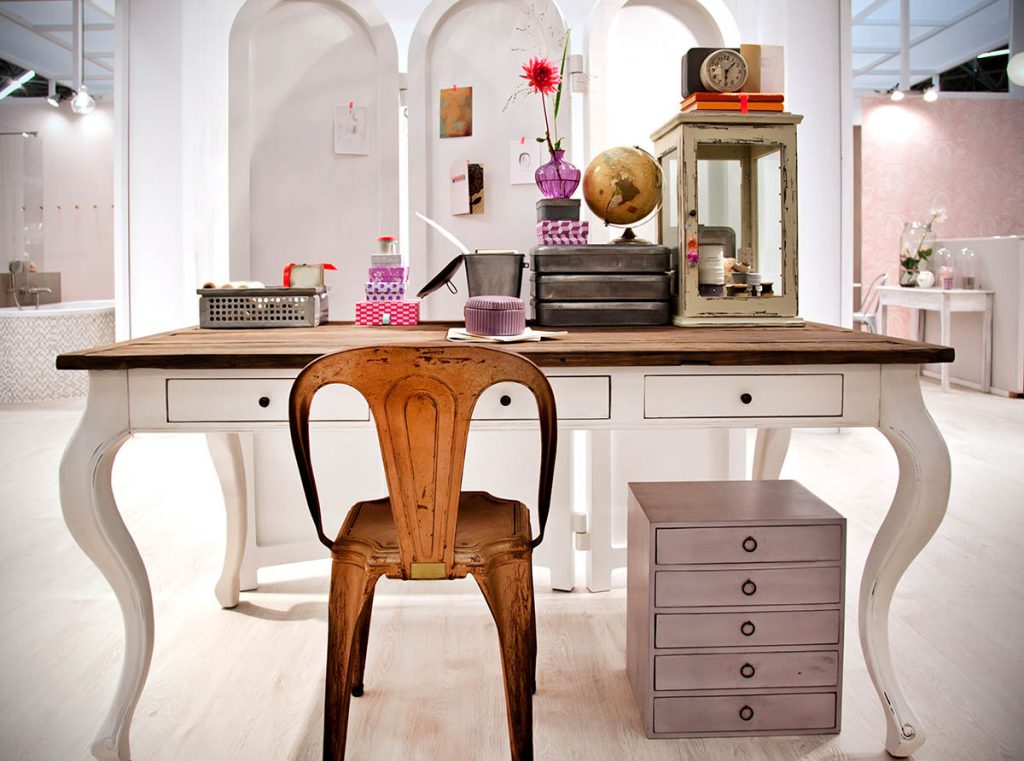 If your thing is eclectic shabby chic why not incorporate this unique desk into your home office. Make this look a reflection of your personality. Feminine yet professional. The addition of the soft pinks really brings this look together.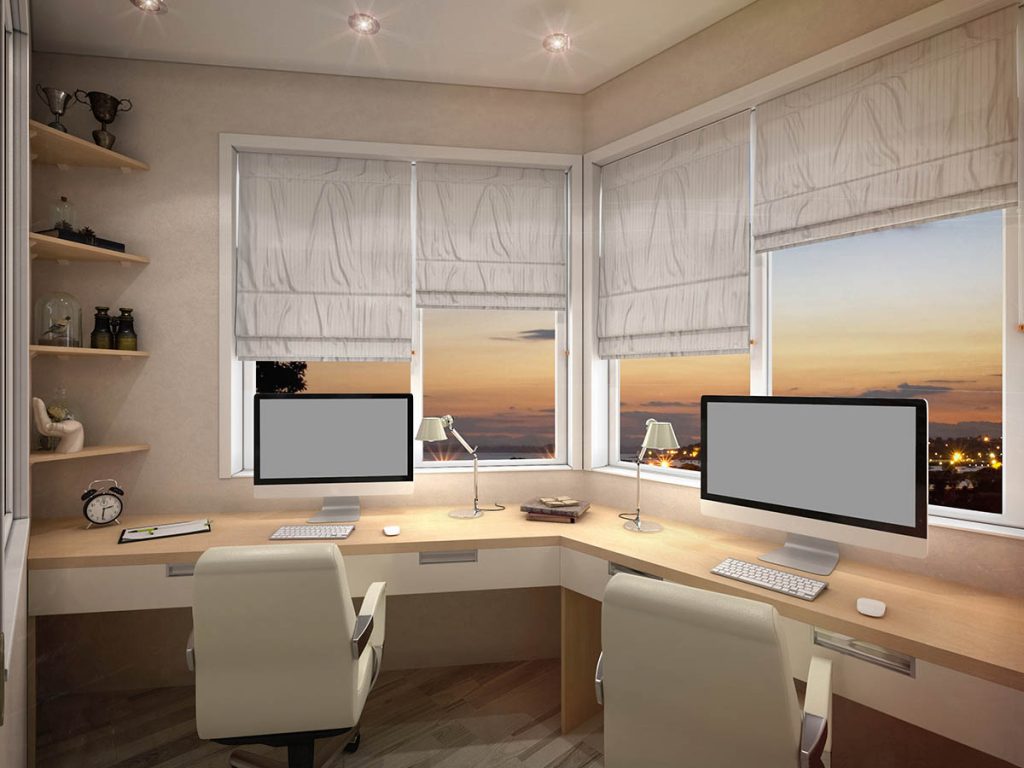 Many of us our finding in this pandemic that more and more couples are working at home. How do you solve this dilemma in a condo/apartment. This long extended desk built for two can definitely be the remedy to your problem. The light wood desks make the room airy and inviting with plenty of home offie work space. Enjoy your time together!
If you're be interested in more home office ideas check out our recent post about making a built-in desk. It's an easy Ikea hack using the popular Billy Bookcase. Enjoy.