We all love a beautiful bathroom and remodeling has been on the rise as people spend more time at home so new luxury bathroom ideas are exploding lately.
A luxury bathroom remodel adds comfort, as sense of pride and it adds equity to your home. A well-appointed home with luxury fixtures commands a higher price out there and makes for a desirable amenity for any homeowner, whether the intention is to sell or remain in the house.
Bathroom designers and product manufacturers have studied design extensively and have honed their designs through years of experience and can offer you some great ideas and many customizations that would make you fall in love all over again.
Open space is a key factor in the making a room feel luxurious. While that is true, you can make almost any size of bathroom luxurious. You just need to choose the right combination of fixtures and decor elements and bathroom luxuries.
The worst thing you can do is make the bathroom look cramped. That is the opposite of luxurious. The two big questions in determining where your bathroom remodel will go are: How much room do you have? And, how much money do you want to spend? 
Planning A Remodel For Luxurious Bathrooms
Most homeowners spend between $6K and $16K on bathroom remodels with an average cost being around $10K. A small or medium-sized bathroom can be updated for as little as $3,500 to $7,000. You can expect to pay $25k or more for a very large or grand bathroom.
Does your bathroom have enough space for both a shower and a bathtub? Even if it does have the room, you may not want a tub. If you don't have ample space for both, don't force it or it will look cramped. Visit sites like Pinterest and Instagram and search for Luxury Bathrooms to get some inspiration. See what features really appeal to you and imagine how they might fit into your space. You'll eventually narrow down the possibilities to help you decide the direction that you want to take. 
Luxurious Bathroom Ideas
Even when you don't have a lot of space, you can give your bathroom a luxurious feel with elegant bathroom fixtures like a vessel sink or installing quartz on the walls and floors  a seen in these photos below…
Bathroom remodeling generally focuses around the main features that you want to have such as walk-in showers, frameless glass enclosed showers, spa tubs, vanities, and new countertops and of course flooring. Walk-in showers are those that are custom-made for a sliding door and have a front or back door that opens onto a bathtub or shower/toilet area. 
Frameless Glass Showers
Showers enclosed with frameless glass are extremely popular. It's a very chic and modern look that always looks amazing. Showers with floor to ceiling glass that are partially open with no shower doors has also become a popular option.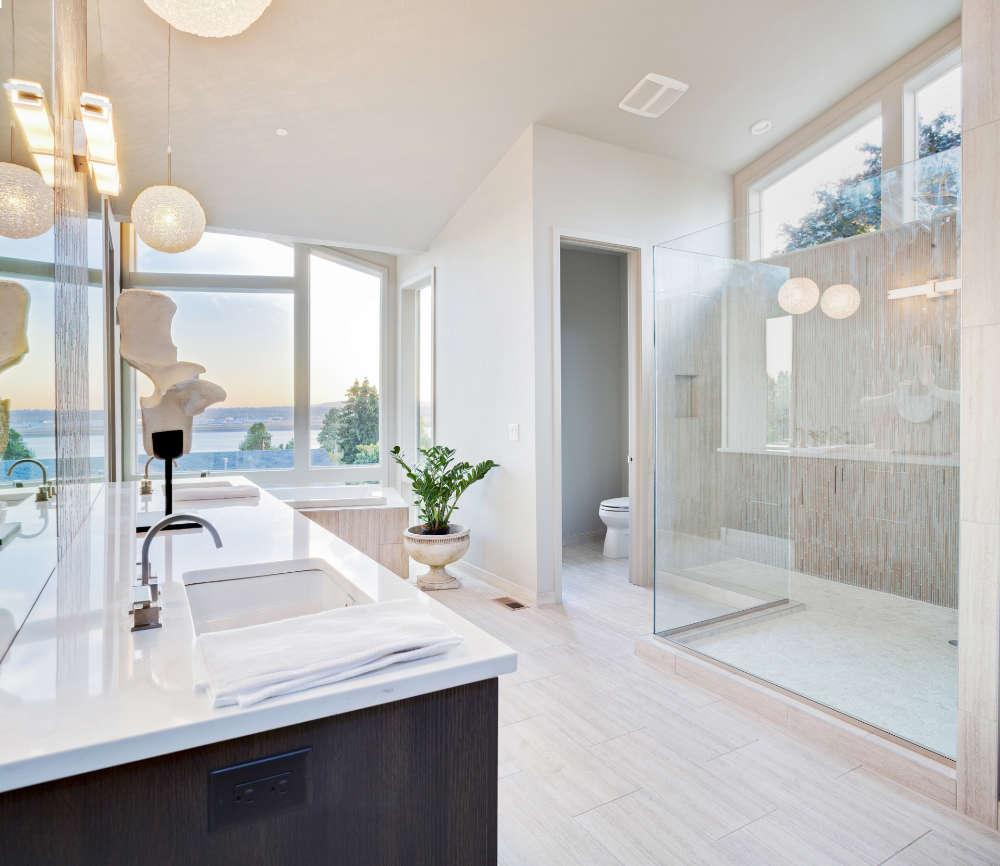 Soothing & Elegant Bathroom Lighting
Elegant lighting is usually achieved with a combination of pot lights and a fixture to create a relaxing and soothing experience even more invigorating. Lighting is a very important element in creating the right mood in every room and it can be quite dramatic in a bathroom as well. Interesting lighting in the shower and around the vanity can really add some wow factor.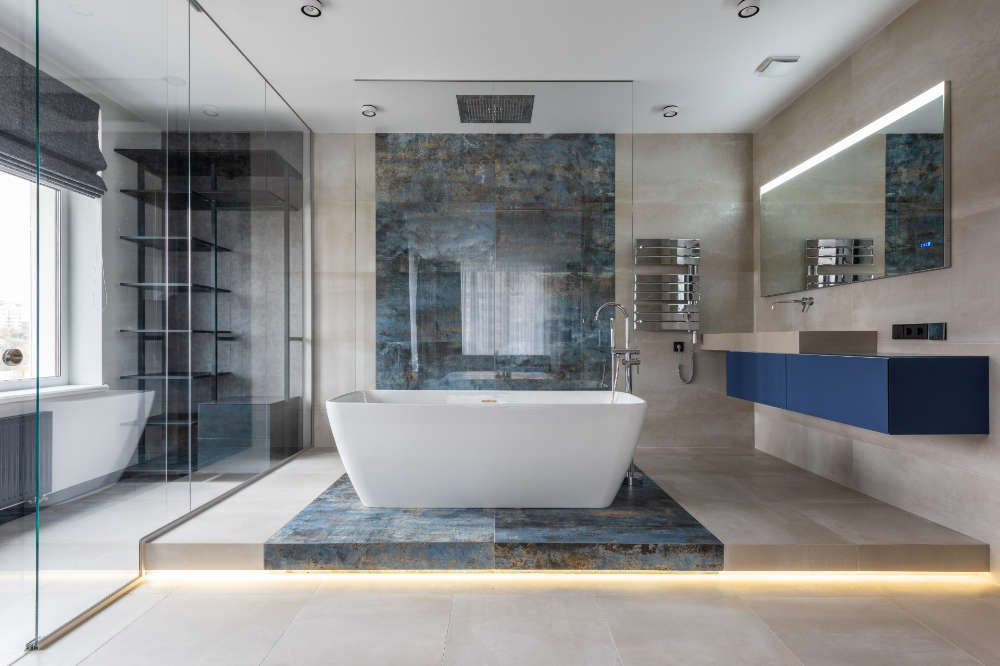 Built-in vanities are still a good choice in some cases but more and more, people opt for the airy feeling that a free-standing vanity brings to  a luxurious bathroom. Vanities can include vessel sinks, stone countertops, cabinets, drawers and shelves. They can also be customized according to one's preference.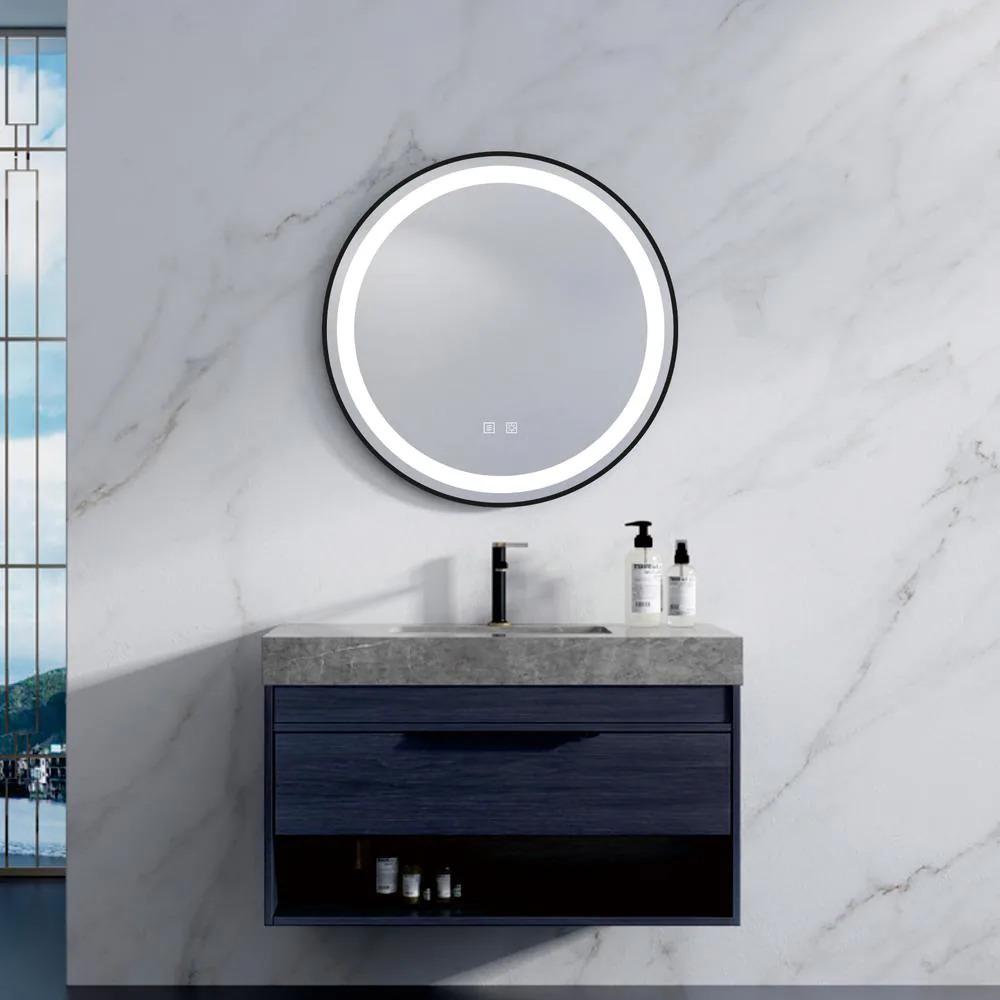 Mirrors with built-in LED lighting have become very popular.  They add a simple and subtle touch of elegance.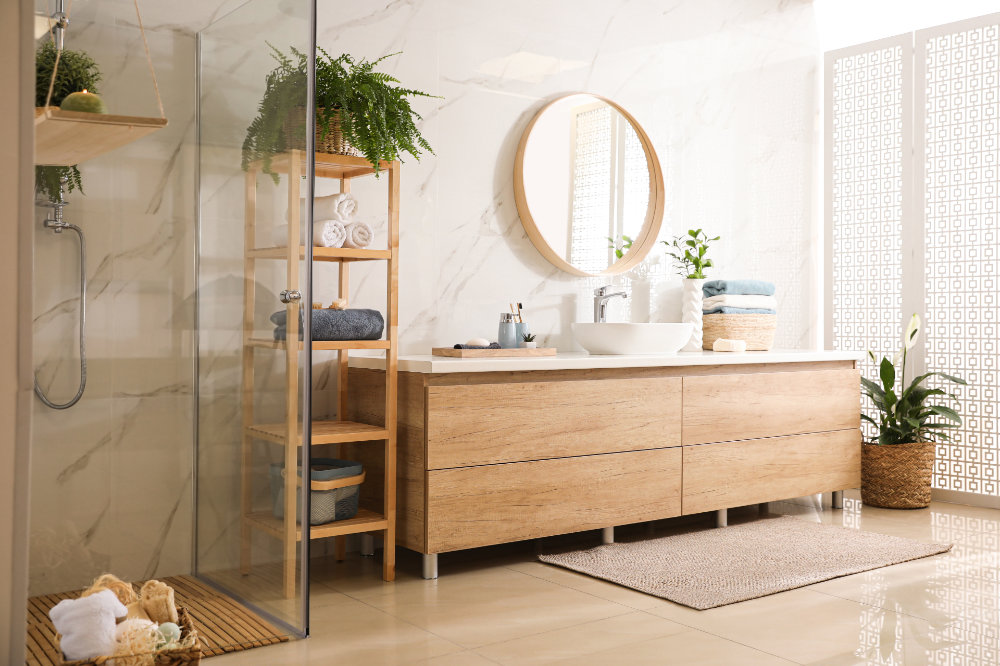 A vertical spa is another luxury shower fixture that you can integrate into your bathroom design. You can choose from a standard vertical spa that features two individual jets, a rain shower feature, or a combination of the two to produce a high-quality, luxurious showering experience. The addition of a luxury shower with a vertical spa can offer an effective way to soften and relax the body, as well as the entire physique.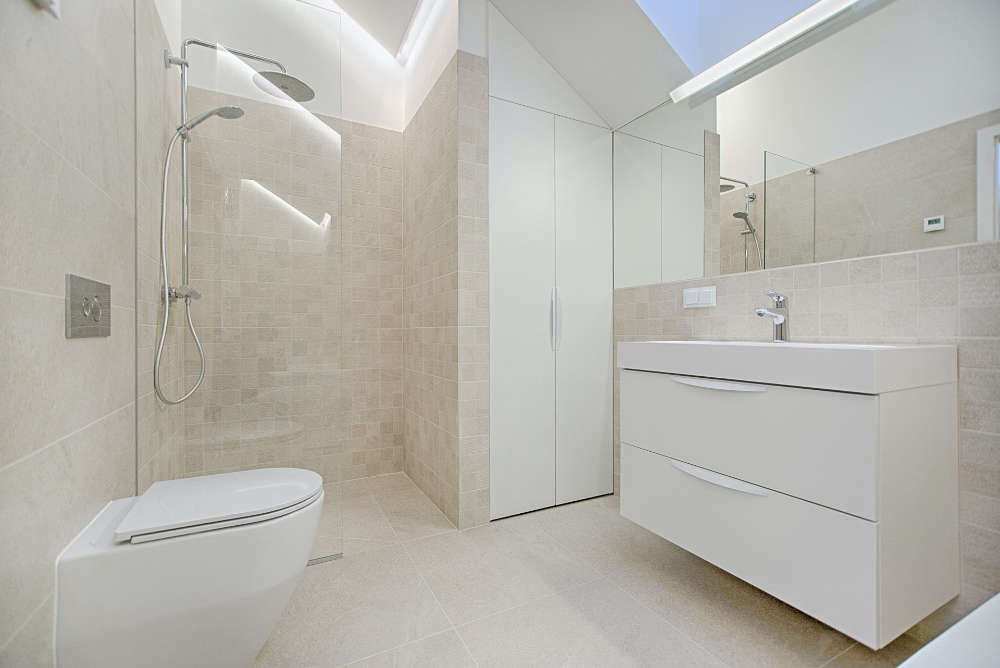 A rain shower head is a popular addition to a luxury bathroom remodeling project. You can install these panels over your bathtub or shower, which will create a private, relaxing area for rejuvenation.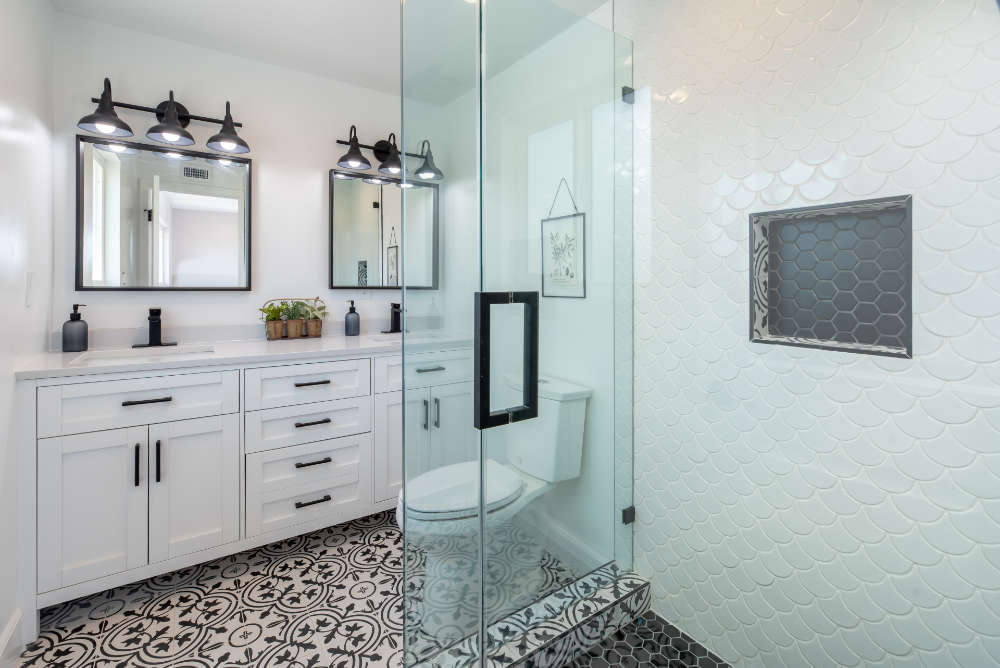 If you have the room for a tub you may opt for a free-standing claw-foot tub or a pedestal tub which both look very chic.
Another option to consider when you're considering different luxury bathroom ideas is the installation of a spa bath. These tubs are becoming more popular with homeowners who want to create a luxurious spa experience in their own home.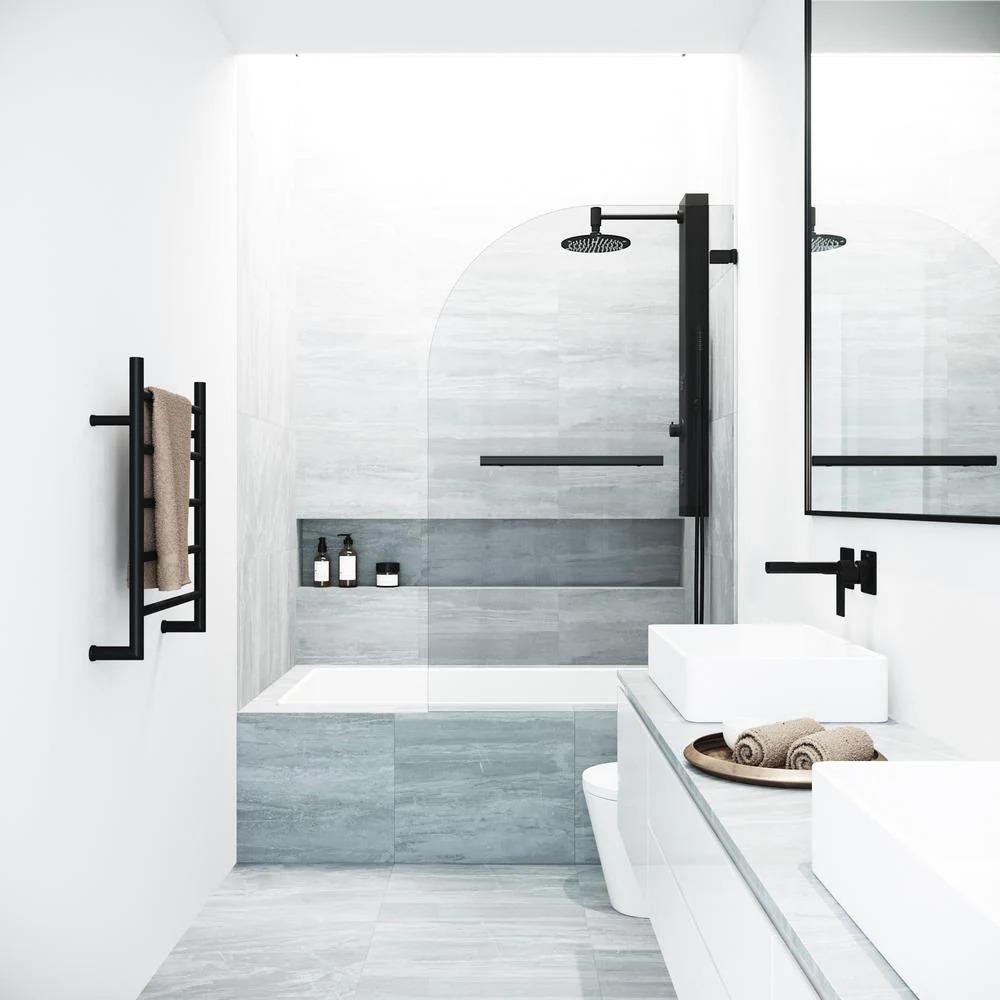 There are many older bathrooms that are only the width of the bathtub and they look tired and dated. Take inspiration this very chic bathroom in the photo above. Simple stonework surrounds tub, add modern black fixtures and a minimalistic fixed glass panel make this small bathroom luxurious!
You'll also want to pay close attention to the lighting over your luxury bath. The lighting will be important in creating the right ambiance in your bathroom. Dimmable LED pot lights are the most popular choice these days. A beautiful crystal chandelier can also look incredible and very luxurious. 
It's all up to you to set the mood you want in your bathroom.
You would need some serious skills to pull off a DIY luxury bathroom remodel. If you are not up for doing it all the tasks yourself, just hire help for the things you don't want to tackle.
Many homeowners who want to limit the expenses will do tasks like the initial design concepts and demolition at the beginning of the project and then painting and decorating at the end. Don't attempt things like plumbing, tiling and electrical work unless you really know what you are doing.
There are of course numerous sites to find an buy things like bathroom vanities at Wayfair as well as Home Depot for any of the other bathroom luxuries,  fixtures and bathroom flooring that you need.
Also check out these tips to Remodel The Kitchen
We hope that these luxury bathroom ideas help you make some decisions about your bathroom remodel.  Above all, make plan, and get started!
Check out our recent post on "How to Decorate Your Home Like a Pro – Tips and Resources"