There's much more to window coverings than adding privacy to your room. Your choice of window coverings has a huge effect on the overall decor of your room, whether you choose drapes or one of the many kinds of blinds.
Your window covering style is so important that it should be one of your first decisions when designing your living room decor. Here's what you need to know about the various options available to you.
A window treatment combines style with function. Not only do they add beauty to your home, but also provide important functions. Depending on the details of the room, your window treatments will have different functionality needs.
Window coverings are designed to control the amount of sunlight that enters a building, but they will differ in the way they do that. It is important to consider how much sunlight you want to let in as well as the need to block harsh rays and glare when determining the type of treatments you want for each room.
How much privacy you need depends on what is around the exterior of your home. Do you have vast open space in your window view or do you have neighbors close by? Determining this will help narrow down your choices. If you have neighbors close by then you need more privacy functionality from your window treatments. If you have an ocean view or an unblocked view over the city, then you may only be concerned with filtering the harsh sun rays for a few hours a day.
Who doesn't love a beautiful view? Your windows will need window treatments that accentuate your view if they look out over a stunning landscape or waterfront. The opposite is true if your windows face a visually unappealing factor, in which case you will probably need window treatments that will make you forget about those unsightly views.
If you're looking for ways to upgrade your living room window treatments, but aren't sure where to begin, here are 8 types of popular window coverings to help you decide what's best for your living room.
1 | Drapes or Curtains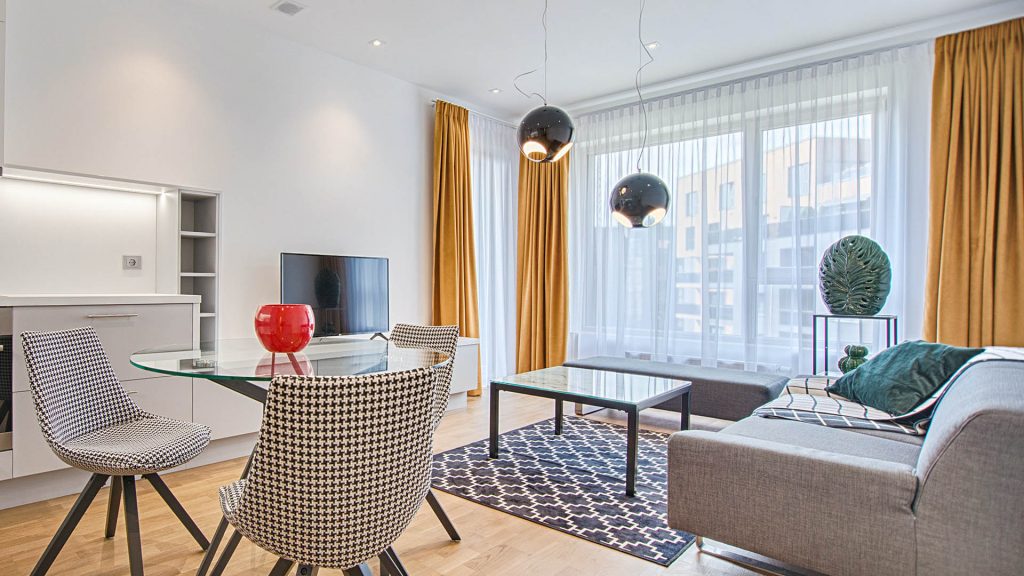 Drapes or curtains are the traditional choices for window treatment, and both offer many advantages. Although lots of people use the words drape and curtain interchangeably, they're actually slightly different things. Curtains are generally made of a single sheet of material, while drapes have a heavier lining to make a more robust window covering.
In both cases, they offer great decor flexibility with their huge range of colors and designs. They can be a warming choice in areas with colder climates, but will also suit hotter temperatures if a lighter curtain material is used.
Before you move forward, decide on their primary purpose. Do you want your drapes to block light and provide privacy or are they primarily for enhancing the room decor? These days it is common to see curtains used in addition to other window coverings like horizontal blinds. In this case you commonly see light sheer curtains pulled to the sides for decoration while blinds provide decor and privacy functionality.
TIP… Make the curtains go right to the ceiling. It has a more grand effect and makes the ceiling look higher.
2 | Vertical Blinds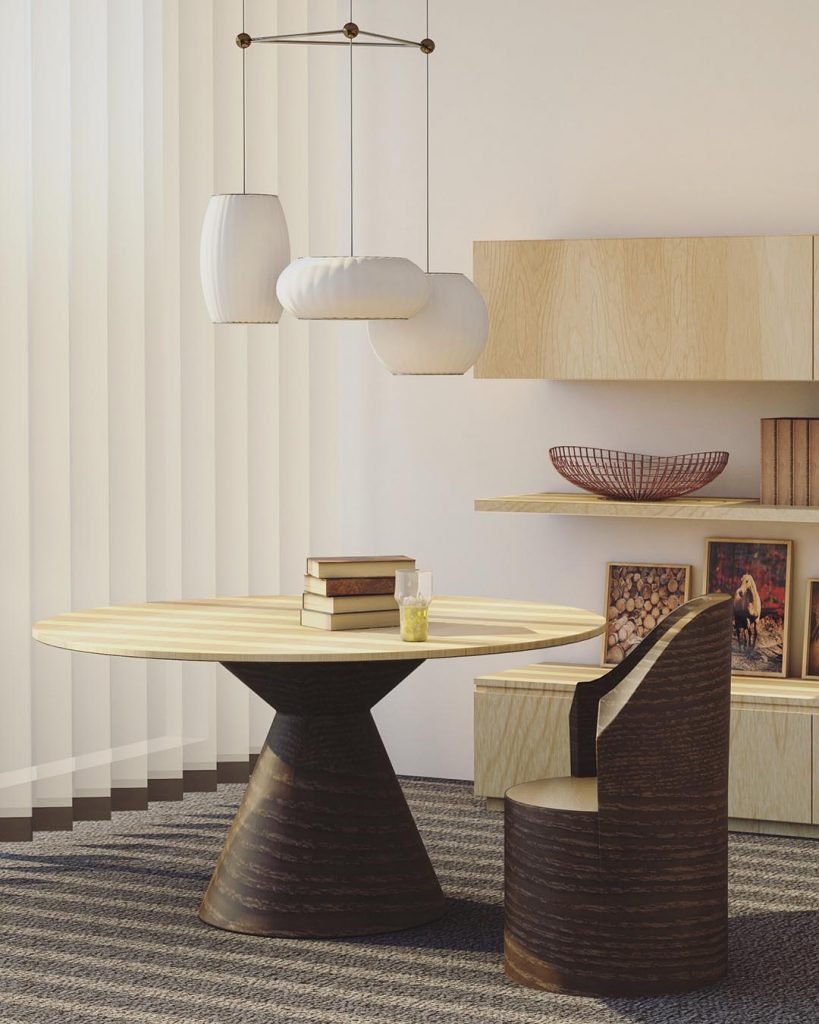 Vertical blinds are made up of several tall slats which run from the top of the window to the bottom. Their biggest advantage is that they offer a great combination of privacy and flexibility. When fully closed, they block the light extremely effectively, keeping your room cool in the day and closing off intrusive sight lines at night.
What's more, the orientation of the slats can be changed as the day goes on, blocking just as much sunlight as you need without plunging your room into total darkness.
3 | Roller Blinds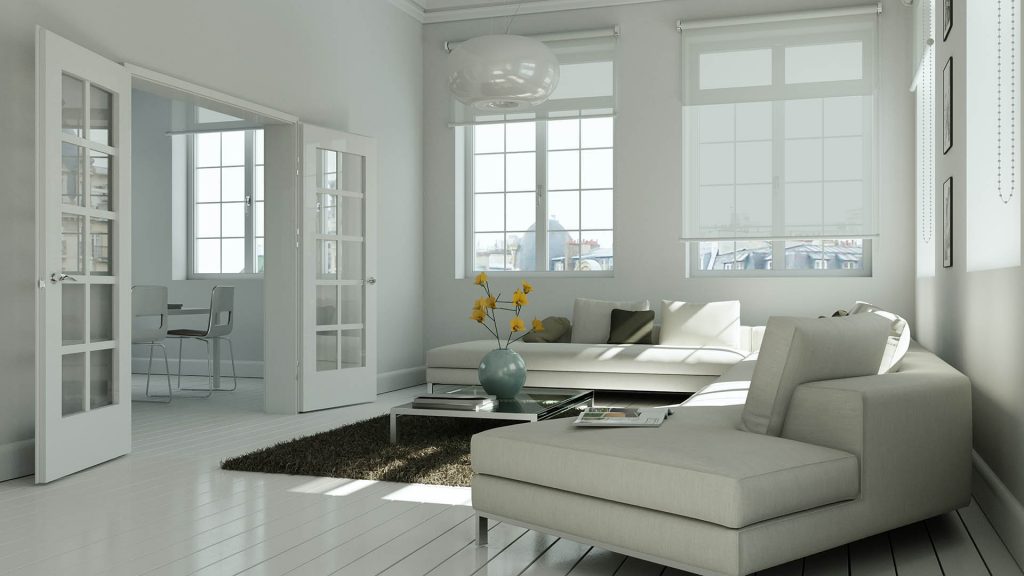 When not in use, roller blinds are tucked safely out of the way, rolled up above the window. But as you need more cover, they can be pulled down partially or completely, covering as much of the window as you want.
Roller blinds are convenient and are available in a wide range of fabrics. They can block light completely or you can choose light filtering fabrics with varying degrees of privacy.
4 | Roman Blinds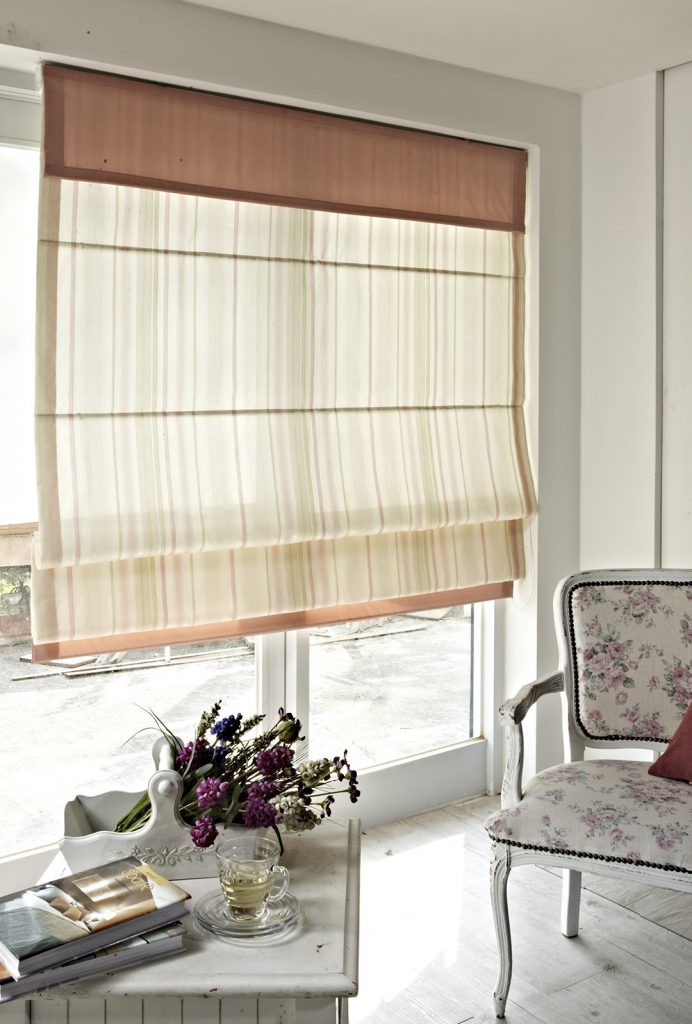 Roman blinds are similar to roller blinds, rolling up above the window when not in use to give a bright and uncluttered feel to the room. But unlike roller blinds made from a solid sheet of material, Roman blinds feature a series of wide horizontal panels with woven connections between them. This construction style means they still offer good privacy while letting in a little light. To many people, the panels and weaving also offer a more stylish and upmarket look.
---
Big Discount on Levolor Window Coverings at BlindsExpress.com
---
5 | Sheer Shades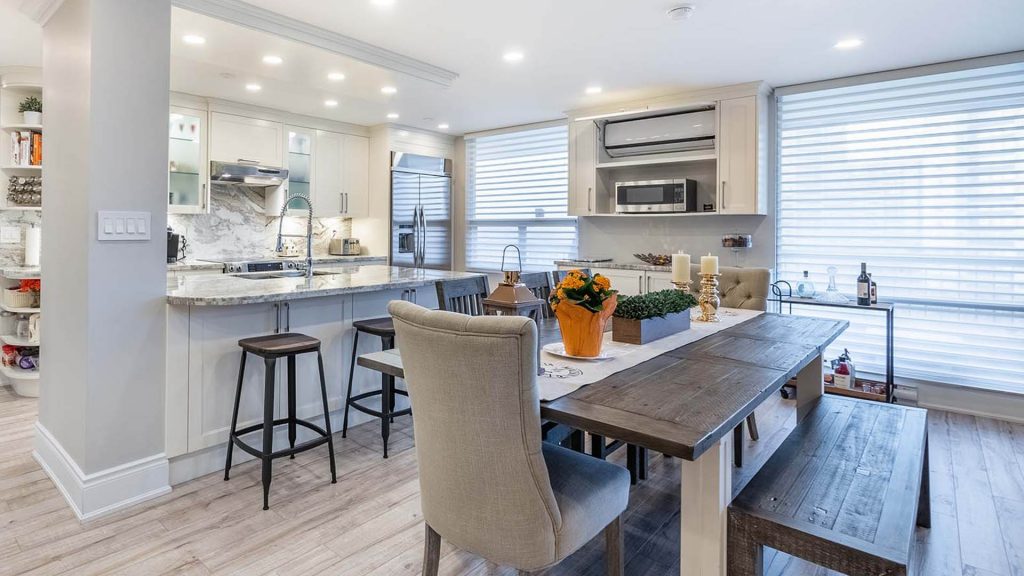 Sheer Shades use delicate fabrics that diffuse and soften light coming into your living room. They provide a beautiful understated elegance. You can have the shade down but not loose your beautiful view. You can control the tilt of the inner shade to let it the desired amount to light and privacy.
6 | Cellular Shades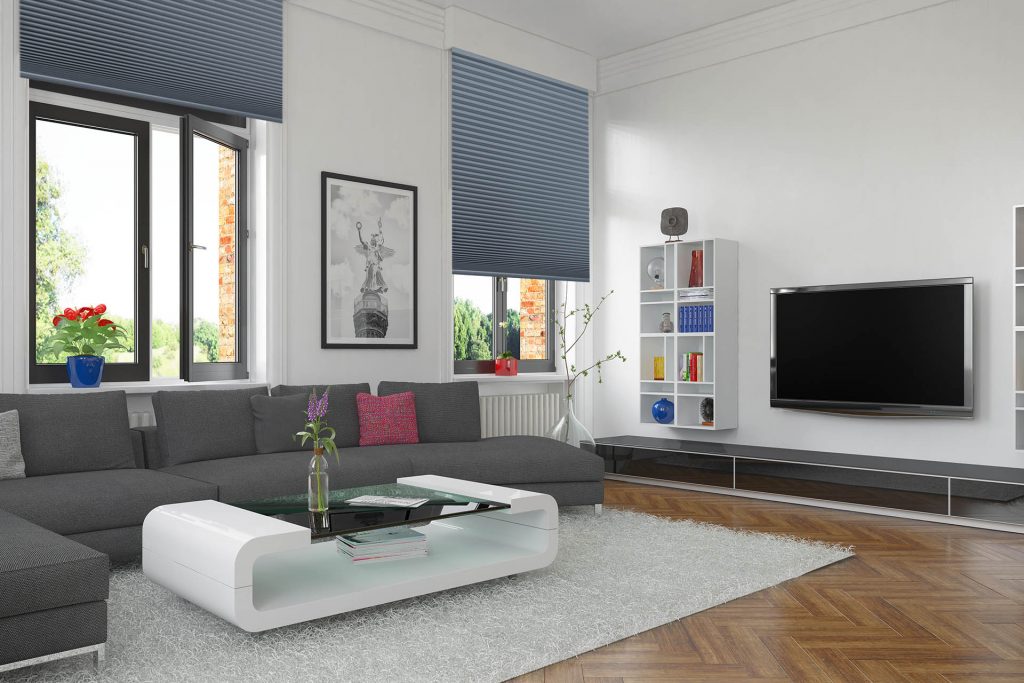 Cellular shades a very popular choice of window coverings for a few reasons. The have energy-saving properties because their honeycomb shape provides insulating power as it traps the cold winter air or hot summer air between the window and the rest of the room.
They are great for DIY projects because you can easily measure your windows, order them online and install them yourself in a few minutes. They come in a wide array of colors and customizable options like top-up bottom down and motorization.
7 | Horizontal Blinds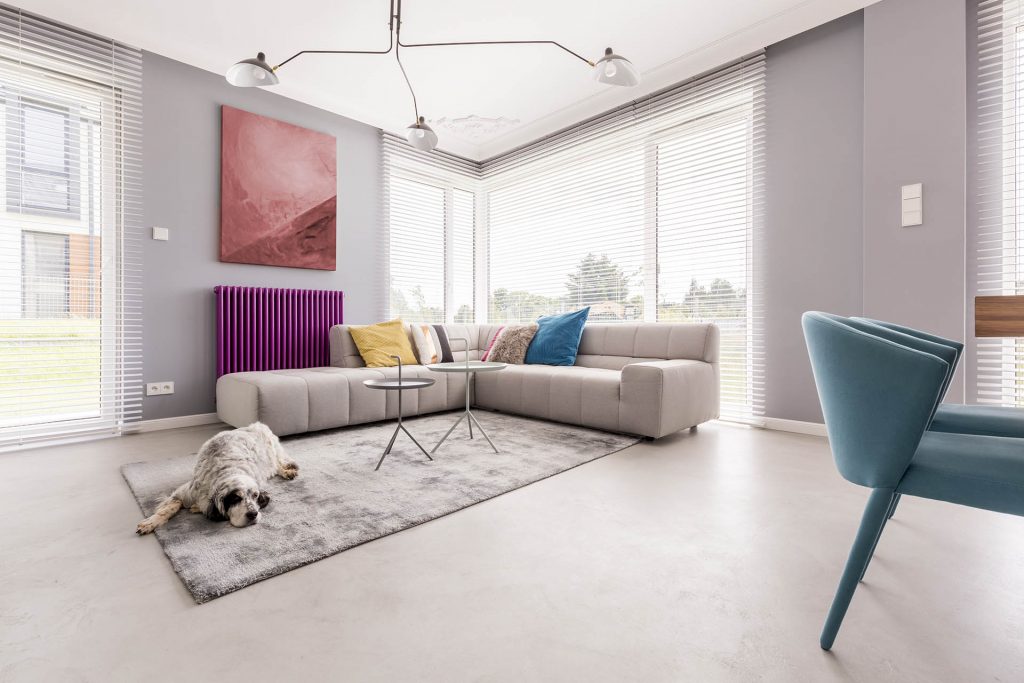 Horizontal blinds consist of the familiar slim horizontal slats which can be rotated open or shut by pulling on a chord to the side. Although they're most widely used in kitchens, bathrooms, and offices, they're available in a wide range of colors and materials, and can easily suit a living room if chosen with care.
They offer the advantage of convenience and flexibility, while also lending a room a distinctive look which is ideal for more contemporary decor themes. And while low-cost, lightweight plastic models are available, choosing metal, wood, or faux wood will give a longer life and a sturdier feel.
8 | Shutters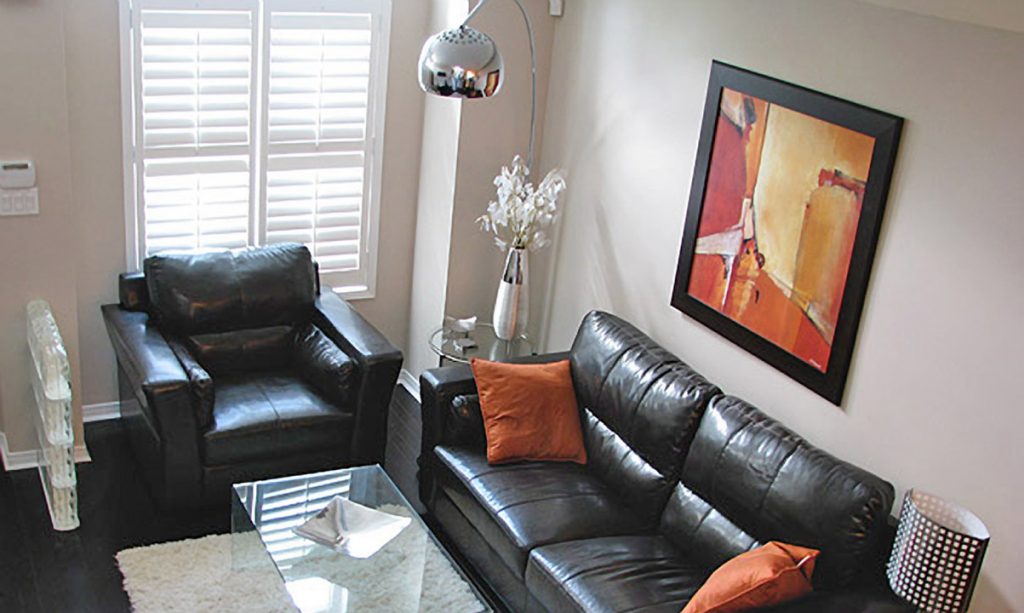 Last but not least we have the ever popular shutters. They provide classic elegance that will never go out of style. Shutters can still be made with wood but most people buy the Poly made shutters for their durability and cost savings. They will never warp, chip or fade and they are water resistant. They have flat finishes that are beautiful and you don't notice that they aren't wood.
Motorize your window coverings
You can get them motorized too. If you have a lot of them, you will probably want to get the motorized so you can operate them all at the same time with your smart phone.
Whichever type of window covering you decide on, always choose it at the start of your decor design and build the rest of your living room's look around it. Window coverings are a dominant feature in any room, and you need to choose wisely to produce a final effect that fits together well.
Also check out "Get A Wow Factor With These Small Living Room Ideas"
See the latest WINDOW COVERING DEALS from BlindsExpress.com