A room divider can add a dramatic change to the decor and functionality of a room.
Some are designed to be subtle and more functional and others are purely decorative adding an attractive accent to the decor while still giving a feeling of division in the space.
A single room can be easily be changed to feel like two rooms and you can quickly add stylish decor with the addition of room dividers.
Folding panel room dividers are fun to shop for since they can come in a variety of materials, decorative designs, they can include different panels and shelves, and some just add a wow factor because the design is so elegant!
Room dividers are fun to shop for because there are so many to choose from online. The infinite selection can also make it overwhelming.
We've got you covered – we rounded up a beautiful, modern collection of our favorite diy room divider ideas. Enjoy!
Have a look around at all the wonderful designs and if you are going to buy one, be clear on what purpose it will serve. Will it be primarily for creating privacy in one part of a room?
If so you'll want one that you can't really see through. Sliding glass room dividers are more costly but they are permanent and will add elegance and some value to your home .
The first thing that you need to consider when buying decorative panel dividers is what purpose they will serve in your home. Next, think about the style of the dividers and how they will fit into your existing decor.
Room dividers are an easy and cost-effective way of getting more space without spending a lot of money. They are a great option for those who live in small apartments or homes.
There are  various reasons why you might want to add a Room divider, from adding privacy to separating spaces for different activities.
They can be used as a room divider, as a screen, or even as a temporary partition like your bedroom when you have a newborn baby.
Bookcase Room Dividers
This bookcase room divider is just one the fantastic Wayfair room dividers that is functional, decorative and affordable.
Store your favorite books and decorative elements like vases and candles and you have an easy solution that divides your room with a cozy, stylish touch.
If you want your room divider purely for decorative purposes, then you could go with something like this that adds beautiful style.
It breaks up the room to make it more cozy but it obviously won't provide much privacy. This Mid-Century Modern room divider, shown above, can really add some eclectic chic style to your room.
Wicker Room Dividers
For a casual, classic look, look for wicker room dividers. There are some beautiful styles available that will charm any room with a modern bohemian style decor. Many style of room dividers from amazon are reasonable and ship fast.
Asian Style Room Dividers
Modern style meets Asian tradition in this four-panel screen room divider. Each panel is made of solid pine wood and features a clean-lined rectangular silhouette with metal two-way hinges.
A semi-opaque screen is crafted from rice paper panels lined with gridwork lattice overlays. For easy transport and storage, this room divider can be folded and unfolded easily.
Built-in Room Dividers
When you're looking for some partial privacy and want some style, consider using simple wood slats rather than building a solid wall out of sheetrock.
4 Panel Room Dividers
4 Panel Room Dividers are a great way for parents of a newborn to divide the bedroom and make a space for their baby's crib. It will also offer privacy and safety, as well as the ability to temporarily adjust the layout of the room.
Curtain Room Dividers
Whether you need to divide the garage or a bedroom, a curtain room divider might be just what you need.
Room Divider Styles
Some room dividers can be mounted on the ceiling or wall while others are freestanding with legs of their own.
Room dividers can be made from different materials like wood, metal, fabric, glass and plastic.
Create a Home Office Space with Room Dividers
Panel room dividers are the ultimate way to turn any space into your own personal workspace. These dividers can be used for a variety of reasons and are perfect for creating privacy in a shared space, or for providing some extra office space in your living room, bedroom or even the kitchen.
These panels come in all shapes and sizes so you can choose the one that's perfect for your home.
Extendable Room Divider – Versatile for any Space
This extendable divider is great for small spaces because it can be folded up when not in use. It is also perfect for larger spaces because it can be extended to the desired length.
The divider has three different positions that are perfect for all kinds of purposes: bookshelf, table, and screen.
Multi-Panel Room Divider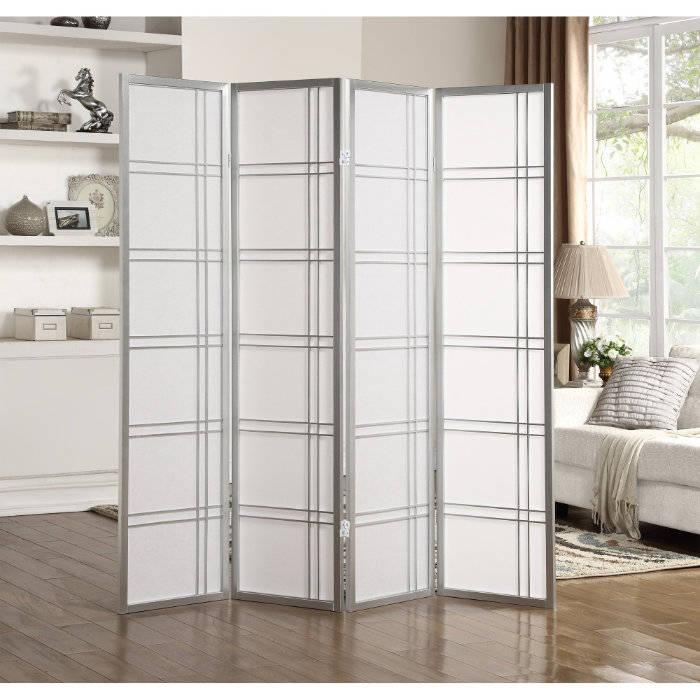 A Multi-Panel Room Divider is a great option for homes with open spaces, or even studio apartments. A corner can easily be converted into a reading nook or dining area.
This stylish multi-panel divider makes making the most of your living space easy no matter how you use it.
We have been talking about how room dividers can divide up an open space. However, they are also good for visually blocking off areas that are not being used for anything else, such as garages, basements and storage spaces.
DIY Room Divider Ideas
Many screen room dividers are inexpensive and don't require professional installation. They're easy to move and you can also rearrange room dividers any way you like.
We hope these room divider ideas help. Have fun choosing a modern room divider you love and enjoy your new space.
We came across so many creative ideas while putting this list together. Instead of letting them collect digital dust we thought we should share them, so here are links to some of the great posts we found about room dividers:
Also check out this video with 60 ideas for room dividers:
See our recent post called Beautiful Accent Wall Ideas to Add Luxurious Style.