The challenges of decorating a small or narrow townhouse can be quite difficult because of the limited space and lack of storage areas. However, with some careful planning, you can give your modern townhouse design a luxurious look.
Modern townhouse designs can also be limited on space, so here are 7 ideas that will maximize and rejuvenate each room. Our modern townhouse decorating ideas will help you decorate your townhouse and add a luxury feel to your home.
7 Space-saving, townhouse decorating ideas to transform your townhouse with some luxe
The first thing you should do when decorating your townhouse is to find out what the layout is like. If you have a narrow living room, then it would be best to put furniture against one wall so that the other side of the room is free for walking around.
This way, you will have more room to move around and will also be able to arrange furniture in a way that maximizes the space available for seating arrangements.
1. Purchase a sofa bed
If you like to have guests stay overnight, a sofa bed pro is a great idea. Sofa beds can turn any room into a comfortable place to relax during the day and serve as a comfortable place to sleep at night for your family or guests. Various mattress options are available to ensure maximum comfort.
To decorate, consider adding above sofa decor such as a photo gallery wall, beautiful prints or even an abstract metal sculpture for the wall above the sofa.
2. Add a lifting coffee table
Coffee tables play an important role in setting the tone of your living room. A lift-top coffee table will give you the possibility of doing just about anything you want. Are you looking for the perfect workspace? Would you like to enjoy watching TV while eating? Would you like to fold clothes easily? A lift-top surface makes it possible to do it all thanks to an adjustable height that is suited for you.
3. Desk additions
A desk can lead to your inspiration spot if your townhouse design lacks a dedicated office. Take into account the interior design style of your room when choosing a desk style so it looks consistent and cohesive with everything else in the room. For your seat, a stylish chair will perfectly blend in with your surroundings.
4. Install additional storage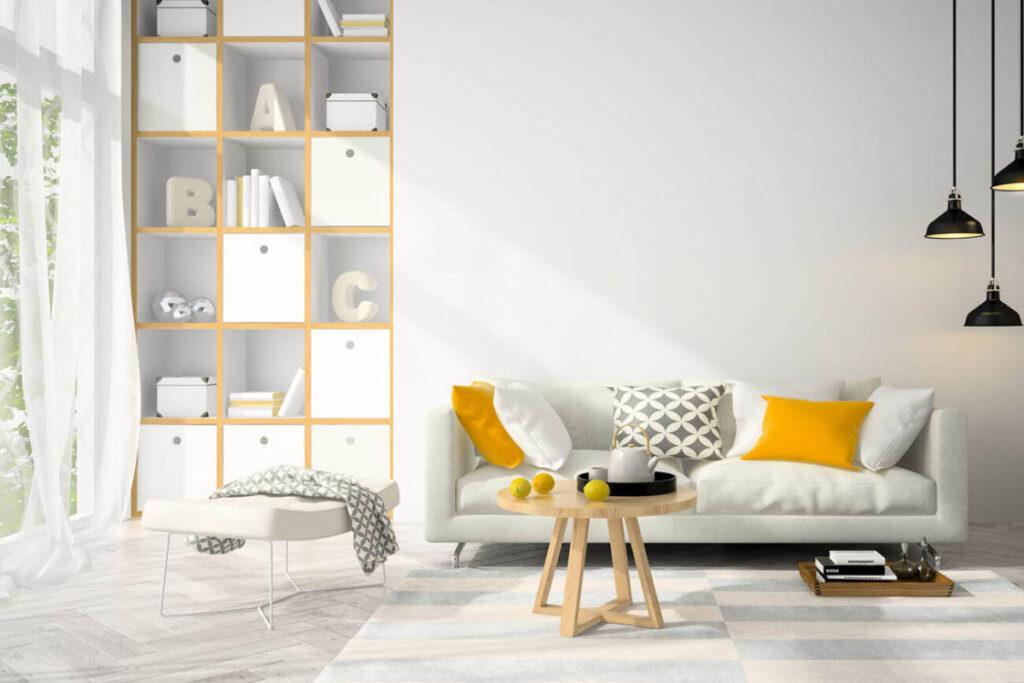 There is no denying that storage is essential for any house, regardless of how big or small it is. Storage beds are the perfect solution for small townhouses that lack closet space and bedroom areas that do not have space for dressers or chests. Sheets, shoes, and extra clothing can be stored in drawers built into the frame.
5. Round tables
The round dining table will create a more intimate setting in your townhouse than a square or rectangle table. As well as saving space, there are no sharp corners, which makes the design a perfect family-friendly one. It will be particularly fun to gather around the dining room table for breakfast, lunch, and dinner, especially if your chair is comfy, light, and airy.
6. Kitchen island
The kitchens of townhouses are traditionally on the smaller side, so when you do miss out on counter and storage space, a kitchen island adds the extra space you need. Additionally, they provide a place for utensils and essentials as well as a space to prepare meals. Everything that you may need is easily accessible with the addition of more drawers and shelves.
7. Design Your Entryway
With a modern townhouse, and considering the fact that there are usually a lot of stairs, you don't want to be running up and down as you need your keys or cell phone.
You need a place where you can drop off and pick up all of the essentials you cannot leave your home without. It may be easier to place your essential items on a bench or table at your landing where they can be seen clearly.
Add Mirrors
The oldest trick you can use is the installation of mirrors. Mirrors give an illusion of a larger place. It will make your room brighter and airy. It adds personality to your townhouse without occupying too much space. You can use a windowsill for décor, or extra storage. It gives extra lighting to your house.
Modern Townhouse Design
A modern townhouse has a distinctive appearance from the outside, and the same applies inside. They offer high potential for contemporary style, thanks to their taller, narrower interiors and higher ceilings.
No matter how you spice it up, whether you use light, bright, trendy-colored rugs, sweeping, sheer drapes, or sleek, geometric sofas and accent chairs, just remember to let your personality shine through with color and design.
Modern townhouse designs have a timeless aesthetic and can be incorporated into any era and for years to come; buy pieces in these styles to create unique and comfortable living spaces you'll love.
We hope these decorating ideas for a townhouse will help you make your modern townhouse design even more comfortable and beautiful.
Also check out Get A Wow Factor With These Small Living Room Ideas and our popular post about Industrial Farmhouse Decor