Updated August 25, 2021
What Is Industrial Farmhouse Decor?
I have explored many of the farmhouse styles that have evolved over the years. I think if I had to choose a favourite it would be Industrial Farmhouse because it is such a flexible decor style that results in something truly special and unique every time.
Elements used in the decor would be described as sturdy, not delicate. Modern Industrial decor blends the contrasts of urban and rural style in exciting and unique ways.
Industrial decor for residential use is rooted in old factories and warehouses being converted into living spaces so words like rugged, worn, used, raw are often used to describe this style. Elements like reclaimed wood, tarnished metals, wrought iron, and vintage furniture are staples of modern Industrial Farmhouse decor.
If you're planning a farmhouse decor DIY project, read on to learn more about the various modern farmhouse styles, their differences, and a deeper dive into what makes Industrial Farmhouse Decor so striking!
Make Use of Existing Structure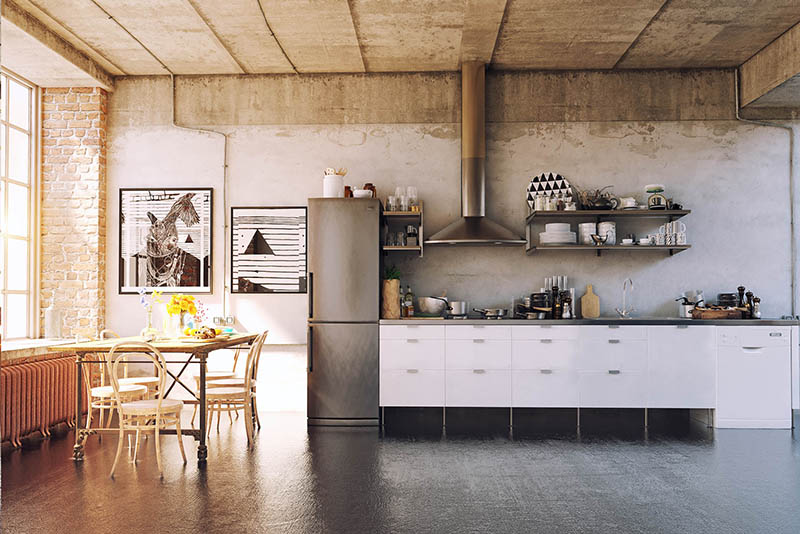 Industrial decor style looks amazing in a warehouse, loft-type space but it is certainly not limited to that. In a loft, you would incorporate any exposed brick, heating ducts, and feature any raw architectural elements in a modern industrial building. These are elements we usually hide with drywall in a residential dwelling but here they are celebrated.
The Industrial Farmhouse style also makes use of concrete features that may exist. Concrete features such as pillars for internal support and load-bearing walls can be decorated in creative ways for a unique effect. These concrete features are normally flat and without any decorative detailing.
If you love the look of warm and cozy interiors but don't want to use any old furniture and accessories, you will definitely enjoy the charm of the Industrial Farmhouse decor with its sleek lines and simplistic approach to design. A contemporary style of farmhouse decor is one with clean lines and minimal decoration. You can still add beautiful furniture pieces, but it is important not to clutter the space with too much artwork and knickknacks. The Industrial Farmhouse decor style is all about simple lines, sleek appliances, and simplistic color schemes. Think rugged, not dainty.
How to start with Industrial Decor Style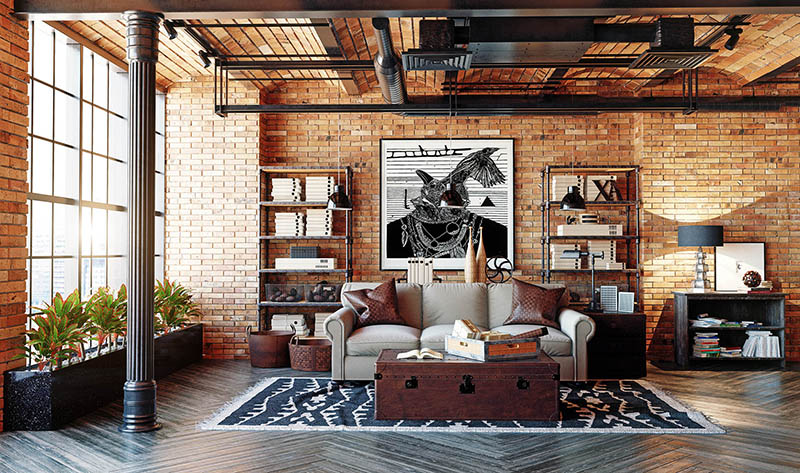 Today's industrial farmhouse furniture can take many of the characteristics of industrial design and create a comfortable but ruggedly modern room.
Dark woods and black metal accents are commonly used and industrial style furniture leans toward darker fabrics or leather. Add warm tones of color using throw pillows. Tans, beige, and gray tones can add softness to offset and balance out the coldness that industrial decor can have.
Industrial Farmhouse decor ideas
Wrought iron and black metal are key elements that can evolve your decor into an industrial style. It can be used the barstools if you have an island, chairs, coffee table legs, industrial shelving, light fixtures, railings, sideboards, coat racks, and more.
There are many other decor elements that you can use to bring in the industrial style. In the kitchen are for instance you could use reclaimed open shelves instead of upper kitchen cabinets. Add black pipe style brackets or black metal L brackets to give them a sharp industrial look.
Lighting can dramatically change the feel of the entire space. For the dining area, something like a vintage wheelbarrow-style chandelier is a spectacular look. Farmhouse pendant lights or birdcage pendants over an island or other areas that need overhead lighting can add beautiful dimension.
Another way to create the look of rural style is to decorate with finished wood products from around the world. Solid unfinished hardwood furniture comes in many varieties such as teak, mahogany, and oak. There are many different finishes available such as sanded, clear lacquer, natural, and oil rubbed. You can also find various modern farmhouse wall decor and accessories such as vintage signs, barn doors, wall clocks, wooden coat hangers, and abstract wood artwork.
What are the Different Modern Farmhouse Styles?
Modern Farmhouse style has evolved with several hybrid versions as designers come up with creative variations by combining farmhouse style with other popular styles.
To achieve the best results with your existing architecture, you will likely use one of these or create your own hybrid farmhouse style.
Consider some of these popular farmhouse styles to best suit your home and personal taste:
Boho Farmhouse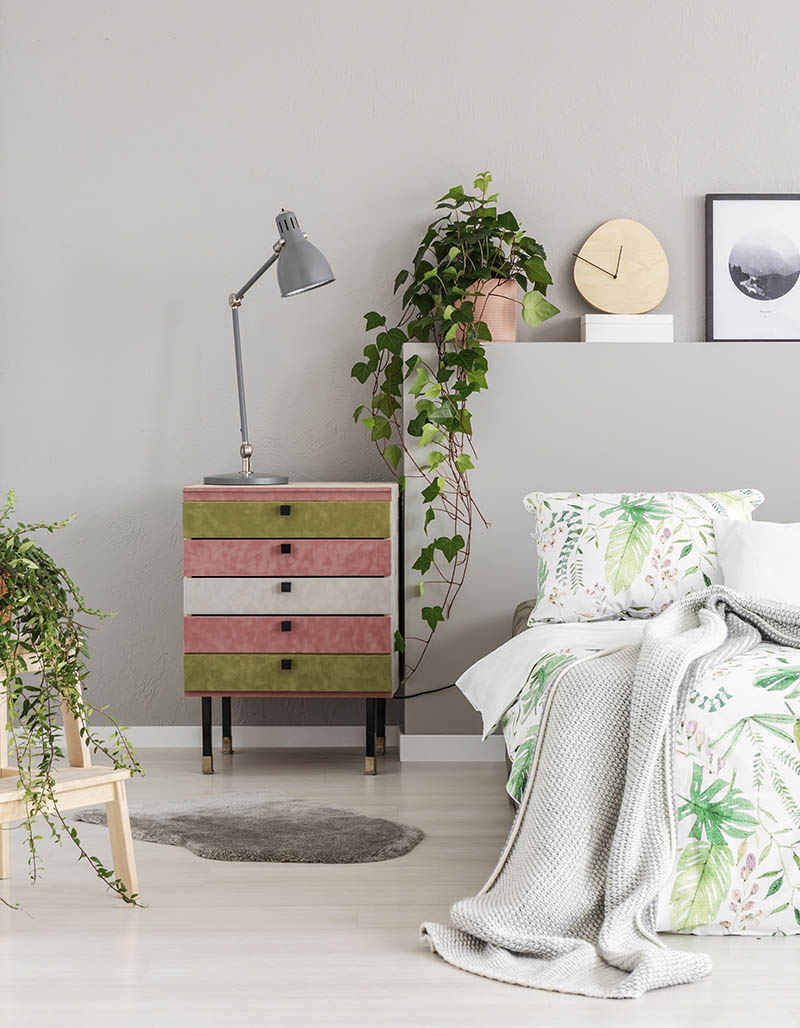 Bohemian style interiors tend to be rich in textures and very cozy and inviting. The unique feature of this style of decor is that it comes with an abundance of colors from bright and vibrant orange to neutral pinks and blues. Also, the use of natural materials like sisal, bamboo, and cotton adds a rustic and authentic feel to this type of decor. Think textures like baskets, macrame wall hangings, wood, and upholstered furniture sisal rugs, Persian rugs, planters of various kinds. If you are more of a minimalist you can go in that direction for a more chic look or you can go to the other extreme if you're a maximalist. Boho Farmhouse is a very flexible decor style.
Coastal Farmhouse
Coastal Farmhouse Decor is all about mixing and matching farmhouse and coastal accessories like ropes and anchors without worry about going overboard (bad pun intended). Since this decor is associated with homes on the beach or near the coast, the accent colors tend to be light and navy blue. Be creative, have fun, and be confident in your abilities as you create a cozy retreat within your home.
French Farmhouse
French Farmhouse combines romance with modern elegance using the colors and textures of rustic country-chic and modern design. Decor elements and furniture pieces are inspired by the cottages of the French countryside.
Industrial Farmhouse
Industrial modern farmhouse style combines welcoming and casual farmhouse environments with the ruggedness of industrial decor. The style comes from living space born from the conversion of old factories and warehouses so rugged, worn, used, and vintage style elements are staples of the decor. Adding the Farmhouse style elements to bring in the warmth and coziness. In some ways both styles share much in common with traditional farmhouses, which feature built-in kitchens, warm wooden flooring, white walls, floating shelves, and exposed brick.
Modern Farmhouse
Comfortable and relaxed is the overall feel of Modern Farmhouse decor. Common characteristics of the modern farmhouse decor style include; contemporary design elements like stainless steel appliances, granite or quartz countertops with sharp, simple lines; neutral color schemes, barn wood accents, plank wood floors, comfy upholstered furniture; and, of course, lots of natural elements such as cotton, wicker, sisal, and rattan. In short, if you seek the charm, warmth, and comfort of an older-fashioned country house with all the efficiency and practicality of today's contemporary style, then the modern farmhouse would probably best suit you.
Rustic Farmhouse
If Rustic Farmhouse appeals to you more, think wood beams, reclaimed wood, repurposed antique, fireplace, stonework, and warm earth colors. Wood elements are generally stained darker than their natural color and aged or distressed to some degree.
Scandinavian Farmhouse design manages to combine the beauty of old-fashioned barns and chalets with the efficiency of modern living with a very simple and minimalistic design approach. Depending on what decor elements you choose, you can go very chic or make a more cozy style. Clever placement of pictures and other unusual items can help to add an element of surprise and excitement to your decor. There are also hybrid styles within hybrid styles. Consider   Minimalistic Scandinavian Farmhouse or Rustic Scandinavian Farmhouse. How about Boho  Scandinavian Farmhouse. Oh yeah, the possibilities and endless.
Traditional Farmhouse
Traditional farmhouse style pays tribute to authentic farmhouse kitchens in our history. Features like shaker cabinets doors, barn lighting fixtures, various metals, and apron style "farmhouse" sinks are characteristics to expect in today's Traditional Farmhouse decor. A big wooden dining table, repurposed antiques, reclaimed wood elements are also common in traditional farmhouse style.
Industrial Farmhouse Decor on a Budget
Incorporating items like wrought iron, farmhouse tables, antique doors, floating shelves and other vintage looking elements like old signage and posters will get you started. Check out stores that sell wrought iron and furniture that are inspired by vintage designs. There are plenty of thrift stores that sell old metal parts, such as wheels and handles, that can be used to complete your custom made industrial elements.
Visit Flea Markets and garage sales where you can old wooden furniture that has been slightly damaged. Then you can repair, paint or stain in any way you like to create your very own vintage style elements that will suit your taste perfectly. Facebook marketplace is also a good source for used furniture. Regardless of how you choose to incorporate the look of industrial elements into your home, it's sure to add a unique touch that no other home will have!
Industrial Decor for the Living Room
If your aim is to create a more modern look, then the emphasis will be on bright colors, stainless steel, and metal fittings. Glass is often used in industrial farmhouse style as are steel framing and stainless steel wire. Wall decor can be either bare or decorated with wall art.
When you decorate with industrial farmhouse style, don't limit your modern farmhouse living room ideas to wooden elements. Incorporate metal and even copper or iron elements into their design. If you have a large painted wall, try creating a gallery wall of photos, signs, and other elements to really warm things up.
As mentioned earlier, floating shelves are a great choice too. Use pipe style brackets for the industrial look and warm it up with family photo frames resting on the shelves. If you have an exposed brick wall you don't really need to put anything on it all in many cases. However, if you feel it needs something consider a vintage sign or maybe a collage of them.
Find sturdy pieces of furniture for your industrial decor style that are made from sustainable woods. A good idea might be a coffee table or daybed that can double as a sofa or chair. If you have a craft table or an artist's table available, make use of it as an extra place to craft homemade projects.
Rustic metal finishes add an element of ruggedness to the industrial farmhouse style furniture and are very popular. If your piece of furniture doesn't have metal finishing then you should look for pieces of furniture with decorative iron features that will add a touch of elegance.
Modern Industrial Farmhouse Kitchen Ideas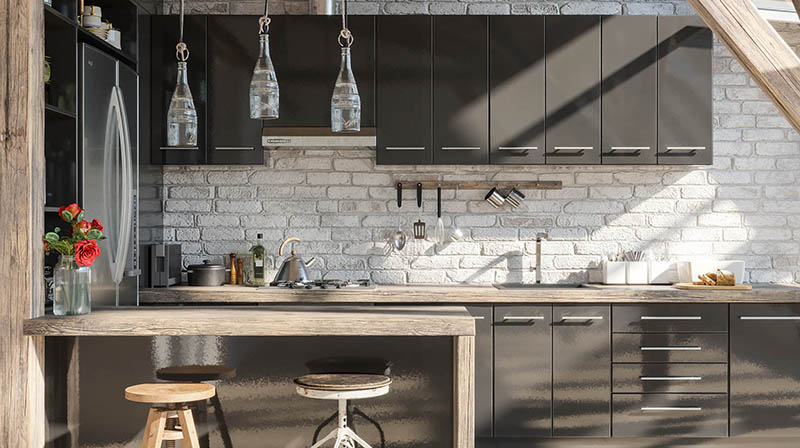 With industrial decor style, you'll find many antiques and period features. For example, your kitchen walls may be lined with wood shelves to hold dinnerware, cups, pans, and plants. If your kitchen includes an island, adding a barn-style door to cap the end is a great look and it adds warmth and charm to the space.
Don't forget to include high-quality metal in your plans for your kitchen. Metal is the easiest way to create a focal point in any room. High-quality metal items will help the entire room seem modern and chic and modern stainless steel appliances will certainly fit right in.
Try using an industrial farmhouse style kitchen sink to really celebrate the style. Over the countertop, you could place a piece of round or oval metal cooking rack with three racks above the sink. The combination of high-quality metal with touches of wooden elements will give your kitchen a real country kitchen feel.
Industrial Farmhouse Bathroom Ideas
Key elements that will give your bathroom an Industrial Farmhouse look are similar to what we described for the kitchen and living room. There are so many possibilities when decorating an industrial farmhouse bathroom. For instance, it can look amazing with a vanity made of reclaimed wood, rustic mirrors, stone sinks, and wall sconces. Open shelving with pipe brackets works beautifully, subway tiles always look great. Try a ladder style towel rack made with pipe fittings. An open shelf vanity is also very effective. Try metal pendant lighting.
What are the Best Farmhouse Colors?
Earthy neutral colors work well with industrial farmhouse decor.
Here are some specific paint color suggestions.
In Summary
When decorating a modern industrial farmhouse, think of different ways to combine vintage elements with modern decorating ideas.
Don't limit yourself, explore the possibilities. Combine rustic wood with smooth wrought iron or smooth wood with aged metal.
If your farmhouse has exposed brick walls, you can add vintage signs to the walls and hang vintage posters that pay homage to past eras. Add a few natural accessories, such as wooden wall shelves and pottery.
Where can you buy Industrial Farmhouse Furniture?
Several large retailers like Pottery Barn and Wayfair have beautiful farmhouse furniture.
Thrift stores, second-hand stores, and Facebook Marketplace are great sources if you are up for doing a little restoration work.
Websites to find Industrial Farmhouse Decor
If you're looking for something new and a little more unique, we rounded up some great websites where you can find farmhouse furniture online:
You might also enjoy our articles on Mid Century Modern Living Room Ideas and  Our favorite Stylish Comfy Sofas