Getting a new area rug can be exciting and it's one of the easiest ways that you can dramatically change your room decor. There are several factors that can help guide you in knowing how to choose an area rug that will elevate your decor.
Rugs are commonly used to complement hard floors such as hardwood, laminate, or tile. In some cases, an area rug can even look great on top of carpeting. Despite the many reasons why area rugs are so popular, many people are reluctant about adding one to their floor. They don't want to cover up their beautiful new flooring.
While hardwood flooring is beautiful, an elegant area rug can make the flooring look even more spectacular just as a room with 4 nicely painted walls looks better when one of them is an accent wall. It's all about creating balance.
A rug's aesthetic appeal is perhaps its most obvious benefit. A room's area rug can not only bring warmth and texture to its interior, but also coordinate which elements in the room are combined together. For example, they can pull together multiple colors that coordinate well in the room.
Nevertheless, area rugs offer many benefits beyond their aesthetic value. Find out how area rugs can actually improve the look of your space if you're not sure if an area rug is right for it by reading on.



FAQs
How can you tell if an area rug is good quality?

Line count refers to how many knots or stitches are on each square inch. Higher numbers indicate higher quality. There are rugs with over 6,000 knots per square inch, but most are from 200 to 400 knots per square inch.
What is a good quality area rug made of?

Natural fibers like wool or silk are used to create high quality rugs. The advantages of wool rugs include durability, versatility, and naturalness, which make them an excellent investment for those who want to invest in their home decor. High-quality rugs can be expensive, but they are worth the investment.
What makes a rug luxurious?

Most expensive rugs are made from high-quality natural fibers such as wool, silk, or cotton. Conversely, a rug with a moderate price range is usually made from synthetic materials, such as polyester, olefin, or nylon, or even lower-quality wool or other natural fibers such as jute.
What is a good rug thickness?

Under the bed or dressing table, choose a low to medium pile height of ¼" to ½", or choose a high pile of ½" to ¾" if no furniture will be placed on the rug. In a kitchen, a low to medium pile height of ¼" or less is your best option as it allows for easy cleaning.
What type of rugs are best for the living room?

Best Rugs for Living Rooms. Wool and sisal rugs are ideal for areas where you entertain a lot, such as family rooms and dens, since they are highly durable.
What rug size is best for a living room?

It is recommended that a rug be large enough to at least rest the front legs of your furniture on. Usually a 6'x9′ or 8'x10′ rug is a good size for a medium size living room. For a larger size living area you'll probably need 9'x12′ or larger.

Check out this rug size guide below.
What rug size is best for a dining room?

Choose either a 6'x9′ or 8'x10′ rug if you have a 6-seater dining table. If you have a large dining table that seats 8 to 10 people you should use a 9'x12′ or larger. A rug of 4'x6′ will do if you have dining table with two seats.

Check out this rug size guide below.
Some Benefits of Area Rugs
Reduced Noise
Area rugs significantly reduce noise in a room. A carpet not only makes walking on it quieter than walking on hard surfaces, but it also absorbs any sounds in the air.
If your room has a slight echo, it is because hard surfaces do not absorb sound, in fact they make sounds bounce around from surface to surface until it dies out. Carpets and rugs are soft surfaces that absorb sound which makes the room much more pleasing to be in. Test this out yourself by laying down a carpet and see what a difference it makes.
Rugs Provide Comfort
In addition to feeling softer to your touch on your skin, rugs also have a flexible surface that allows it to absorb some of the impact when you walk on it. Walking or standing on carpet provides much more comfort than hard floors. As a result, your body feels less stressed.
Rugs Provide Warmth
Carpet is not only softer than hard surface flooring but it is also warmer. Rugs have a greater insulating value, especially if the rug has a pad under it. The benefits of this apply throughout the home, but are especially important in basements where the floor can get extremely cold.
Area Rugs Tie Your Room Together
Even if they don't know how or why, people intuitively know that an area rug can ground a space. This is due to a number of factors.
An area rug has several benefits, the first of which is that it can visually anchor furniture in a room, thereby creating a cozier, intimate atmosphere.
If there are four main pieces of furniture – sofa, loveseat, chair, and coffee table – all seated on the rug, or at least the front legs of the furniture are all on the rug, a living room or family room rug should be large enough to accommodate all of them.
The furniture can feel like it floats in the room without a rug. Check out this rug size guide below.
Area rugs also provide a resting place for the body and energy, which can make a space feel grounded and comfortable. An area rug slows the flow of energy in a home, especially if you subscribe to feng-shui or similar beliefs, or if you feel it intuitively. Energy moves more quickly over hard surfaces than over soft surfaces.
Spaces can feel somewhat chaotic with fast-flowing energy as there's nothing to slow it down, so there can be feelings of anxiety or excitability. Rugs help to calm the energy of a space by slowing it down.
Tips on How to Choose an Area Rug
A room can be greatly enhanced by area rugs. The rug can either be neutral or made from natural fibers, which will add texture and comfort to a room without becoming the focal point, or you can choose a rug with bold colors or rug patterns if you would like it to be more of a feature in the room.
In the hallways and near the kitchen sink, long narrow runners can look amazing. In addition to adding comfort, they add color and softness to the room, and they are simple to move around the house if you want to switch things up and use them somewhere else.
The main conversation area of the living room looks better with a larger area rug that can tie together all of the main furniture and helps define the space.
It is recommended that a rug be large enough to at least rest the front legs of your furniture on. Sometimes it takes a little trial and error to get the right one but area rugs are usually quite easy to return, at least in comparison to wall-to-wall carpeting. Check out this rug size guide below.
Choose an Area Rug You Love
Area Rugs can be a tremendous enhancement to any room, not just for aesthetic purposes, although visual appeal and style are the most important considerations. You may end up choosing a rug that you love and one that you can enjoy for many years to come.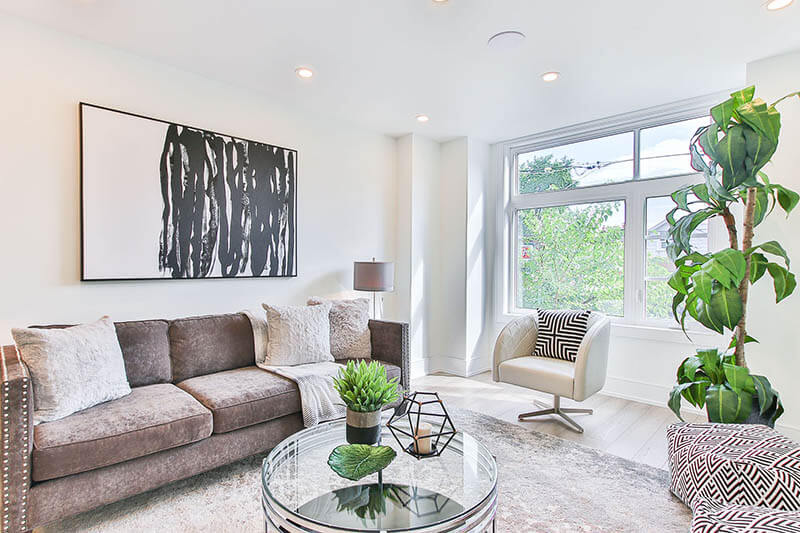 You may also enjoy frequent change and area rugs make this an easy thing to do. You can buy a new rug for your living room and try moving your old one to another room or you could easily sell it on Facebook Marketplace or similar.
White living room rug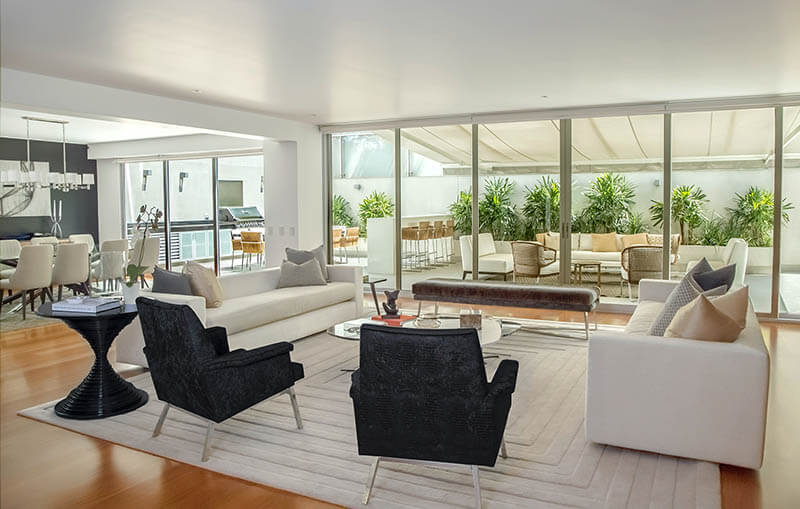 Sometimes a white living room rug is just the right thing.
What's the best type of rug to buy?
The factors that you should consider before buying a rug include:
Style
There are 4 primary style categories to choose from here.
Traditional – Oriental, Persian, Moroccan etc.
Natural -Silk, Sisal, Jute, Leather, Cowhide, Sheepskin
Bohemian – Shag, Southwest, Dhurrie, Kilim
Contemporary – Mid-Century Modern, Geometric, Farmhouse, Coastal
Size and Shape
Living Rooms: Generally, all furniture that is grouped together should at least have the front legs resting on the rug.  If you have a large living room, all the furniture, front legs and back legs should fit on the rug with ample space around not where the legs are near the edge of the rug.
Kitchens and Entryways: Choose a narrow runner or a small piece (such as a 2′ x 3′ or 4-foot by 6′).
Bedrooms: When decorating a room, choose a rug that is large enough to fit under the bed and night stand, as well as extra width on each side. For small rooms, the rug should cover around 13 percent of the base of the bed, or you can use smaller area rugs along the bed's side.
Dining Rooms: Use the size of the table as a guide. It is recommended that the rug extend at least 24 inches on all four sides to still allow a pushed-back chair to fit on the rug. This applies to rectangle and round rugs.
Outdoor Spaces: You should use a rug that is 12-24 inches shorter than the perimeter of the space outdoors.
Check out this rug size guide below.
Pile Thickness
High-traffic areas such as the kitchen are best suited to low-pile rugs since they have shorter fibers and loops.
Rugs with a high pile have longer, looser fibers, making them feel more plush and ideal for bedrooms or living rooms.
Materials
A carefully chosen and placed rug can make a huge difference to a room's decor. But a rug isn't just a rug; they come in many different materials, each with their plus and minus points.
1) Wool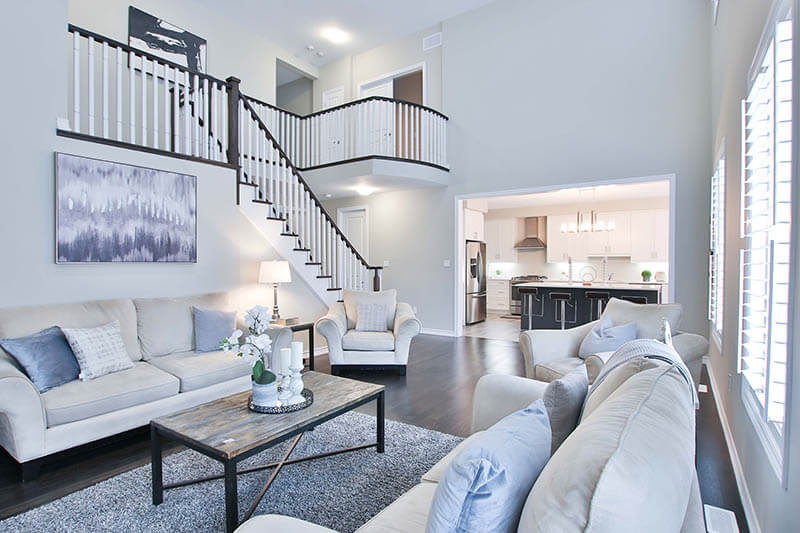 Wool is perhaps the most traditional and popular rug material, largely because of its flexibility in color and design. With the right color and pattern, it hides dirt and daily wear and tear. Wools also blends with the rest of the room. As another plus point, it's easy to keep looking great with ordinary household cleaning products. In the long term, wool rugs make a durable and lasting investment. Know that a brand-new rug will usually shed some fibers for the first few months before settling down.
2) Cotton Weave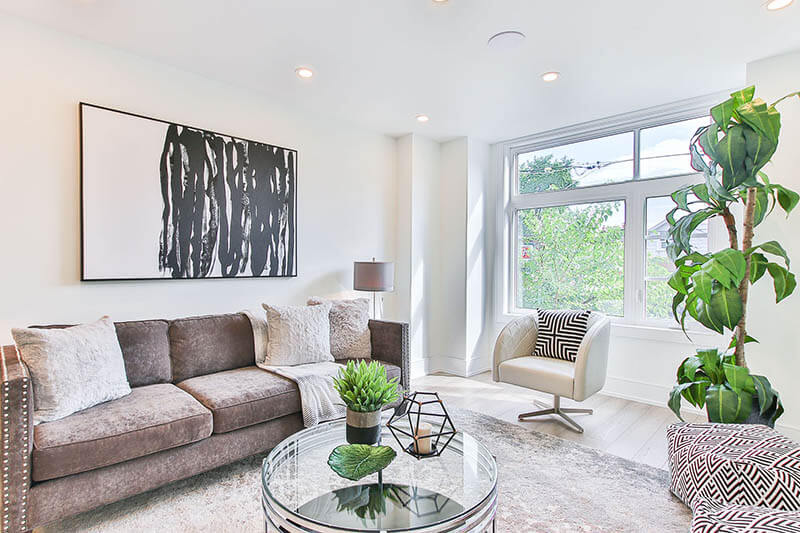 Cotton represents a step up in durability compared to wool and also offers an appealing softness, which makes it ideal for bathrooms, bedrooms, and other places where bare feet tread. It's also easy to care for and clean and doesn't have the allergy issues which some people come across with wool.
3) Jute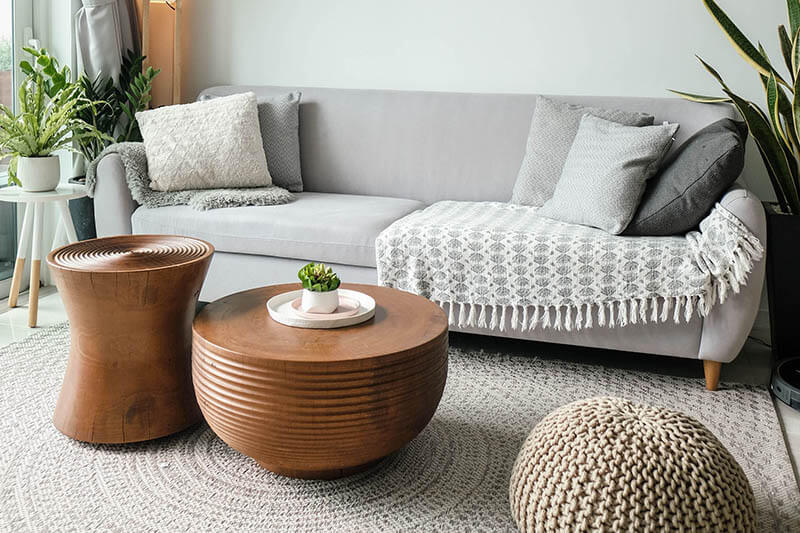 Jute is a plant-based alternative to wool. It's long-lasting, sustainable, and biodegradable so that it's kind to the environment as well as your home. It's also often handwoven to increase its eco-friendly standing even more. However, it's not particularly flexible in terms of looks and color and is most widely available in rustic shades of straw, beige, or cream.
4) Sisal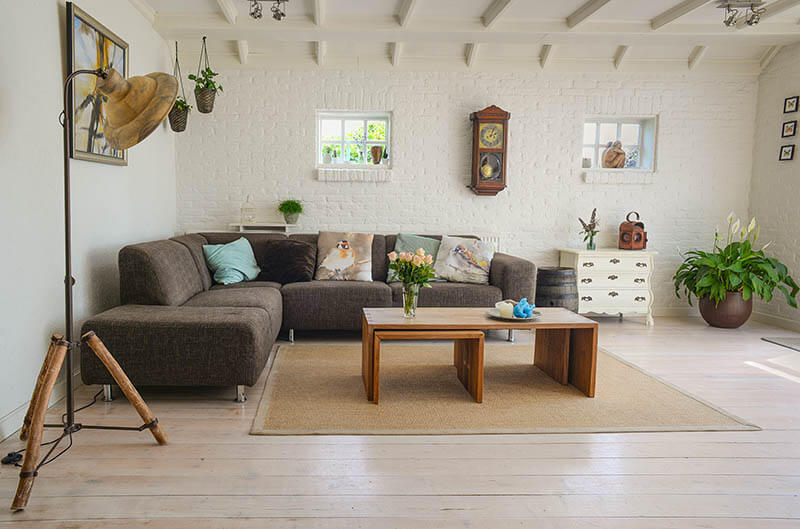 As another natural fiber, sisal offers many of the environmental benefits of jute. It's a little more durable, and so an ideal choice for busy areas where it can take the punishment. The price you pay for this toughness is a certain amount of scratchiness which can irritate tender skin. Also, sisal not as easily cleaned as most other materials.
5) Silk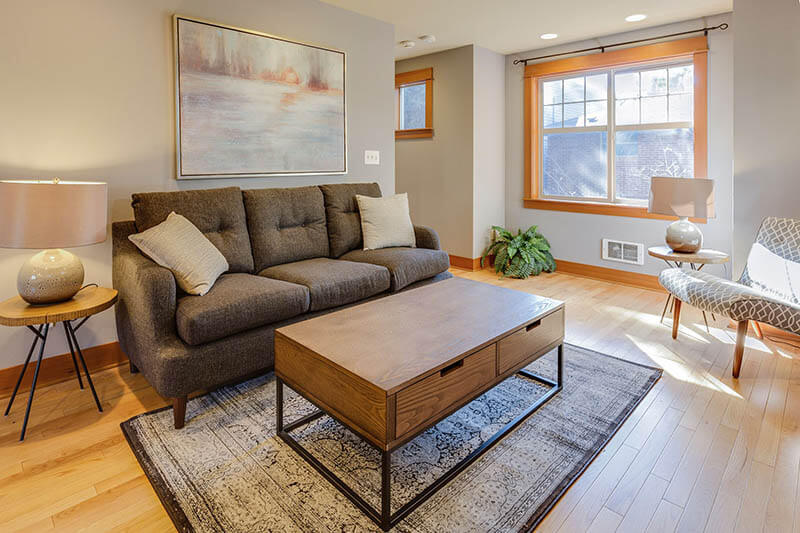 With it's elegant, lustrous looks and smooth, gentle feel, silk makes a luxury rug for bathrooms and bedrooms. Unfortunately, a pure silk rug isn't very resistant to wear and tear. For busier areas of your home, a rug made from silk mixed with a tougher material like wool is a better choice.
6) Polyester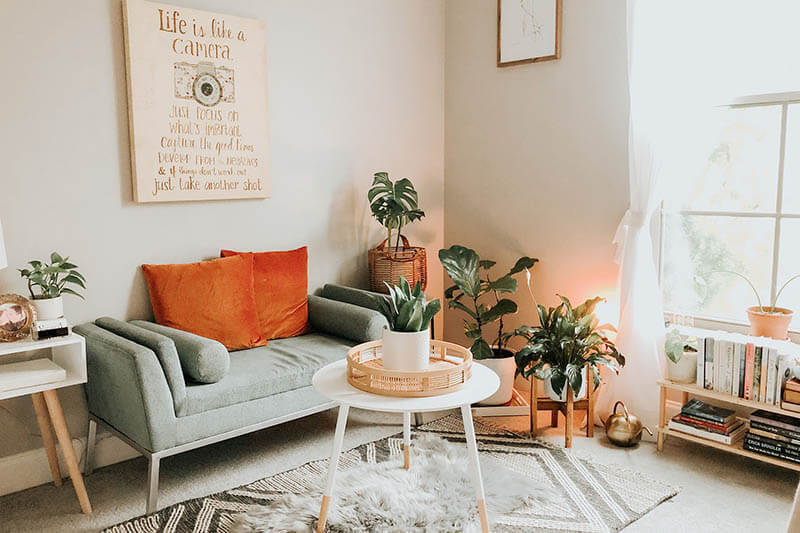 As a synthetic, polyester can sometimes feel a little less warm and welcoming than other rug materials. On the plus side, it makes some of the toughest rugs available, yet is still kind to soft skin. This makes it ideal for playrooms, and anywhere else young people are often around.
7) Polypropylene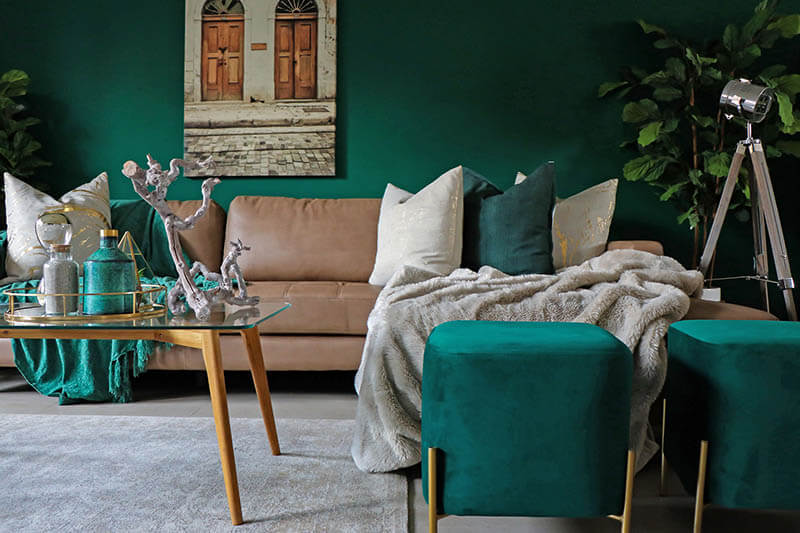 Extremely durable and also water repellent, polypropylene is a great choice for outdoor rugs, or for high-traffic areas such as entryways. It's also a cost-effective option, perfect for heavy-duty use rather than fancy decoration.
8) Nylon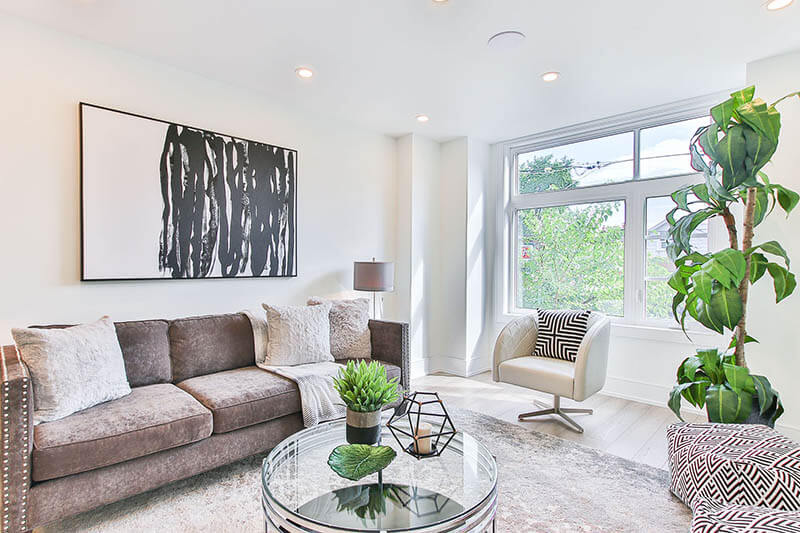 Lastly, nylon is highly durable, cost-effective, and available in a huge range of colors and designs. This makes it a great all-rounder, but as it tends to fade and lose its pattern over time, it won't produce rugs destined to become family heirlooms. All of these materials have their good and bad sides, depending on how you plan to use them. But take a little time to plan before buying, and you'll have a rug that both looks great and lasts the distance.
Wondering what rug size to buy?
Click on the Rug Placement guide below to enlarge it…
We recently discovered a fantastic new resource for area rugs called MatLiving. You can Save 15% when you use Promo Code RDDIY.
We featured some of their products in this article and some have affiliate links. We only make recommendations if we think they are excellent products and good value.
Also check out Beautiful Accent Wall Ideas to Add Luxurious Style.