Updated Dec, 21 2021
"It's truly amazing how much technology has changed our lives in the last 20 years.
I was designing my new office recently and looked around for some built in desk inspiration. Then it hit me. You don't need all kinds of storage cabinets anymore. Everything is stored digitally. Ok, that's an overstatement but you only need a fraction to office storage space compared even 10 years ago.
We had all kinds of drawers for documents, cupboards for CDs, cabinets for extra wiring, additional accessories and components and remember book shelves?
So here's the crazy thing…
We bought a new house and there was an area that would make the perfect office with built-in cabinets. I love that look and I knew just how it should be designed so it would blend into the space as if it had been built with the house.
Built in Bookcase on desk
I remembered the Billy Bookcase cabinets from IKEA that I had used once before in another home.  I just needed to do a little customization and the overall project would cost under $1000.00.
A Desk Built in Using Billy Bookcases
The Perfect IKEA Hack
We moved in, I ordered the materials and built it in a weekend. I drilled holes to pass wires through, installed some nice LED under cabinet lighting and hooked up all the electronics. I finished it off with some crown moulding and voila, it turned out beautifully.
Then it was time to store all my stuff in the cupboards. Two months later I don't have nearly enough office stuff to fill those cupboards.
They look great and they will gradually be filled household items. I guess I should be glad I have extra space to put junk when it comes. I'm ready for it.
Under $1000 for products used (no affiliate links here):
2 x Billy Bookcase Oxberg (IKEA)
2 x Billy Extention(IKEA)
1 x Linnmon Desktop $9.99 (IKEA)
1 x shelf (Home Depot) (cross piece to mount lights on)
8 x cabinet knobs (Home Depot)
3 x under cabinet lights with wireless remote (Home Depot)
1 x crown moulding (Home Depot)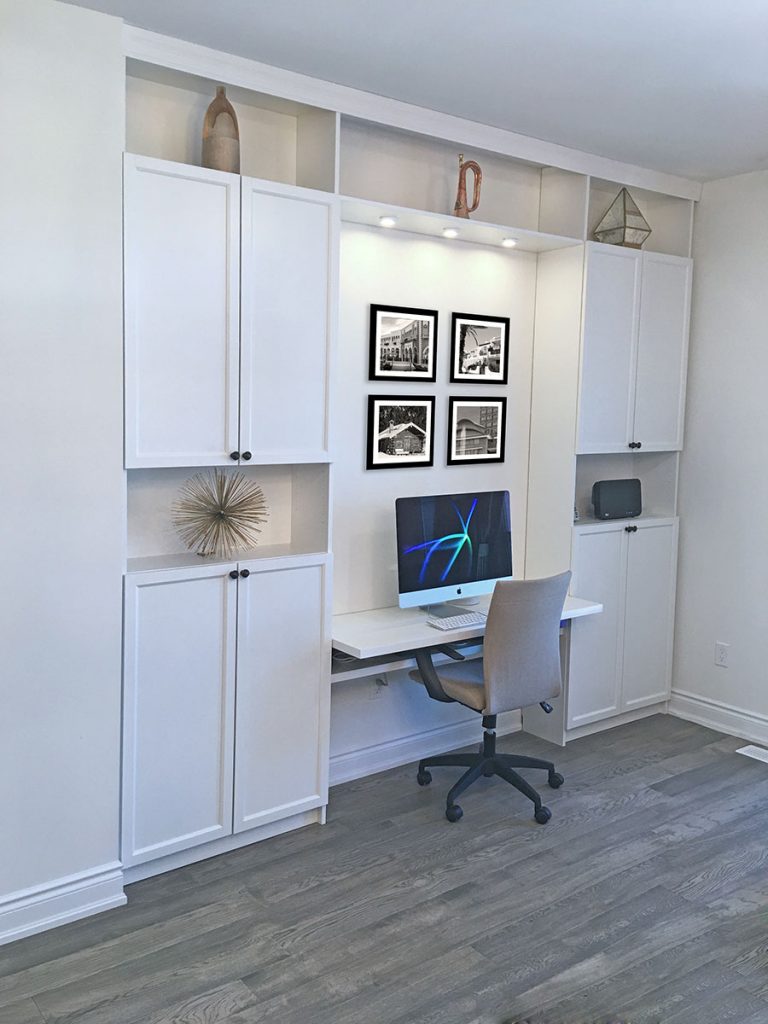 I guess my message here is, "plan ahead". I love the way it turned out but if I had given more thought about what I really needed to store, I might have designed it differently. For instance I could have use more open shelves making it more decorative and less functional.
Ikea hacks are simply great little ways to save money at one of their most well-known store, while making your home decor ideas come to life. Have you noticed how inexpensive Ikea furniture is? Not only do they have beautiful furniture, but the prices are reasonable and you are sure to find exactly what you are looking for without breaking the bank. So, if you are looking for built in desks ideas on a budget, Ikea hacks are just what you need because it the pieces don't have all the elements you were hoping for, just customize them yourself.
Whether you are searching for funky, affordable or budget-friendly decorating ideas, you can find all of them online. There are so many great ikea hacks for your home! For more Ikea Billy hacks check out 18 Ingenious Ikea Billy Bookcase Hacks. Also check out this post from The Spruce The 17 Best Ikea Hacks of All Time.
Check out this amazing list of the Top 50 Best Built In Desk Ideas
Over at thecottagemarket.com they have a post full of great Billy Bookcase Ikea hacks where I got some inspiration. There's one where they transform a IKEA Billy Bookcase into a beautiful Modern Farmhouse Piece by putting shiplap in the back and painted it a beautiful blue color. They have complete lists of materials and how-to's.
Some of the most popular hacks for the Billy Bookcase include, painting a different color, adding an IKEA shelf on desk, changing the backboard, adding trim/crown molding and adding cool handles & knobs. There's a lot of possibilities right there.
Benefits of a Bookshelf with Built in Desk
A bookshelf with a built in desk can be an amazing addition to a room, as it adds more than just storage and much-needed functionality. It can also showcase beautiful decorative items.
Creating a focal point in a room is one of the key techniques that interior designers use when they are planning for room decor. If done right it a bookcase or bookshelf with a built in desk can be a fantastic accent wall or focal point for the room.
These custom built units are ideal for small spaces as they offer ample space for both desk and shelves. The benefits of a bookshelf with a built in desktop are numerous. Let's take a look at some ways to this piece of furniture and enhance your room decor.
The first benefit of this piece of furniture is its capacity to store a large amount of books. These shelves can accommodate anywhere from 25 to 300 pounds, depending on their depth. You can also add beautiful doors to hide items that you don't want to show. A mix of open and closed shelving as well as glass cabinet doors add a rich and visually interesting focal point to our room.
A desk with a built in bookcase can be a great addition to a home office as it is customized to fit beautifully into the interior of your room. A good desk with built in bookcase will provide plenty of storage space for books and other items, while also providing a place for a computer. You can place a laptop or a computer on the shelves and work on it. This way, you will not be tripping over your work papers, as they are always in reach.
A bookshelf with a built-in desk is a great choice for your home and makes great use of the space. It becomes part of the house, so it will add value to your home as well.
A master carpenter can build anything you can imagine – they can also imagine it for you. It can be very expensive but if you have a luxury home it is they way to go and worth the investment.
I hope this article was helpful and perhaps inspired some ideas for you to add a desk with built in bookcase to your home in an affordable way.
Here are some images I came across that inspired my built-in desk. Maybe they will inspire you too…