A mid century modern desk can be a great way to dress up your home office. There are so many different types of furniture available in this decorating style that you should be able to find one that fits in with the look you are trying to achieve. Choosing the perfect modern desk isn't always easy though. You have to know what style you want, where it will go, and how much money you're willing to spend to get it.
Unlike other furniture, a desk requires to you to make choices with a high priority on functionality, not just aesthetics. One of the most important is whether you need it to have storage or not, and you so, how much storage. Maybe you just need a single drawer to store pens and paper. If you need a bank of drawers to store file folders then you will be looking at at whole other range of styles.
Decide what functionality is important before you go and make any purchases. A cheap desk with no drawers may not be the best choice if you plan need to access a large volume of documents frequently. You could spend a lot of time going back and forth to your filing cabinet. Obviously, the more features a desk has, the more it will cost. You'll need to decide if the benefits outweigh the additional cost.
Most office furniture stores will have a few different kinds of mid century modern desk models for you to choose from. Try looking at a few made by vintage furniture manufacturers to see what they have to offer. Vintage reproductions can give you a very classic look without high cost of a vintage mid century modern desk.
Here are some excellent desks we rounded up. Click on images to learn more or purchase…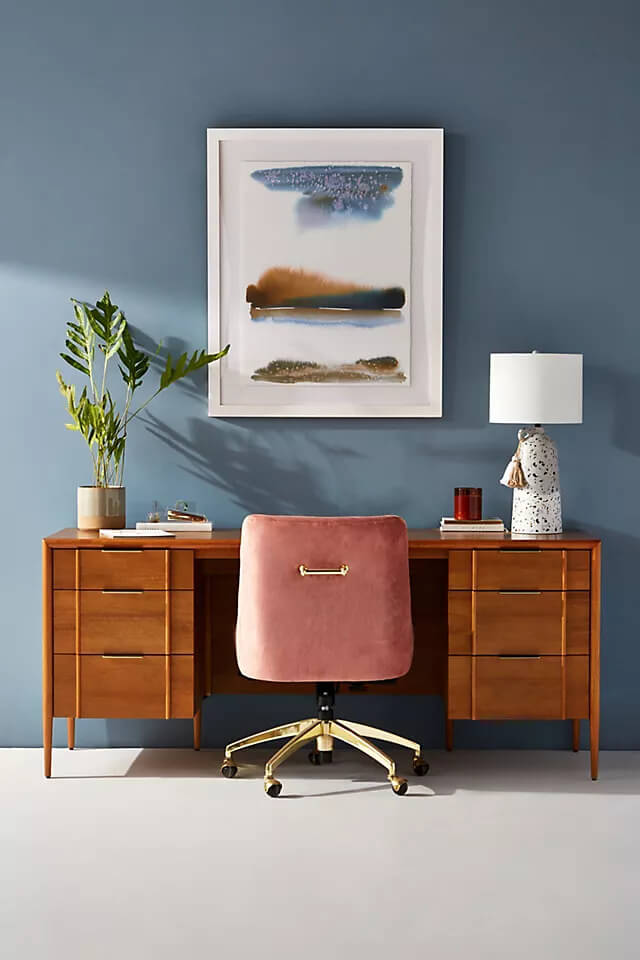 Mid Century Modern Desks – Vintage vs Antique
Sometimes the terms Vintage and Antique are used interchangeably but they are not the same. Vintage furniture whether it is restored or not is between 20 and 99 years old. Antique furniture is 100 years of more. Then there is the term collectible which is more a measure of it's demand and historical significance.
If you prefer affordable modern designs, check out online stores like Amazon. We have a list of several other excellent furniture retailers below. They often have small offices set up for home offices. These aren't usually as comfortable as a larger home office, but they are a great option if you just need a simple but stylish desk. They are great for people who only use their home office for a few hours per week. They come in a variety of sizes and price ranges, so shopping around shouldn't be difficult once you know what you want.
Online stores like Anthropologie, West Elm that offer higher quality and more luxurious styles. Check out the style and specs and then decide which one you like best. It can be hard to decide, but try to visualize where you would put the desk in your home. When you get it delivered and set it up you will know for sure if it's going to work for you. If not, should be able to return it. Be sure to check return policies before purchasing. Sometimes you can contact the website via email, phone, or live chat. This gives you the advantage of speaking with someone in person before giving them any of your personal information.
Before making a purchase, you should definitely try using a couple of websites to compare prices and to see what type of desks they have available. If you haven't done so already, make sure you have measured your room so you know whether the desk will fit nicely into your space. It's a good idea to use a free room planner app so can be sure that you consider all the elements in your will accommodate your new desk perfectly.
It can be hard to choose what type of mid century modern desk you want to use. There are so many options out there! The key is to figure out which design is right for your office, whether it is going to be for business or personal use. Once you find that perfect piece, you will surely have a nice looking desk for many years to come.
Resources
There are some excellent retailers that sell mid century modern furniture online.
Amazon actually has an excellent selection of affordable Mid Century bedroom furniture to choose from.
Where to find Mid Century Modern Furniture