When you're remodeling a kitchen, there are so many decisions to make, it can be easy to cut corners and neglect lighting. But lighting is crucial to a kitchen's functionality and the fixtures themselves can be a key part of the redesign. Whether you are doing a complete remodel or you just want to give your kitchen a lift, we have gathered some small kitchen lighting ideas to help you choose the ideal fixtures for your kitchen.
The best kitchen lighting design will have three at least types of lighting.
1. Ambient Lighting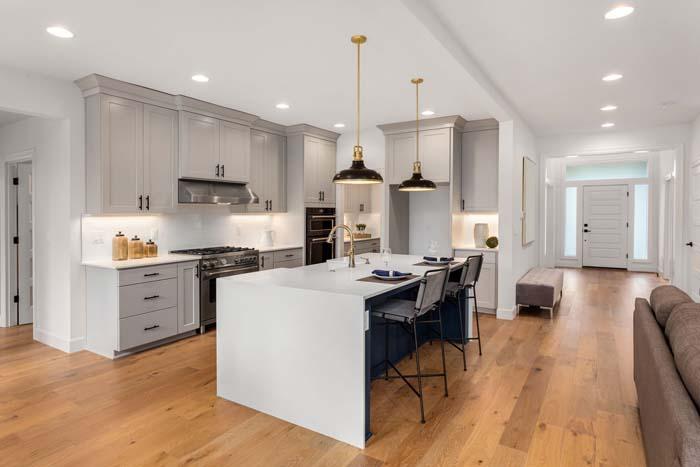 The first type of lighting is ambient lighting. Ambient lighting can really affect the overall mood of your kitchen. You can layer the ambience of your kitchen by installing some task lighting or simply by changing the color of your lights, your kitchen will look more spacious and bright.
The kitchen in the photo above has it all. Pot lights for ambiance, pendulum and under cabinet task lighting and of course, the best of all, natural lighting. This kitchen feels big because of the open concept but the kitchen itself is not that large.
When you are choosing your kitchen lighting, it is important to choose the right size of the lights and add dimmers. Strive to achieve a beautiful esthetic and practical functional lighting.
2. Task Lighting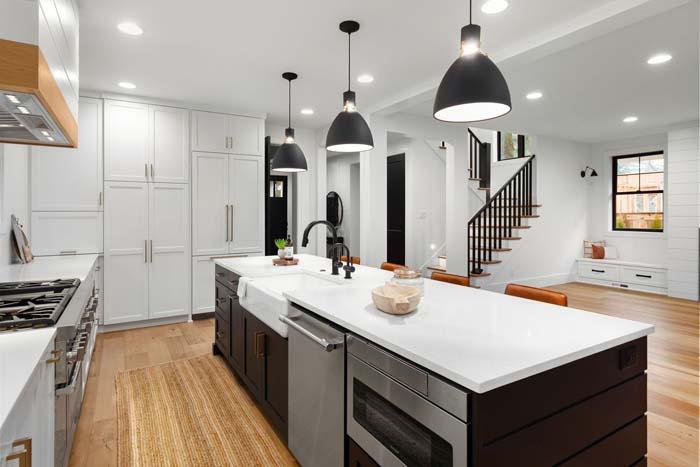 Task lighting of course is lighting that you use when you are preparing or cooking food, especially when you are using a stove top. Pendant lights and under cabinet strip lights are the most commonly used in a kitchen.
Generally it is lighting that casts light downward onto a surface like a countertop or table. Ideally, pendant lights should be hung about 30 inches above the surface of the countertop. Some pendant lights are designed to disperse light in all directions. A lantern pendant is an example of a light that is designed for dispersing multi-directional light.
This makes it more of an ambient light and not effective as a task light. The very popular Cone or Dome pendant lights (pictured above) are the best choices for task lighting over an island or peninsula countertop. They focus the light downward so they are great for task lighting and the dramatic effect in the evening looks amazing so they fall into the category of accent lighting as well.
3. Accent Lighting
The image above demonstrates the difference in color temperature for LED lighting.
Accent lighting is designed to provide a better, more dramatic light for a specific area of a room. Accent lighting can be found in many different places. You might use it to highlight a special feature like artwork or an accent wall.
There are essentially 8 types of accent lighting for kitchens.
1 | Under the Cabinet Lighting
2 | Above the Cabinet Lighting
3 | Under Open Shelf Lighting
4 | Above Open Shelf Lighting
5 | Interior Kitchen Cabinet Lighting
6 | Kitchen Drawer Lighting
7 | Lighting for the Toe Kick
8 | Track Lighting
Accent lighting can add a beautiful dimension to your kitchen. As you can see, the lighting in this kitchen is beautifully done. Lighting can help you transform the feel of the room the way you want it and create a unique atmosphere. The lighting in your kitchen is something you will be using every single day. This is why you need to make sure that you choose the right type of small kitchen lighting for your home.
Another great enhancement you can add is to choose lighting with motion sensors so the light turn on automatically when you enter the room and off when you leave.
Here are some great finds that you might like.
You can find a huge selection of affordable accent lighting for your kitchen in online stores like Wayfair and Home Depot. If you're looking for something more unique or upscale check out LampsPlus.com accent lighting that is truly spectacular.
Recessed Lighting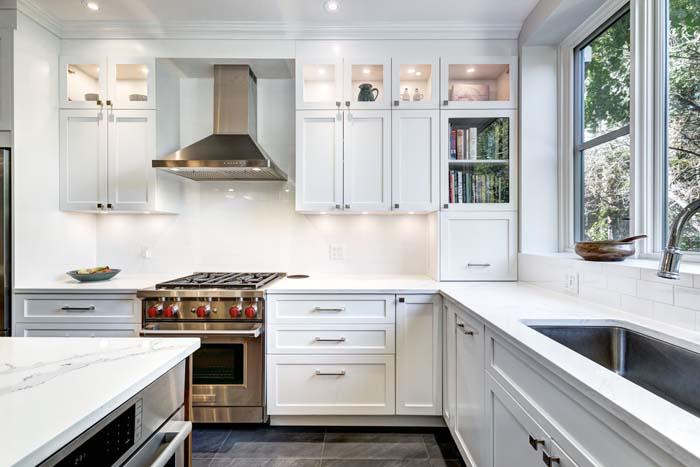 Recessed lighting or Pot lights are great for creating a more modern, sophisticated look in your home. They can be used in living rooms, bedrooms, and even for bathrooms. They are low-light and add a touch of class to any room. Dimmable LED pot lights are also very popular because they are energy efficient and they give off that warm and cozy feeling.
Why choose pot lights? The light bulb is designed to evenly distribute light across a wide area, which helps create a warm and even environment.
Why not choose pot lights? They are not simple to install. Unless you have some serious electrical skills, you should hire a professional to do the installation. You can expect to pay around $150 to $200 per pot light.
Track Lighting
Track Lighting can be a great and less expensive alternative to pot lights. You can buy these lights from any hardware store or lighting store, and they come in all different sizes and wattages. This will depend on how many lights you will be using and how bright you need them to be. These lights are usually cheaper than regular and can be used anywhere, including the garage, the laundry room, the workshop, the kitchen…
Under Cabinet Lighting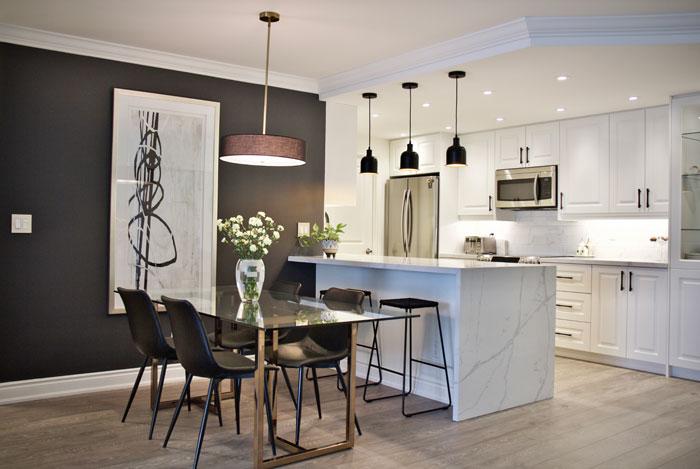 Under Cabinet Lighting wll add a more luxurious look and feel to your kitchen. You can install this type of lighting in the bathroom, under the sink or even in the kitchen to create a more luxurious feeling. If you are looking to install under cabinet lighting in your kitchen, it is very important to choose the right style and size.
There are many different type of under cabinet lighting available, but in order to get the right one, you must consider the size of the cabinet under which you will be installing them. LED light strips are a popular choice and a great solution for under cabinet lighting This is a great way to get under cabinet lighting without the need to hire an electrician. Since they are flexible, they can be easily bent to fit the shape of your cabinets. You can also install a light strip above or below your kitchen cabinets.
LED Strip lighting
Add beautiful LED Lighting strips in Kitchen Cabinet interiors
The best way to enjoy cooking is to have a well-lit kitchen. It is also important that the lighting is even to create the right mood. You can use LED lighting strips to illuminate your kitchen, and not only will you enjoy your meals more, you will also enjoy your kitchen more.
How to Choose LED Strip Lighting for Kitchen Cabinets
When it comes to picking out the right LED strip lighting, there are a few things you should keep in mind. First, you want to make sure that the LED strip lights you choose are energy efficient and that they are dimmable.
Second, they need to be waterproof. This means that they are water-resistant and can withstand water and moisture.LED Strip lighting is also a great option for cabinet interiors and inside drawers. Trigger the LED Strip lighting on and off as the kitchen cabinet doors open and close. This is a great way to make the kitchen look more modern and feel more luxurious.
Backlight Open Shelving
If you have a kitchen with open shelving, you might want to add backlighting to your open shelving. This will make the shelves more aesthetically pleasing and will also make them more functional. Many people use this type of shelving for storage, but it can also be used for displaying items. You can add the strips to the top or bottom of the shelf or both if you want a more striking effect.
Transform Your Kitchen With Beautiful Kitchen Lighting
Lighting is key to making your kitchen more beautiful. Even with a small kitchen, there are plenty of ways to make it more beautiful and functional with light. We hope these Small kitchen lighting ideas help you to transform your kitchen.
Also check out How to Choose Your Kitchen Cabinetry Design