Renovating or designing a completely new kitchen takes a keen decorative eye — and a knowledge of function, style, and cabinet hardware along the way. When you are planning your kitchen cabinetry design you want it to be functional (with plenty of room for storage and organization), as well as with a timeless design that suits the style of the rest of your home.
While it may seem like an intimidating choice, there are a few basic guidelines to consider that will help you make the right choice on this statement kitchen accessory.
Your style is a reflection of you and your personality and when you get it right, that's what will make you feel comfortable and at ease. We've shared some of our best tips for choosing a kitchen cabinetry design below.
Determine Your Budget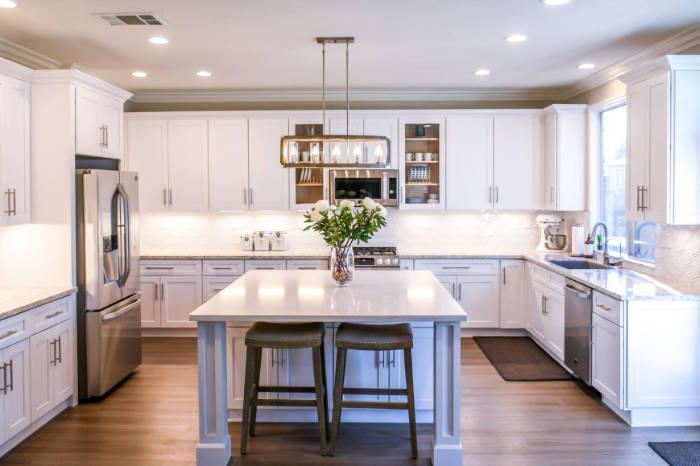 To start, you'll want to consider your budget. If you don't mind paying extra, custom luxury kitchen cabinets is a great option that will elevate your home aesthetic.
A professional designer will carefully consider your space, needs, and budget to maximize your storage, play up your interior design style, and create an efficient set of cabinetry that meets all your needs.
Custom cabinetry will fit perfectly in your space with drawers, doors. Keep in mind that this bespoke option may require some lead time!
If your budget won't allow for custom luxury kitchen cabinets, you can always go for stock cabinets and do some customization to get them looking the way you want.
Consider crown molding or finishing your new cabinetry with your favorite colors, or making small adjustments to the size so that they fit perfectly in your space.
What Will Be Your Kitchen Style?
Consider how your kitchen concepts will fit into the design of your home. Is the rest of your home traditional, modern, boho, farmhouse or other?
Both custom and prefabricated cabinets can fit in an endless variety of design styles, whether you prefer a traditional or more contemporary look.
Consider kitchen concepts that complement the rest of your home. Choose the style that resonates with you and speaks most to you.
There are several different styles of kitchen cabinets that you'll see commonly available in big box stores as well as custom kitchen stores.
A popular traditional cabinet is the craftsman style, which uses sturdy tongue and groove joints. Slab cabinetry which has a flat front that is great for modern, contemporary kitchens.
They don't have any bevel so it's a very clean and modern chic style. You also might find a Shaker, beadboard, handle-free, or raised panel style for your space — and all are worth considering.
Kitchen Cabinetry Design For Maximum Convenience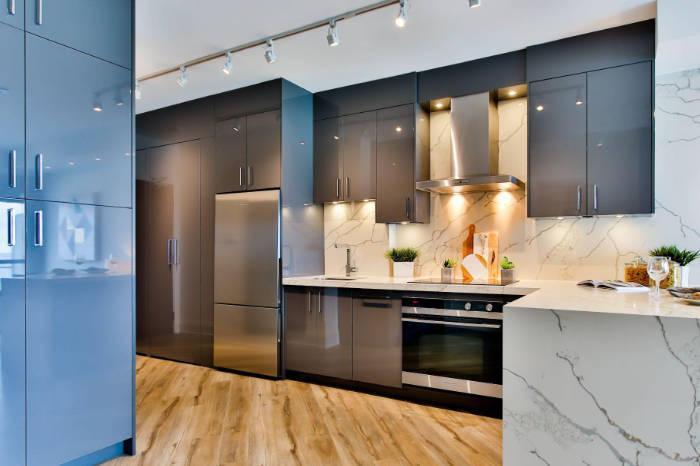 Of course you want a beautiful kitchen cabinetry design and this is your chance to make things more convenient for you.
Consider your kitchen style and what would be the ideal location for your appliances, cutlery drawers, dishes and pantry. Kitchen cabinetry makes it easy to store things efficiently — but its design can have an impact on this function.
If you need more storage in your kitchen, there are a few things to consider. First, think about higher cabinet placement. This will help make your kitchen appear larger while providing an enhanced amount of storage and effectively using your space.
If there is extra wall space available, consider wall cabinets or open shelves for even more storage space.
Add the Finishing Touches
Now that you've determined the cost, style, and size of your kitchen cabinetry design, you can think about adding the finishing touches to your cabinetry design.
Take a good look at some of the new hardware available, door handles, hinges, and beautiful light fixtures. You don't necessarily have to buy custom cabinetry to have high-quality, luxury features.
Consider the color palette of your kitchen, too. If you are planning a traditional kitchen, choosing white cabinetry will compliment the brightness and make the kitchen feel open.
If you are working with calming neutrals, try a monochrome look in a subtle off-white or sage for a beautiful piece of cabinetry that will add to your kitchen's already stunning design.
As you determine style, hardware, and color, it's also important to consider what finish your cabinets will have.
Go for a glossy cabinet look if you're a fan of sleek modern designs, or if your room leans more traditional, a semi-matte paint.
Whatever style you choose, make sure it speaks to your unique tastes — after all, you want to love your new kitchen!
The Takeaway
There are so many unique kitchen cabinetry design styles, with hundreds of options for customization.
Whether your kitchen cabinetry is for practical purposes, storage, or just aesthetic design, we hope our cabinetry design tips will help you make the perfect choice for you and your family.
Try these room planning apps to design your kitchen concepts.