Our living room is that sanctuary that allows us to gather together with family and friends. Since the design of this area of the house is geared toward meeting the needs of each family member, it is usually the one that takes the most time during the thoughtful decoration process.
This is one of the reasons why the mid-century style is so widely used, even today. This style that emerged in the early 1950s is still considered very popular due to how functional, visually appealing, and flexible it can be.
What characterizes the mid-century style?
The mid-century style or also known as MCM is a timeless look that features a bold color palette, natural woods and steel accents, juxtaposition of lines, and above all, functionality in decorative elements.
Within this style it is also common to find:
Geometric figures, clean lines, organic forms either in the furniture or walls.
A mixture of opaque colors with striking touches.
Floor lamps that normally feature a stainless steel base.
Minimalist influence is exposed in pieces such as TV stands, credenzas, and coffee tables.
Why is it important to choose non-toxic furniture?
Another benefit to mention in relation to this style is that it has evolved according to the current needs that we have faced. By this, we refer specifically to manufacturing mats.
Much more attention is currently being paid to this aspect, due to studies showing that exposure to volatile organic compounds (a.k.a. VOCs) is the biggest concern when it comes to furniture.
VOCs are chemicals that can evaporate in normal atmospheric conditions due to their specific composition. This evaporation is what is also known as "off-gassing."
To avoid any environmental contamination it's important to check your furniture materials. Down below we have put a list of non-toxic mid-century icons to get into one of the most wanted styles this 2022 year. Let's dive into them!
Womb Chair, a lounge and iconic option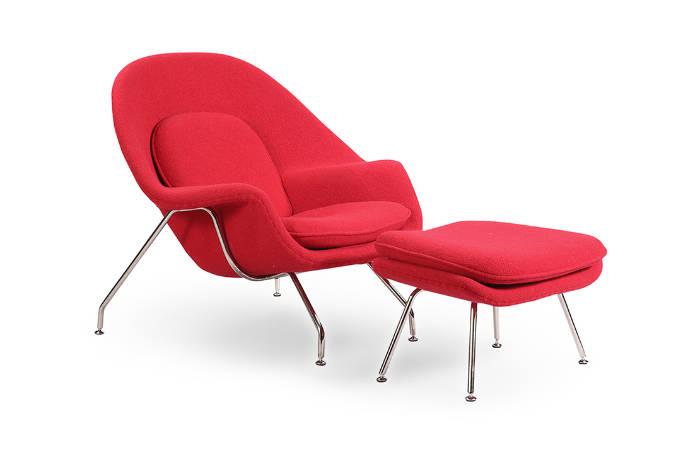 The Womb Chair & Ottoman by Barcelona Designs, is an iconic example of mid-century modern design that as originally designed by Eero Saarinen in 1946. This modernized version offers maximum support and comfort. Both pieces of this Saarinen-inspired womb lounge chair set are made with attached cushions.
With molded foam covering a fiberglass shell, the Womb Chair offers unmatched comfort while being made in a toxic-free environment. You won't have to worry about kids or allergic people at home because all the materials used in this piece are selected in the most careful and safe way possible.
This high-quality reproduction is crafted of a wool-mixed fabric in a variety of colors, including red; blue, green, gray, and many more.
Togo Sofa, the mid-century loveseat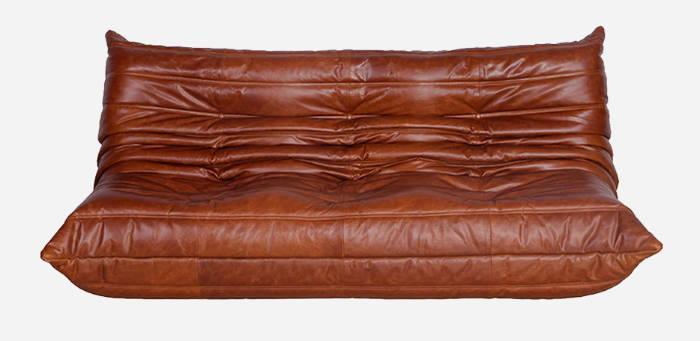 The Togo sofa has been in the market for over forty years and is considered a classic mid century sofa born from the inspiration of Michel Ducaroy as an innovative and revolutionary model in comfort and style.
This sofa is highly ergonomic and is made of multi-density and padded covers. By seeing its thick seats and high-quality leather it is very easy to deduce how comfortable your experience will be.
The Togo sofa, as all the furniture pieces in this list, is also made of non-toxic materials. Either the leather or the fabric version will act as the focal point of your mid-century living room
Colors available in the fabric Togo sofa version: blue, dark green, orange, black, and many more!
Arco lamp, the classic floor lamp our living room needs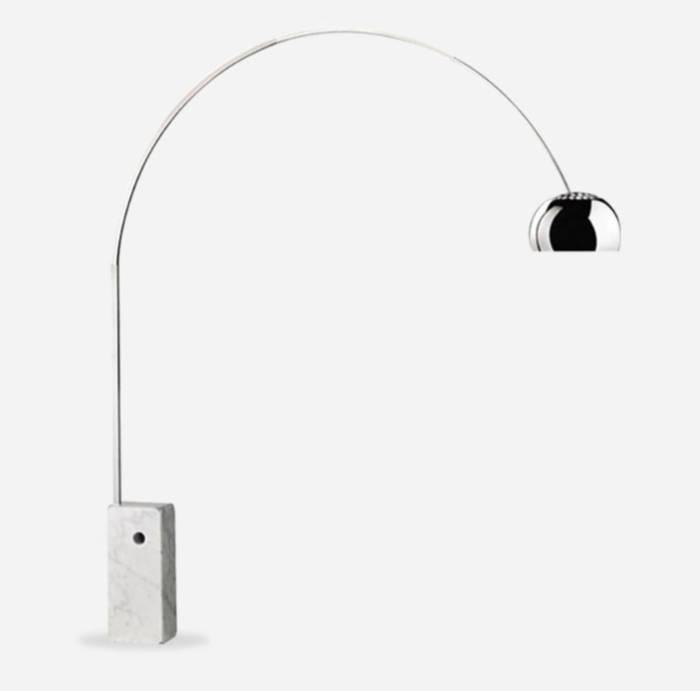 A floor lamp is one of the most common elements within a mid-century living room. These help to enhance the whole layout providing not only lighting but also helping them to achieve that elegance we all look for.
When it comes to floor lamps the arco lamp is by far the most popular, even these days.
Arco Floor Lamp features a rectangular Italian Carrara Marble Base with a beveled corner which provides a solid, reliable foundation for its Stainless Steel Arch. Besides being non-toxic it is quite resistant, created to have a prolonged useful life.
It is also surrounded by an aluminum hood that emphasizes the mid-century modern aesthetic of this lamp with its semi-spherical composition. The aluminum hood is accented with holes that allow light to shine through above. The Stainless Steel Arch is easily height-adjustable to better adapt to your needs.
More mid-century icons to get to know:
Egg chair: another lounge iconic chair that will bring comfiness to your life.
Barcelona chair: if you're more into classic smaller pieces, this chair could be a great option.
Shell chair: if you want to enhance wood accents the shell chair is perfect for it. This three-legged  Avant-garden piece will transform any corner of your living room.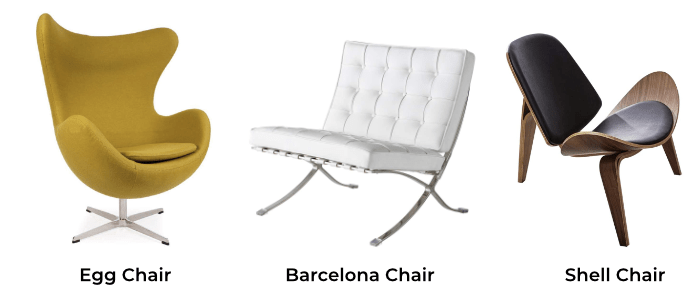 There you have it, classic and most-recognized mid-century furniture to transform your living room. Comment below which one was your favorite!
---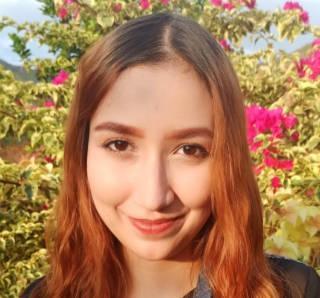 Contributing Author | Gabriela is an SEO Analyst and writer at Barcelona Designs and Manhattan Home Design. Over the years she has written on topics related to interior decoration, explaining classic styles such as mid-century modern, industrial and contemporary. In addition, she is a chemistry student, so she tries to divulge decorative elements that are free of dangerous chemicals and thus achieve a beautiful and safe interior.