Sell Your Home Faster With These Home Staging Tips
We all want to get the highest possible price when we sell our home. While some things like location and the economy are out of our control there are many things that we can do to ensure that we receive top dollar.
Without question, the most important thing is setting the right asking price. Your real estate agent can put comps together and help you with that. Once you figure out the current market value, you can make other strategic decisions. 
Beyond the setting the right price, the next most important thing is how your house is presented. That is the primary focus of this article and in fact you should not set the asking price of your home until you make some decisions about staging and presenting your home.
My wife and I have purchased and sold 12 homes so far so I speak from experience. They all sold very quickly and most 6 were above asking price.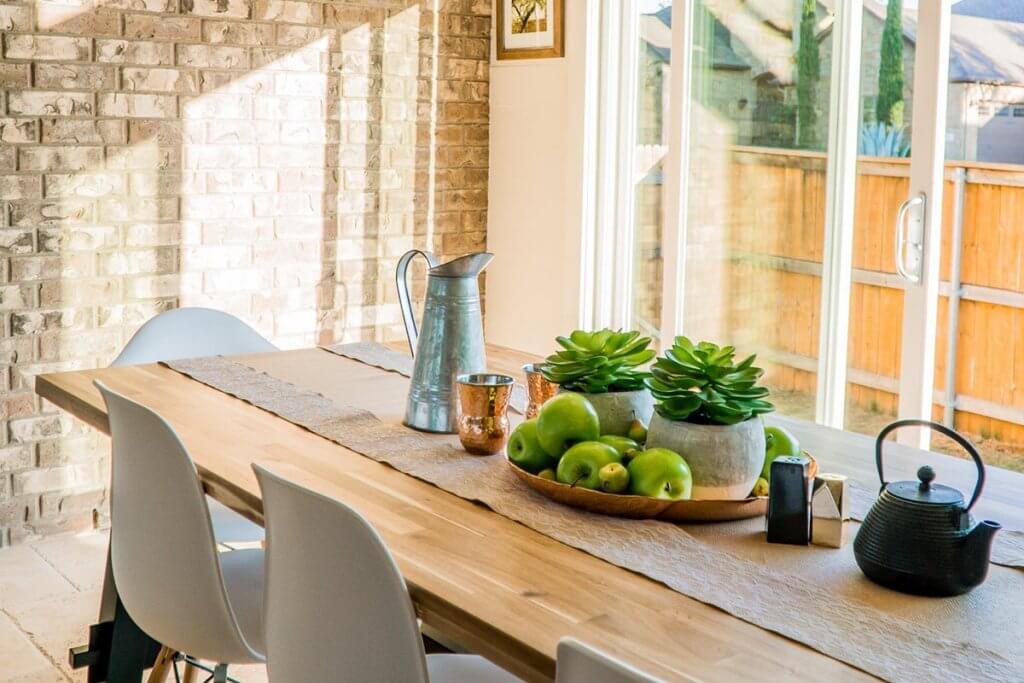 Here is a perfect example of how important home staging is…
Our personal home staging case study
We owned a townhouse for 5 years in a development with about 60 town homes. We decided to list it for sale so we could move to another part of the city. Right at the same time, another identical house across the street was listed at $44K less than ours.
We listed our house at $279K and the one across the street listed at $235K. I was quite concerned at first but not for long. Our house sold for the asking price in about 10 days and the one across the street took nearly 4 months to sell. 
What was the difference? 
Visual appeal on the interior was the difference. The only upgrade we had was hardwood flooring in the living/dining room worth about $6,000. Other than that, they were the same house. 
Our house was beautifully decorated and theirs was very blasé and unappealing. I found it baffling that our house sold for that much more. Consider that once we took our things out of the house, the buyer was left with basically the same house that they could have purchased across the street and saved $44,000.
Personally, I would have taken the house across the street and put some effort into making it nicer inside with some flooring and paint and nice furniture. However, I quickly learned that not everyone thinks that way.
Love At First Sight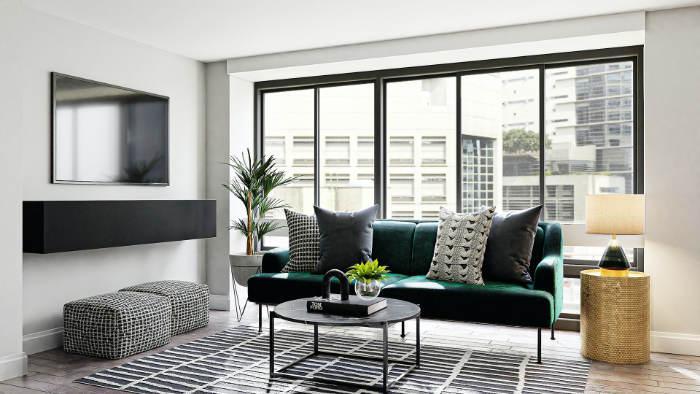 The important point here is that making a great first impression is key to helping you get a fast offer for the best possible price. Any improvements you do that help make a great first impression or improve the "curb appeal" will increase the potential profit you will make.
It is a fact that well showcased houses sell 84 percent faster than those that are not.
First Impressions Last Forever
People make a very quick initial decision as to whether they like a house or not just based on a visual first impression. Number one on a list of home staging tips would be to get the curb appeal factor working for you right from the start. If buyers get a negative feeling, then you have to win them back with other features in the home. 
Make the exterior as beautiful as possible. Otherwise, they may try to use the un-pleasing exterior as leverage when they try to negotiate a price. That is of course assuming that they are interested enough to make an offer. 
You are probably already aware of the obvious things that need attention in your house. Maybe you have a broken railing on your front porch. You definitely want to fix anything that needs repair. 
Do the obvious things like cut the lawn, trim the bushes and clean up the garden. Any furniture that is outside should look new and sharp. 
New hardware and a fresh coat of paint on your front door are simple, inexpensive fixes go a long way in making a good overall impression. 
Let's Go Inside
A little additional work can dramatically affect the length of time your house will stay on the market and the asking price that you can list it for. Many home buyers are just not interested in doing a lot of home improvements. 
If some buyers see that they will have to fix a whole bunch of things they may just take a pass on your house or they may start thinking about what other problems there might be that they can't see.
If you impress them with a well maintained house, it might encourage them to choose your house rather than the one down the street. 
The good news is that many small enhancements that positively affect the value of your house, like a fresh coat of paint, aren't that expensive. 
Your goal is to make your home as visually pleasing as possible so that you are not put into a weak position when it comes time to negotiate. If a buyer sees flaws, they will use that to bring down the price. 
Professional staging can sell a house.
When I look back at houses we've had staged and the houses we've shown without staging, the difference is incredible. Professional stagers know how to put in just the right furniture and decor to make buyers really see themselves living there. Staging is almost always worth the price.
@therealtarekelmoussa – HGTV Flip or Flop
Should you renovate?
If you have major issues or several minor issues, you might find that no offers are coming in. This can be stressful and the longer it takes to sell, the less likely you are going to get the price you really want.
If you're considering a significant remodel project simply so that you can sell your house, you should be very careful as it may not provide more profit. If for example, you have a worn looking kitchen, you should do something about it. If you can make it more appealing with minor changes instead of a remodel then minor upgrades may be the answer. 
In one house that we had, the kitchen was not bad but there was ugly ceramic tile. It was in good shape but ugly so we bought some beautiful laminate flooring and layed it right over the tile. It took an afternoon and about $500 in materials. This was a lot easier and cheaper than ripping out the old ceramic tile and laying new tile.
The kitchen cabinets were in good shape but ordinary. We bought some beautiful handles on Amazon and the total cost was about $65. The kitchen was in full view from the front door so these inexpensive changes made a world of difference to the overall impression. 
Should you do a major remodel?
Keep in mind, there are no assurances that you would recuperate the costs of major remodel so make sure the cost vs return makes sense. Unless your home is in dire need of serious renovations, focus on making your home appealing, clean, nice and well maintained. Maybe leave it to the new owners to do their own customizations.
Before you start thinking about major renovations, remind yourself that you are enhancing your home to quickly sell it for the best price and your goal is to make it look enticing to buyers. Make it appealing to as broad a spectrum of possible purchasers as possible. Narrowing your target to a specific niche market might take longer to sell.
If you really feel that the kitchen or bathroom needs a remodel, get some estimates of the cost and talk to your real estate agent about how much more you could expect from the sale price. It should make the house sell faster but you'll have to look at the numbers and decide whether a remodel would be worth the time and expense.
It is a fact that staged homes bring as much as 15 percent more revenue that those that are not.
The little things are a Big Deal
Tackle the projects are the most obvious like things that are broken. They tend to be simpler and generally cost the least. They are "must-do's" because things that are broken are things that people know they will have to deal with and it also has a psychological effect. In the back of their mind, they may think "maybe there are more problems that I need to watch out for". This puts you in a weaker position.
Try to make significant improvements to the overall look of your home. Think about various cosmetic methods for a general improvement, e.g. cleaning, painting, refinishing, and more. If you make wise decisions, certain enhancements that greatly enhance the appeal of your house will definitely improve the perceived value. 
Visual elements are important
Focus on things that are highly visible and enhance the overall impression of the house, like landscaping, brand-new floor covering or paint, rather than an insulation upgrade or anything that is not visible.
People purchase what they "see". Their general impression of the home needs to be positive and get them visualizing their future right there in the house. Perceived problems will distract them from those feelings. 
The neighborhood is really important
When examining other houses in the area, make sure that your home meets the standards and doesn't stick out like a sore thumb. The best makeover you can give your house is one that retains its original style. An upgraded façade can protect your house from structural damage and provides a beautifully maintained aesthetic. 
Make Buyers Say Wow!
As mentioned previously, staging your home and making a great first impression will make your home sell faster. Do what you can to give your home a WOW factor. If people walk into your house and say "wow", you're golden. You will have created desire and there's a strong chance that will also feel that way and you just might get a handful of offers. 
Mistake: Ignoring your home's exterior
"Simple touches like making sure the lawn is freshly cut, power-washing the driveway, or putting a few freshly potted plants on the front porch can make a big impact," says Jo. "It's all about reminding them that your house is cared for, so they won't worry that you're also ignoring what they can't see."
@joannagaines  – HGTV, Fixer Upper

How can I stage my house for free?
Many agents actually offer home staging as a service in their quoted commission rate. Know that you will likely pay a higher commission rate than if you take care of it yourself.
Check out these home staging before and afters from out Pinterest boards…
Here are some key home staging tips to make your house look it's best and sell fast:
Crush the curb appeal
This is where it all starts. Potential buyers will often drive by your home first to decide whether it's worth taking the time to take a look inside. Don't lose them there, make sure it looks great from the outside. Here are the key things to take care of:
Power wash the exterior eavestroughs, siding and walkways

Place nice house numbers that are easy to see

Plant flowers and fresh greenery

Mow lawn, trim the shrubs – make the garden look it's best

Wash the windows

Repaint or stain the front door and replace the door hardware

Place a brand new welcome mat

Any furniture that is outside should look new and sharp. 
Make your house sparkling clean
A great first impression starts with a clean & tidy house. This includes clean windows, flooring, counter tops, cupboards, baseboards, ceilings and fixtures. Everything needs to be clean. If the task is too big, hire a cleaning company to come in for a day. It won't cost that much and it's worth it.  
Clear the clutter
Don't leave any of your personal stuff laying around. Also remove any visible personal photos. Replace personal photos with other artwork if necessary – it's a well known negative distraction to home buyers. 
Make it fragrant
Unpleasant odors will turn buyers off. You should make sure that your home smells great. If you have pets, get any carpets cleaned. Oh, and don't leave any dirty laundry laying around.
One effective way of creating a great smell is using scented candles. Be sure to get rid of any cooking smells unless it's baked apple pie, that apparently works in your favour.  
Freshen up 
the paint
Fresh paint can make a big difference in the overall impression. New paint shows that you maintain the property. You should also fix any scratches, dents and wall holes while you're at it.
Clear the closets
Everyone needs storage space. If you jam your closets with stuff, buyers may get the impression that there just isn't enough storage space and take a pass on the property for that reason alone. You should remove excess things from the closets in order to create the impression that there is plenty of room.
Let there be light
When you have showings at your house, be sure to have your curtains drawn to let in natural light. Use natural light as much as possible. While electric lighting can be used to enhance the interior of your house, it can give a gloomy impression if there is no natural light.
Give your dining room table some style
You could set the dining room table beautifully. At the very least just clean it and add a nice centerpiece.
A summary of Home Staging Tips
Take these steps to create a great impression and you could put yourself in the ideal position – the one where you get multiple offers. Yes, we are talking about a bidding war. It's the best place to be because you will probably get much more than your asking price!
If you do everything you can to make your house have a WOW factor when people come to your house then you are going to reap the rewards of your efforts.
It can be overwhelming so get some help if you need to. If you need help getting organized we created an ebook that has a comprehensive checklist you can use to stay organized. Just sign up below and you can download it right away.
I hope we have given you some inspiration to give your house a WOW factor.
Remember that by staging your home and making it as desirable as possible you will not only sell your home faster, you will also sell it at a high price.
Also check out: "Get A Wow Factor With These Small Living Room Ideas"
Would you like a comprehensive checklist that you can download?
Download our Home Staging Guide to Help You Sell Fast & Get the Maximum Price!
This 25 page ebook is full of home staging tips. It explains the most important things you can do to make your house have more appeal to buyers so that you can sell it quickly.
Comprehensive checklist is included so you'll know exactly what needs to be done and you can keep track of your to-do list.
Save the cost of hiring staging professionals and unleash your own Home Staging Superpowers.