Outdoor Living Spaces have become so important to us that designing a well thought-out patio or outdoor living room has become even more essential. These spaces need to be able to serve both as attractive social areas for dining and entertaining, as well as as quiet reflection areas for escaping the stresses of everyday life.
You need to be careful when designing your garden ideas in order to strike a balance properly. In designing a patio, choosing the optimal location is imperative. You want to find a spot that takes advantage of the sun at the right time, is easy to reach from home and is suited for all your needs.
Ultimately, the design of the space will be determined by its intended use.
Here are some tips to help you through the process of designing a great outdoor living space along with some inspiration and patio design ideas.
Design the Outdoor Living Room for you.
Here are key steps to plan the ideal patio for you and your family.
How To Plan Your Outdoor Living Room Layout
It is important to choose the patio layout based on what purpose it will serve – as well as the furniture that will be placed in it. Do you entertain regularly? You will need to decide on what kind of patio furniture you prefer. Should it be a dining set for sit down dinner or maybe a lounging set with low tables, or perhaps both if you have the space. Think about how many people you will frequently be hosting and whether you will need to cover the patio with an awning or pergola.
You must also plan for the negative space on your patio – i.e., all the gaps and spaces between the various pieces of furniture. These negative spaces should be about 3 feet wide.
Drawing a patio to scale is the simplest way to design one that suits your preferences exactly. In this way, you can start planning your patio designs and plans from the start, including your planting beds, borders, and pot placement, and maybe even any outdoor kitchen ideas. Also consider one of the many free (or paid) apps for planning out your patio. With most you can even generate a 3D rendering so you can get a real vision of how it will come out.
What Is A Good Patio Size?
You should consider your backyard's size and whether you would like your patio to be a dominant feature or merely an element. Generally, you should size a patio to accommodate the number of people it might regularly host – and that usually translates to about 25 square feet for each person. That's 125 sq ft if you have five members in your family.
Designing A Patio With Zones
In the same way you would indoors, it is vital to consider the different zones that will exist on your patio right from the beginning. Be sure to incorporate shade into your plans for the outdoor dining area.
Additionally, you may want to create a relaxation zone, filled with potted plants or pots filled with fragrant flowers and herbs.
Where To Position A Patio
There are 3 main factors to consider when your a re deciding on the positioning of your patio: what you plan to use your patio for; where it will look best in the space you have; and whether you need privacy or not.
How you plan to use your patio: Your overall patio layout and design will depend on your intended uses, so a shady spot will work if it's only for dining. If you enjoy the sun, a sunny spot will be perfect. Conversely, if your entire backyard is sunny and you want to create a dining area in a particular area of it, you can use clever garden shade ideas to perfect the space.
Where it will look best: If you have a large space, it's fine if you should consider more than one garden and different areas for various purposes. Traditionally, patios are placed just outside your front door for convenience – but there's no reason why you can't have more than one. The best option for you may be at the end of your garden if the only sun spots are there, and if you can plant your garden to make the patio look charming from your house.
Patio placement for privacy: Outdoor Living Rooms need to feel private, but that does not mean that they have to be placed where your backyard is already secluded on purpose – you can create a new secluded area by utilizing a privacy fence or greenery.
Choosing Patio Materials
While staying on top of garden trends is always a good idea, it is equally essential that the design of your patio complements the style of the interior and the exterior materials on your home.
Modern homes should use contemporary materials and design styles, and more traditional homes will call for materials and styles that complement their overall style.
During the last few years, there has been a significant shift in material and finish options used for patio design, with maintenance and costs being key factors to consider when selecting a material.
Tips on making the best choices for patio material:
Complement The Architecture
Designing a patio that will complement the architecture of the house.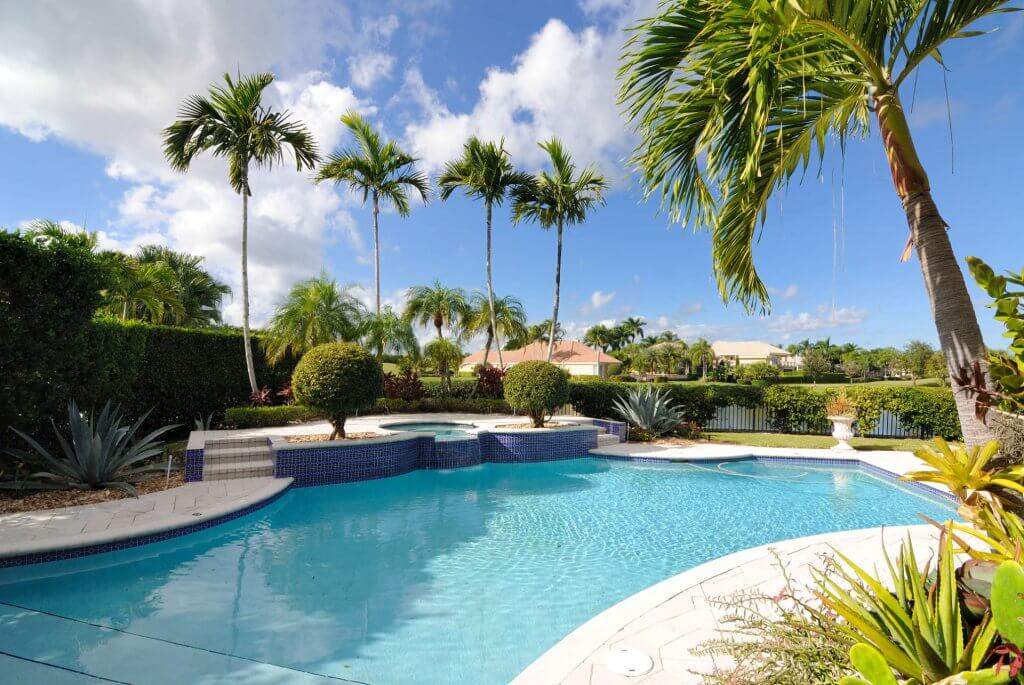 Choose Hardwood For Decked Patios
Designing a patio with layered decking and accentuate the features you have. If you have a waterside view, be sure to position the furniture so that view can be fully appreciated. Use glass railings for a sleek and timeless look. Add a pergola or some protection from the sun and rain so you can enjoy it as much as possible.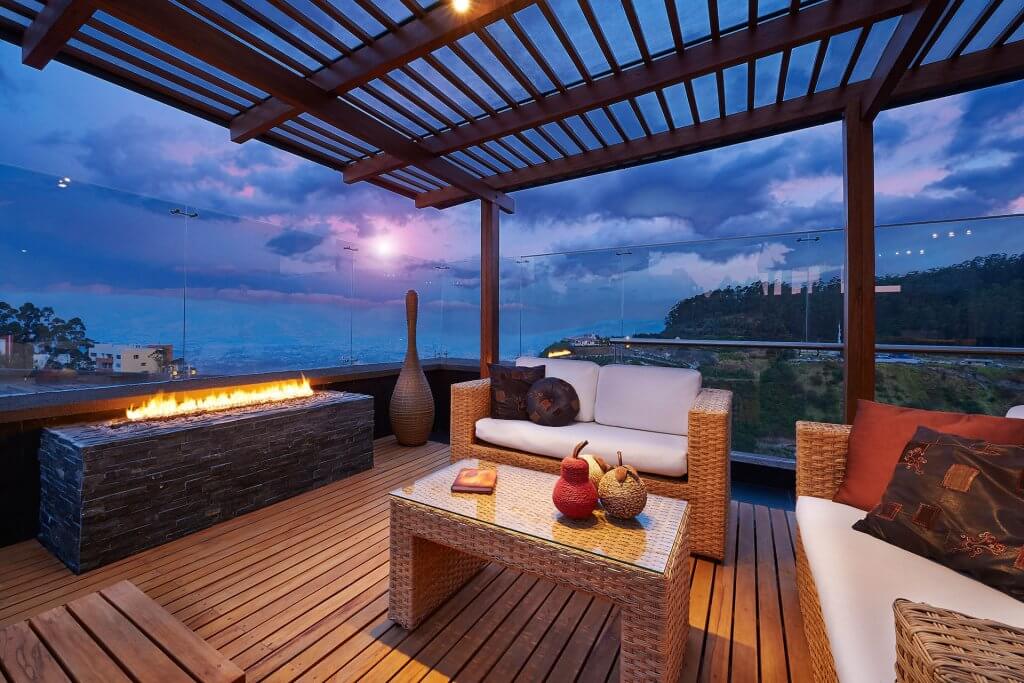 Select Brick For Character And Style
Brick paver and a waterfall feature that naturally blends into the environment. Combine different paver styles for a rich textured design.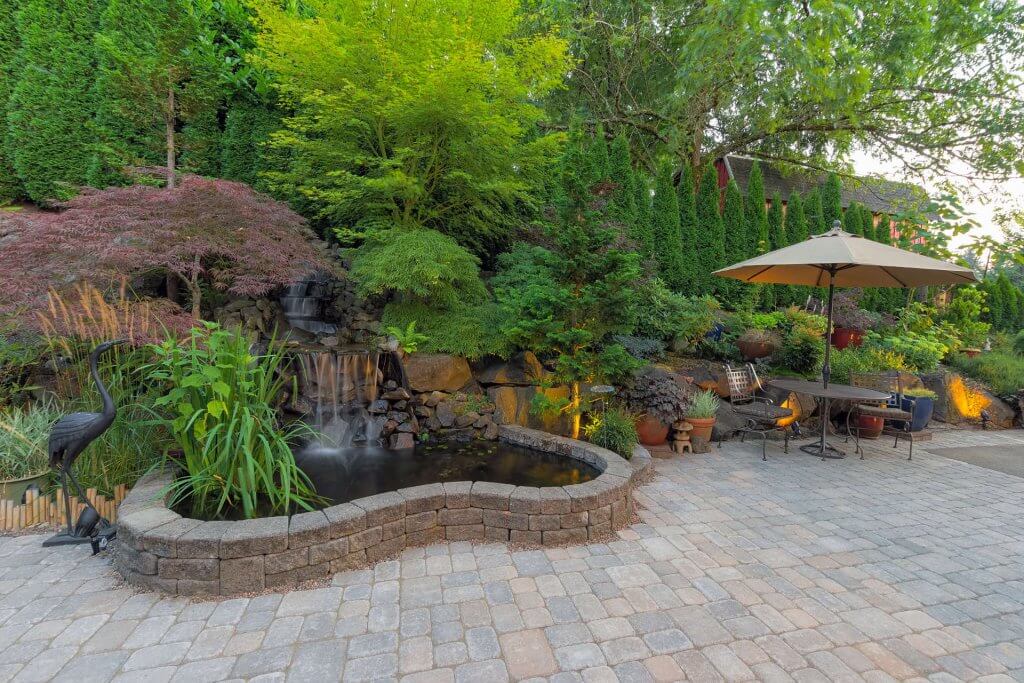 Choose Stone That Is Sourced Locally
Incorporate interesting paver patterns. This will add elegance and character to your overall design.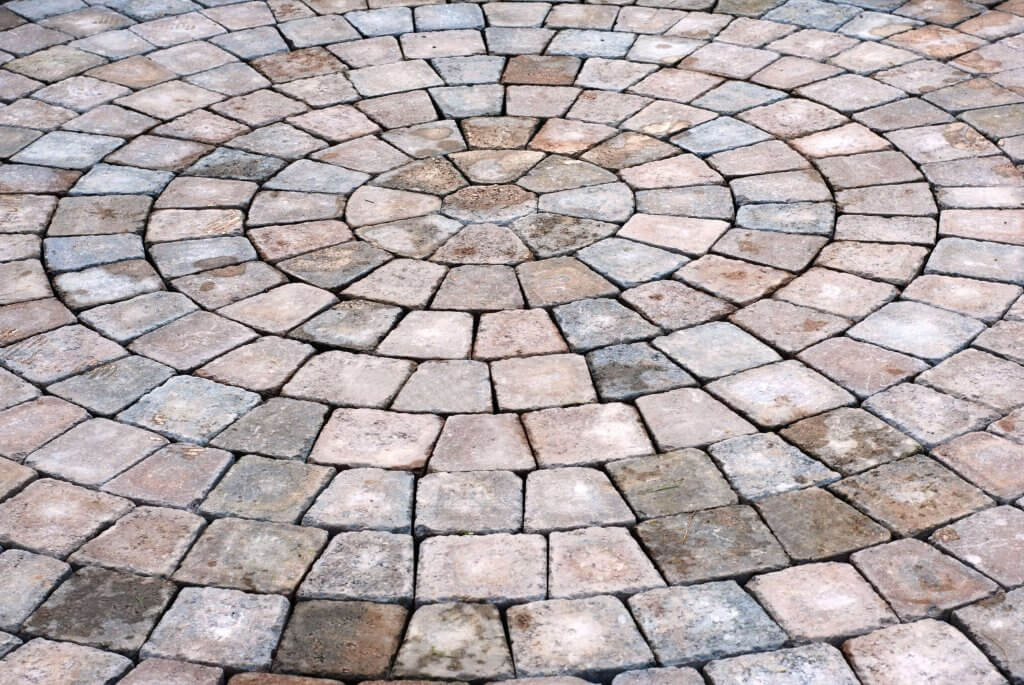 Talk to your local paver suppliers early in the process so you can get some ideas and the can help you get local stones that complement your patio design plans, like the rustic patio pavers above.
Add Beautiful Planting Into Your Patio Design
Planting factored in when designing a patio, with olive trees and bushy herbs around a brick patio with bistro table and chairs.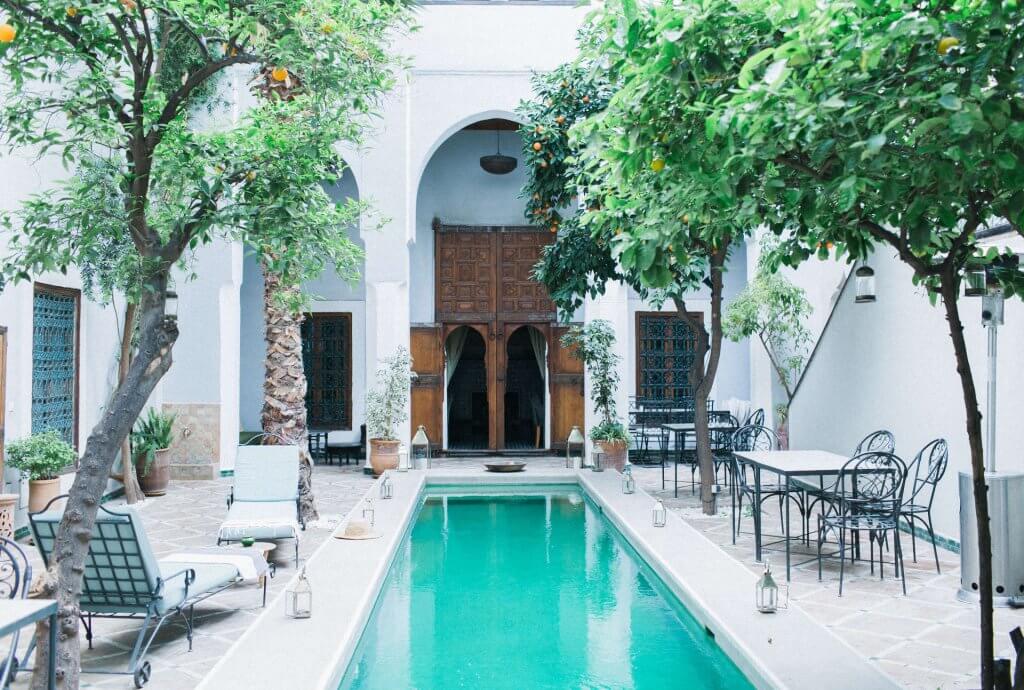 You can soften the edges of your outdoor living room by planting around them or dividing different zones with plants. If you have an existing backyard design, you can use it as inspiration for a planting scheme for your patio. Choose plants that match what you have successfully planted elsewhere in your garden . To create a stylish finish, add some stand-out plants, like specimen trees in containers.
Including Hardscaping In Outdoor Living Room
Design a patio with hard landscaping, featuring concrete pavers that with continuous flow into the house making the patio an extension of the living room.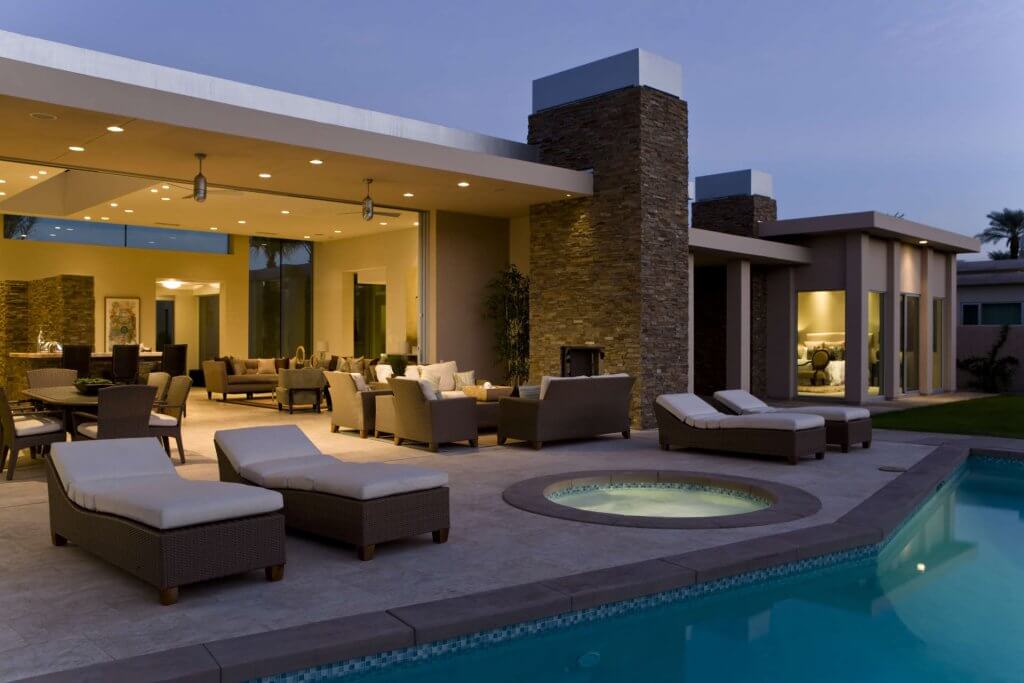 Hardscaping provides long-lasting, low maintenance beauty to your outdoor living room or pool patio.
The ultimate aim when building a patio is to have it resemble the exterior materials of your home, whether it is built from natural stone or cheaper rendered materials.
Finish your outdoor living room design by softening the overall look with comfy furniture and plants.
How To Design A Patio For Shelter
Designing a patio with a pergola for shelter, featuring shaded and partially shaded areas.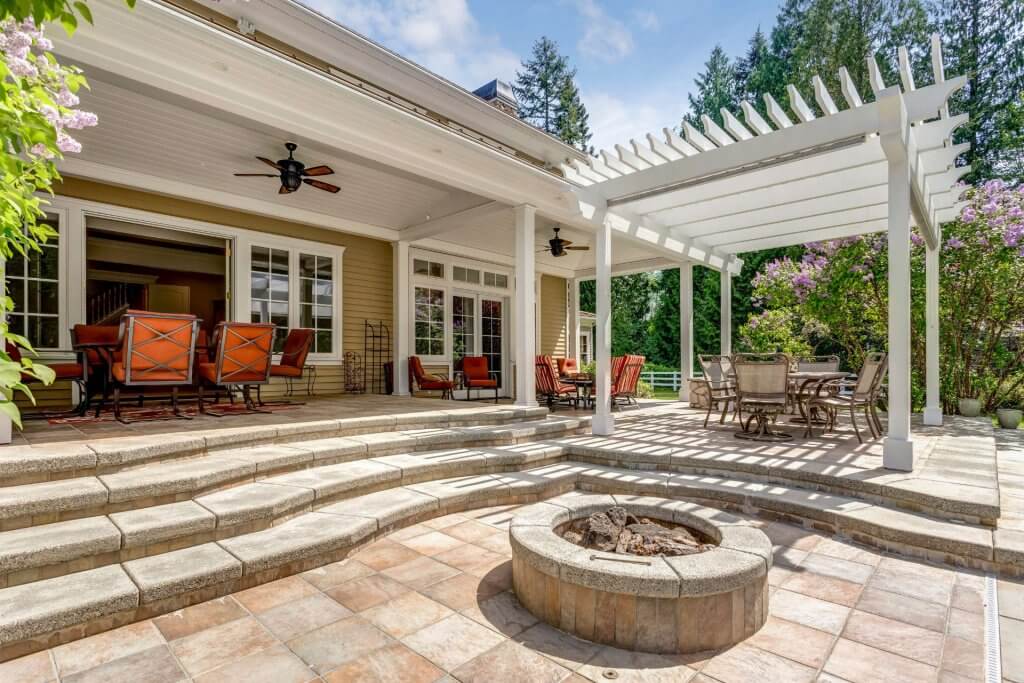 You can use pergola ideas to create dappled shade rather than full sun blocking on a patio and add height and structure to your space. Pergolas can be used to grow scented climbers or hang string lights, providing a secluded feeling for your patio.
Include Water Features Into A Patio Design
Adding a water feature can add a touch of natural elegance to your patio design.

Water features are in high demand mainly as a focal point, but also because the sound of water or the calmness of a still mirror pool will transform a garden into a tranquil space.
Features with water can provide habitat for birds and other wildlife or create innovative ways to use water. Use them to attract wildlife or innovate new ways to use water.
How To Budget An Outdoor Living Room Design
How to design an outdoor living room on a modest budget…
The most expensive part of designing an outdoor living room is the hardscape – and while labor costs are fixed, different materials and design elements can reduce or increase the cost. If you are up for doing at least some of the labor, you can save a lot of money there too. Get estimates from local paver installers to find how the all-in cost would be and then plan your project accordingly.
Paving comes in a variety of natural stones and manufactured ones. Don't forget to factor in the cost of laying down the foundation and labor to lay the pavers as well.
Also check out "How To Decorate Your Home Like a Pro"