When you're planning a remodel, it can be challenging to find a reliable and skilled carpenter.
Many carpenters are available on the market who are willing to take on projects and claim to be great. However, it's important that you do your due diligence and look at their reputation. We all know that people aren't necessarily who they claim to be.
Luckily for you, we have some experts that can offer their insight on the matter. This article will feature some questions that you can ask a carpenter before hiring them to know what you will be gaining. So, we best get going without delaying your renovation plans any further!
Taking references from reliable sources
It goes without saying that references are crucial in ensuring that you get an expert carpenter. When looking for a carpenter, one of the quickest ways to connect with an expert is to approach people from your credible references. You can also ask any relatives that have dealt with a carpenter recently.
Even if you decide to hire someone out of your contacts, be sure to check for their references. Finding references is one way of verifying the carpenter's work skills and saves you from the trouble of a botched job due to which you may need to spend more money than anticipated.
Once you find the sources, ensure that you ask them all the right questions. Asking them these questions will also verify that you can trust the source and you've found a good carpenter!
Asking for experience is important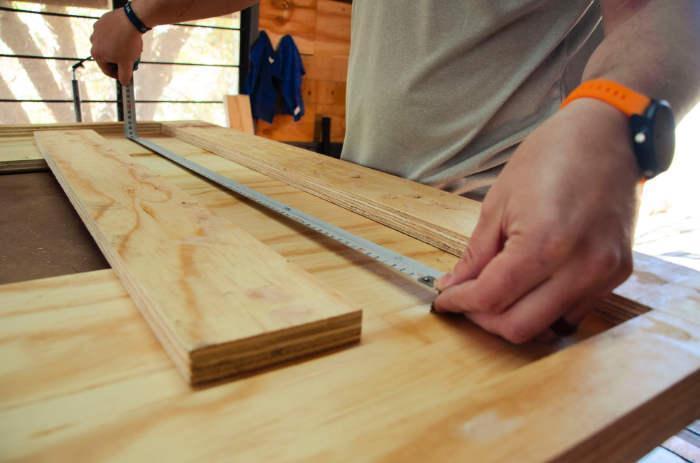 In a way, the experience of a carpenter is a reference to himself. The experience of a skilled craftsman shows that they are good at what they do, and you can expect the remodeling or the renovations to go well.
So when meeting the potential hire, it's best that you ask for their experience. Highly experienced workers are more likely to deliver a better service and complete the job faster than the inexperienced. You may find that hiring an inexperienced carpenter comes at a considerably lower price, and we don't recommend you to consider them unless you are genuinely confident in their skills.
In conclusion, take your time and scour the market for a craftsman with considerable experience in their portfolio. Furthermore, you will notice that an experienced craftsman is going to be much more confident and can do a better job in terms of interactions, work, and discussions about their projects. Experience is a crucial factor in seeing through the renovations that are pretty and unique!
Keeping the budget in mind is essential
The budget is an essential factor in determining whether the deal is going to come through or it is going to fall apart. The best way of saving your time and finding a perfect match for you is to consider your budget.
Be sure to visit the market prior to setting the budget. This way, you would be well aware of the prices and set a budget in which you can pull off the renovations that you want. In fairness, it's also unfair that you expect a renovation job to be done in half the budget required for it. Hence, a visit to a market before setting the budget is necessary. Furthermore, you will also be able to prevent yourself from any carpenters asking for an overpriced estimate on your remodeling job!
Checking the previous projects of the carpenter
This point resembles a bit checking the experience of the carpenter. Before hiring a carpenter, it's essential to review any previous work they have done recently. Reviewing their recent work can give you an idea about how good they are at their job and whether or not you should consider hiring them.
If the projects turn out to be good, all is well as you can expect your remodeling job to work like a charm! Nevertheless, if you are dissatisfied with the quality of their work, you can change the direction before it's too late, and you are left regretting hiring the person in the first place.
Don't hold back the questions
Peace of mind is a necessary aspect before you decide to hire someone. When you decide to hire someone, it's natural for that stream of questions to flood inside your head. You should never hold back and ask every question. You can also test the customer service and predict the interactive experience.
A good carpenter will listen and answer all your queries in a way that will leave you satisfied. However, there are some questions that you can ask them. These questions include solidifying the payment details and payment methods and asking if they take marble laying and polishing work. You can also ask whether water-proofing work is a part of the contract, or you might need an additional budget for it.
Base your decision of hiring the carpenter according to the answers to these questions.
Enquire about the materials the carpenter is going to use in the project
If your remodeling job revolves around wooden furniture, choosing a reliable and admirable plywood brand is an important aspect.
Before hiring the carpenter, ask them about their choice of brand of plywood that they work on. In our experience, the best ones will include the Marine or Commercial plywood. Therefore, it's also important to perform complete research to ask the right questions from the person you are thinking of hiring.
Be specific and tell the carpenter what you really want
Remember, the whole deal revolves around your personal preferences and how you want things to be. So, when hiring a carpenter, tell them clearly what you expect them to do.
This might lead you to ask them some questions, including whether they apply veneer or laminate when finishing up their projects. You can also ask them questions that can help you get insight into the carpenter on the job, and you will also get a sneak peek of what you can expect from them.
Additionally, you mustn't forget to ask whether the carpenter has an offsite workshop for working on the projects. If they don't, you must prepare yourself to deal with all the sawdust. You must also inquire them about the hardware brands they will be using. Ensure that you have heard about these brands before and some reviews vouch for the brand's quality.
Ask and discuss some latest painting trends and styles
With every passing day, some new styles and trends come to the market. Your carpenter is probably caught up on them, which makes it essential to have this conversation with them worth having.
Inquire them about any recent repainting styles and trends to explore any other options that you have. Gaining the insight of the carpenter can help you visualise your plans and choose the one that seems more apt for you. While a carpenter may not offer this, ask them if they have a catalog of the painting trends and styles that they might suggest.
Reviewing the catalog will help you visualize the patterns and trends in the image and leave you to decide which design will look best and what you should consider.
Try finding a carpenter located close to you
Call it a personal preference, but we suggest that your first effort must be hiring a carpenter located close to you. You might find more reliable references from people living close to you, and you might also find it considerably easier to approach them.
However, if you have difficulty finding a carpenter near your place, you can also turn to the internet for help! You can go to any search engine of your preference and search according to your area. For example, if you live in Brooklyn, you can search "carpenter in Brooklyn." You will come across many options, but it's recommended to go for a person with good reviews on websites such as Glassdoor.
Final Words
Ever since the pandemic has struck and more and more people are forced to spend more time indoors, having a fresh and aromatic environment inside a house has become a necessity. Now, there are many breathtaking ideas available that can make your house look trending and stylish and give more space to your house, making it look more spacious.
But to get those changes done to your house, you would need a carpenter skilled enough to pull off any changes that you want to see. This article includes everything that there is to know about hiring an expert carpenter. We are sure that by the time you have gone through this article, you will be caught up on everything that there is to know about hiring a carpenter and how to avoid the ones that can make things difficult for you.
If you have any comments to add about this guide, let us know through the comments section!