Have you ever tried to decorate a room or entire home from scratch? If so, you'll know that it's difficult because there are a lot of decisions to make and they all need to connect and look cohesive at the end. It looks easy on HGTV. So what do you do? Many people end up hiring an interior decorator instead of trying
DIY Room Decor
 but that can be expensive. If you are determined to do it yourself there are a few things you should know before you go out shopping so you ensure a great outcome.
If you feel that you have good taste in home decor but the thought of decorating your entire room or entire home from scratch seems overwhelming, then this post is for you. The task can seem daunting but knowing the basics of interior decorating principles will help how to make good decisions when faced with various decorating challenges.
Interior Design vs Interior Decorating
Notice that the paragraph above mentions "interior decorating" not "interior design". These terms are often used interchangeably but they are not the same. Interior designers are trained professionals and some of their knowledge includes furniture design, space planning, and architecture. Interior decorators on the other hand do not necessarily have formal training and their focus is strictly on decorating and appearance of a room but not structural elements like removing walls etc.
Your DIY room decor should be carefully planned. There are several factors to consider in order to achieve a exceptional results. Everyone wants to have a great looking home, but not all of us know what actually works, read on to discover what important principles you need to take into account before you begin the interior decorating of your home.
1 | Start with a Plan
Get the big decisions out the way first. Do you need to change anything major like the flooring or removing walls? Do you need to paint? Do you want to install or remove windows? Once you have made those decisions, you can move on the the fun part – Interior Decorating.
Take Measurements

Ensure you have a clear understanding of how much space each area of the room has by measuring all the walls, windows, and doors. Note all these measurements on a floor plan of the room. There are plenty of room planning apps and websites that are free to use. Here are A few excellent free and free trial room planners we really like:
Visualize Your Layout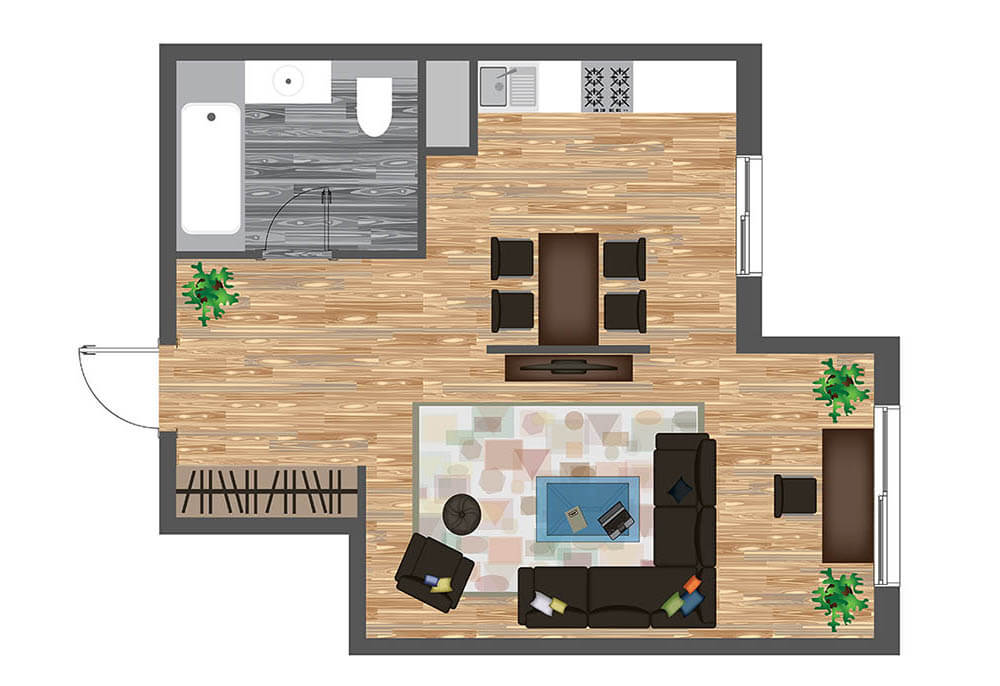 Next, you need to think about the layout of your room's interior design. There are a few ways in which you can arrange furniture in your home – in a centralized location, along a wall, or next to a door. When you have a clear picture of the space's layout, you can then concentrate on choosing furniture that complements it. This task will be relatively easy in some rooms, especially small ones. In a small space, there's a limited number of options for where a sofa can be placed. In some rooms, there is only one logical place to put your television or entertainment center.
There could be only a few logical places where your sofa would belong. In that case, a good starting point is the sofa, and then you build upon that by imagining how other pieces can be used to complement the sofa. With a larger living room, the placement options are greater, and you may have to spend some more time fiddling with the layout until you get the look you want. It is likely that you will have room for two or more seating areas in a large living room.
Room planning apps can be very helpful in this stage as you can quickly try different layouts for your DIY Room Decor. Modern living rooms should be uncluttered. Open space is good space, it's luxurious and that's why so many people love an open concept. It just feels good. A space can be too crowded when it has too many pieces of furniture, so keep that in mind when choosing your furniture and accent pieces. Untrained eyes may not be able to appreciate this but simply go back to your inspirational collection of images. In looking back, you'll see how much the openness and absence of clutter probably contributed to your initial attraction to the image.
2 | Budget Your DIY Room Decor
Decide on a budget for your project and try your best to stick to it. It can easily get out of hand. Furniture is likely going to be the largest part of your budget and luckily, this is and area that has tremendous flexibility. You can find a beautiful accent chair for $150 and you choose one for over $10,000 and everything in between. It's all up to you.
3 | What's Your Style?
Choose a style direction for your DIY Room Decor. What appeals to you most? Do you love Modern Farmhouse style, Mid Century Modern, Boho Chic? There are lots to choose from. If you aren't sure, spend sometime getting some inspiration by visiting Pinterest, Instagram and Google images. Collect the images you like the most and you'll start to narrow it down and then you can choose the direction for your project.
4 | What is the overall feel?
Then decide whether you want the room decor to feel formal or relaxed or somewhere in between. Are you a minimalist or more Boho or something else?
5 | Decide on a key piece of furniture
This is a very important step. A sofa is often the first major furniture decision. If you have your heart set on some accent chairs, a coffee table, or a rug, by all means, start there. This will set the tone and helps to make other decisions much easier. The first commitment makes the other choices easier, simply by the process of elimination.
6 | Strike a Balance
Your room decor should be designed with a balance of harmony and balance. A lack of balance can feel chaotic so you need to take into account colour, texture, layout, patterns, proportions and many more aspects. A symmetrical balance is also known as formal balance or mirror image balance. A more informal balance uses various objects to create balance in a room. This is much more subtle and spontaneous and gives the room a fresh, casual feeling.
The focus point of the room is another important aspect in creating a beautifully balanced aesthetic. Anything that is to be the main focus of the room needs to get enough attention so that it does become that focal point. Upon entering a room, what people initially notice is the focus. They tend to fixate on the focus immediately and this is the first thing they notice. People take in the focus by proximity, colour and layout.
It is also important to keep in mind that subtlety has a large impact on design. It is important to keep in mind that rhythm is another principle that is often overlooked. The continuity of the design affects rhythm. It controls how the eye will move over a room. Repetition is governed by line, colour, texture or form. Progressive rhythm is when the elements gradually increase or decrease in size.
Harmony in your room decor is also important. While closely related to balance, it describes how each element in the room works together to be pleasing visually. Harmony encompasses all the other principles, and it is achieved or destroyed by successfully managing all the other properties as well as finding the right blend. Think about this when you look at inspirational photos that you collected. What is it about the various elements that make them harmonious? Is it color similarities or contrasting sizes, blending of textures? Give it some thought and you will figure it out.
7 | Pay Attention to Proportions
Another element that is crucial is proportion. This includes the size, weight and color. It directly affects the balance of the design. Likewise, scale is essential. You must effectively measure dimensions of the room and the pieces. These two aspects define the size relationships in a room.
In case you are worried about not following these foundational interior design principles, you can always hire an interior designer, you will get a professionally decorated home! Modsy is a great option if you want to hire talented, professional interior decorators.
This can get pricey, but you may feel that is well worth the cost. However, if you're up for the challenge and want to tackle it yourself, just go for it! Good luck! For more guidance on DIY room decor check out the Home Styling Guide.
Here are some other great books about interior decorating that are available from Amazon…