Updated March 12, 2022
If you're looking for aesthetic room ideas for your bedroom decor or dorm room, we've got some creative ideas an resources for you. These include pictures, paintings, wall prints and many more. To save you more time, we have rounded up a few of our best aesthetic room ideas and where you can buy some of it so you can effortlessly adopt some of these diy room decor ideas for your space.
One of the first things that you need to decide is whether you are going to paint walls of your room or not. If you are not going to paint then you already have a color scheme to work with. If you are going to paint, consider doing an accent wall with a different color that the rest of the walls or if you're artistic, paint an interesting graphic or a word that's important to you, perhaps in a cursive font. It's an easy and effective way to create a focal point.
DIY Room Decor
Some people love bright colors, some love vibrant colors and some like it calm with neutral tones. It's all up to you and what make you feel good.
If you are not an artist, you can always go for wall stickers or temporary decals. They are easy to apply on any surface and they are really very easy to remove too. You can use these stickers to create any find of room aesthetic that you want. You can place one or two in each wall and that will certainly make your room really attractive. There are several decorative wall decals available for purchase these days so you shouldn't have any trouble finding what you like. Amazon is a good place to start. All you need to do is select one from the list of designs that they display and place your order.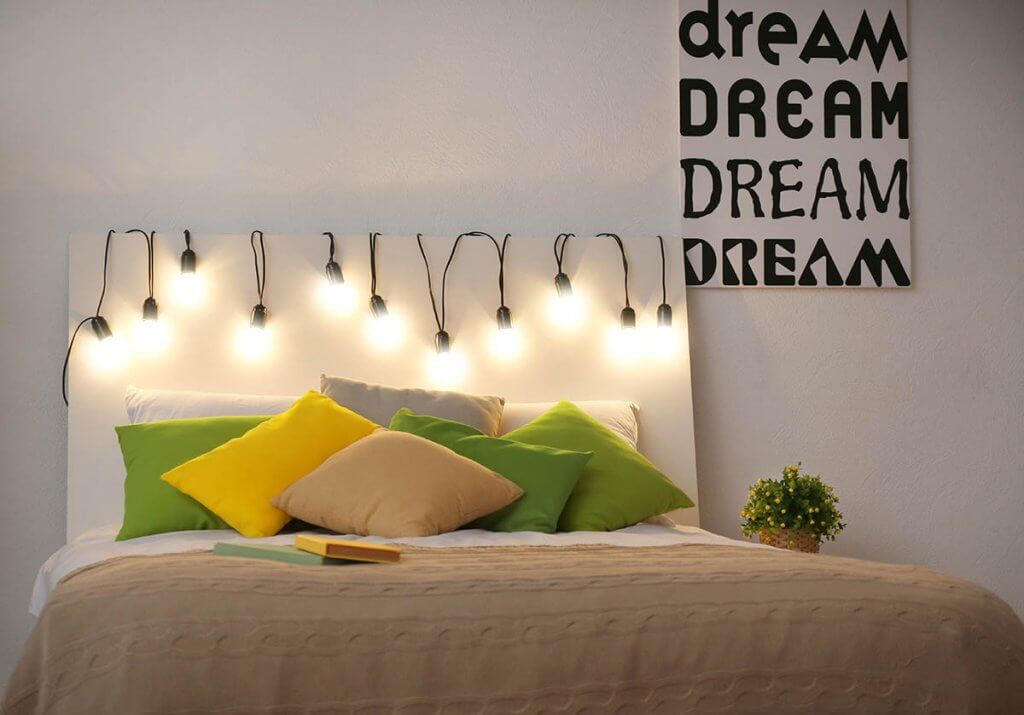 You can also decorate bookshelves with pictures that revolve around animals, cartoon characters, flowers and butterflies. The theme should of course reflect your personality and interests so if music is your thing, then pictures will likely be of music artists, maybe a few vinyl records, or movie posters or your favourite athletes if you are more into sports.
More aesthetic room ideas
You can also get some fantastic aesthetic room ideas to decorate your bedroom using beautiful and colorful wallpaper. There are many websites that will offer you a variety of different wallpaper designs. All you need to do is pick one from the list and make your purchase. This wallpaper is also easily removed and replaced too. When you get tired of it, you can replace the old one with a new wallpaper and easily redecorate the room with a whole new look.
You can also find stencils that will inspire other aesthetic room ideas.  Many of these decorative stencils are free of cost and you can simply browse through the site to find a design idea that you like. Then just download them and print them out.
Aesthetic Room Decor
Our favourite places to find aesthetic room decor items online Amazon and Etsy. There is endless selection and the prices for most items is pretty cheap.
The lighting in a room plays a huge role in the ambience, and LED fairy lights can add an incredible touche to your decor. They don't cost very much and they are super-easy to hand and install. LED lights look amazing hung over sheers and many come with a remote control that let's you change the colors to match the mood plus you can dim them even fade on and off.
Try hanging fairy lights on your wall and using clothes pins to hang your favourite photos on the wires.
Spend some time gathering ideas to inspire and give you some direction before you jump in.
Pinterest is a great resource for this as well as Instagram, Facebook and even TikTok.
Getting some good inspiration from others is very helpful and saves some time. Once you add your own pictures and decorative elements that mean something to you, it will probably come out completely unique and be a reflection of your own personality.
So, have some fun and get started creating your own awesome, aesthetic room decor and turn your room into something uniquely yours.
Check out our recent post "7 Essential Steps for Sensational DIY Room Decor"