The kitchen is one of the most vital parts of your home, so you want it to look great and feel inviting. While remodeling your kitchen can be expensive, there are some easy things you can do to give your kitchen a facelift easily and inexpensively. In this article, we will take a look at some easy kitchen updates that will have a big impact on your decor.
1 | Upgrade Your Cabinets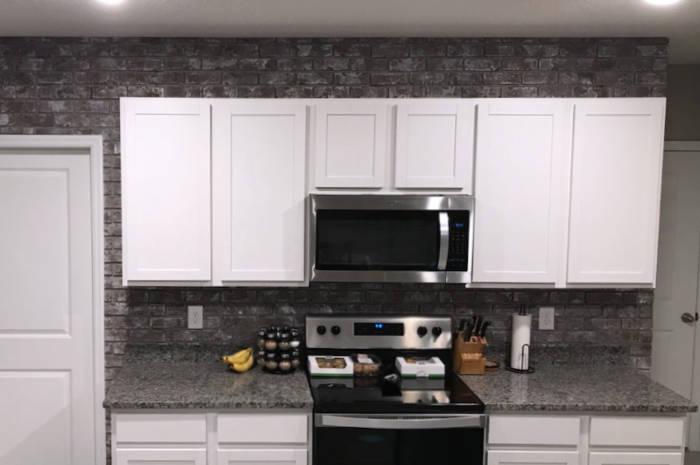 Buying new cabinets can be spendy, but if your old ones are still in decent condition, you can upgrade them instead of buying new ones.
If they are made of wood, you can resurface them and stain them to make them look newer. You can also spray paint your cabinets, which will make them look new and beautiful.
If the structure of the cabinets is still good, but the door and drawers are not looking good, you can replace those instead of replacing the entire cabinet.
These can update the style of your kitchen or give it a new look. They are easy to attach to the existing cabinets, and it will look like you replaced everything to many visitors.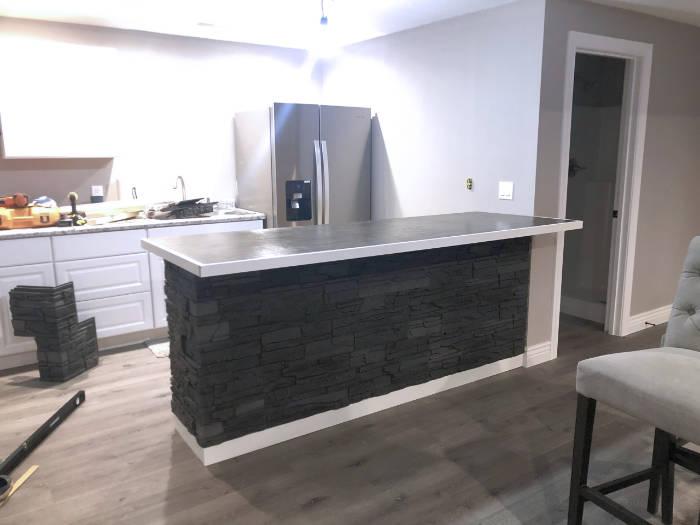 If you have a kitchen island, you can add faux stone to the kitchen island or breakfast bar to give it some depth and character too.
This is an easy and affordable way to get the look and feel of natural stone without the cost or construction timelines that come with natural stone.
2 | New Hardware
When was the last time you looked at the hardware in your kitchen? Are your door and drawer handles still the same as when you moved in? Have you ever changed the faucet in the sink?
The hardware in the kitchen is often overlooked but changing it can make a bigger difference than you might think.
You can update everything to meet your current kitchen style, giving your kitchen a sleek new look. While this can be a time-consuming project, it is easy to do and inexpensive.
3 | Refurbish Your Existing Appliances
A great kitchen upgrade is adding new appliances, but that can get expensive fast.
If getting brand new appliances is not in your budget, you can refurbish the existing ones to make them look newer.
Replace your old stove coils and the knobs on your stove and oven.
You can also replace the handle and knobs on your dishwasher and potentially even the racks in it if they are getting old. You could try to replace the handle on the fridge and possibly the shelves or drawers in it to make it look newer. Then clean and polish the appliances to give them a sparkling new look.
Would you like a bright red stove or a stainless steel refrigerator? It's possible with appliance paint.
Just spray it or brush it on. You should choose spray the stove or range hood for the best results. Make sure the paint is heat-resistant.
It's a great solution if you don't want to invest in new appliances.
4 | Lighting
How good is the lighting in your kitchen? You can upgrade your kitchen lighting by looking for new dimmers, allowing you better control over how much light is in the kitchen.
You can also look into installing some lights under the upper cabinets to light up the counters better.
Also, it is probably time to change your light fixtures. You do not need to just change the fixture types.
For example, you can swap out a ceiling-mounted fixture for a dangling fixture that adds some character to your kitchen and makes it truly yours.
This can be another inexpensive upgrade that can give your space better lighting.
5 | Rethink Your Walls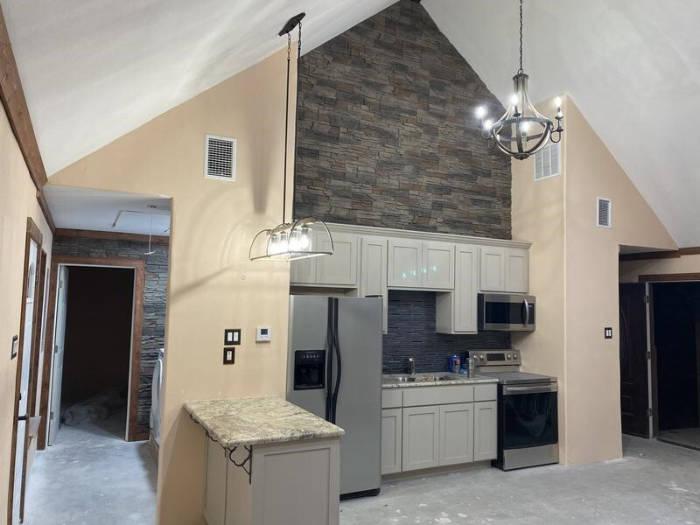 One great way to give your kitchen a facelift is by redoing your walls. The most common way to do this is by giving it a fresh coat of paint, which can make the kitchen feel fresh and clean. However, if you want to get creative with your walls, you can install faux stone for your kitchen walls. It is waterproof, so it makes an excellent backsplash too.
6 | Get Organized
Having an organized kitchen is important. Between the spice cabinet, the pantry, and dishes, you have your work cut out for you.
You can get new shelves in your pantry to keep things organized or get some reusable containers so that everything fits nicely.
Find a place for everything; get as much off of your counters as possible; having open counter space is vital. Maximize your cupboard space to keep things organized. It is amazing what a little reorganization can do for your kitchen's appearance.
7 |  Replace Countertops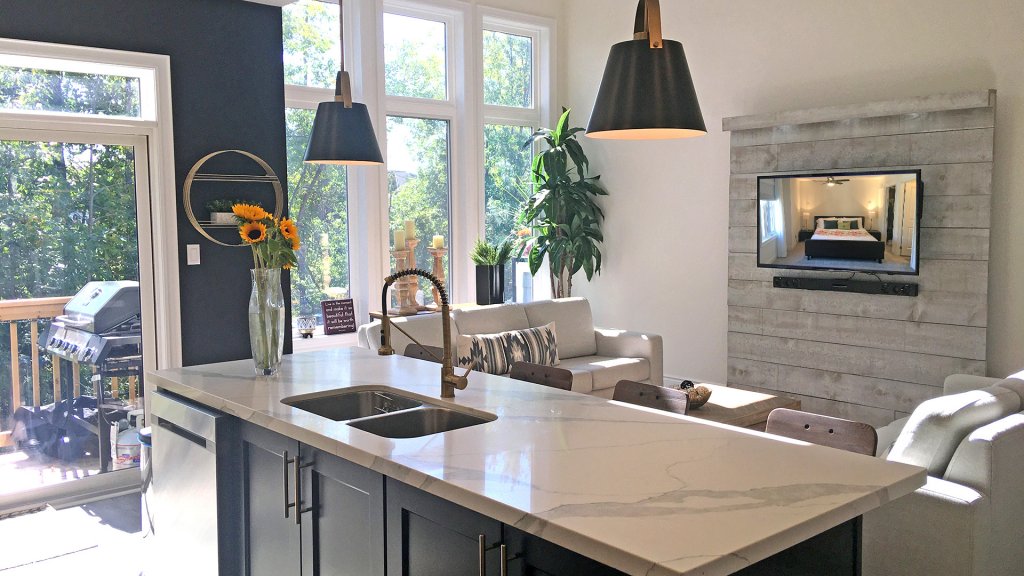 If your time and budget allow, you can replace your kitchen countertops to make them match the new look of your kitchen.
However, this can be an expensive job, so if you need something a little easier and more affordable, you can give the existing ones a slight makeover.
If there is grout on your kitchen counters, it is probably old, so scrape it off and apply a new layer. You can replace some of the older tiles on the counter with new ones that give it a new look.
8 | Add Trim & Molding
The trim and molding in the kitchen are another often overlooked feature that can be easily upgraded. You can repaint the existing molding or install new molding.
9 | Install New Flooring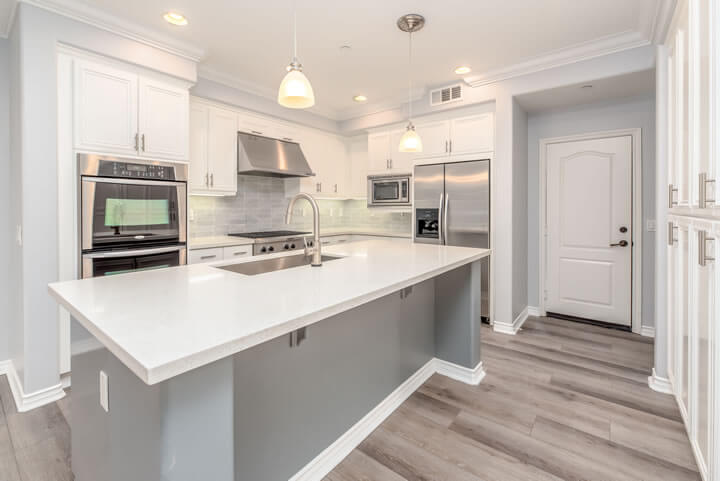 Replacing your kitchen floor is another way to make a major change to your kitchen. If it is wood, you can refinish it.
You can also replace your flooring with laminate, vinyl, or tile.
Final Thoughts
These tips can help you upgrade your kitchen easily, without breaking the bank, and you can do most of these projects on your own. By doing any of these projects, you can get your kitchen a new look and potentially up your property value.
Also check out this handy guide on stone siding.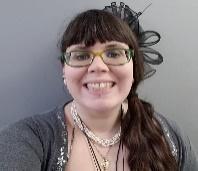 Contributing Author – Auz Burger is a freelance writer and an expert in faux stone and brick veneer and home DIY projects. She has a BA from Washington State University and has been writing and editing professionally for over a decade.