Taupe is a soothing and classic color tone that works well with all types of kitchen and home interiors. However, many a time, we are so used to neutral tones, such as white and beige, that we don't understand how to use taupe color in the kitchen.
Hence, this article will discuss five ways to design your kitchen using taupe kitchen cabinets. Taupe helps you perfectly match tones with other colors, use it on your walls, and rightly match furniture. Let's explore how:
What Is Taupe Color?
Before we move on with the discussion, let's explore what is taupe color?
Taupe is a shade prepared using grey and beige. It is neither falling in the brown beige range nor on the grey tones. It is a soothing, neutral, and delicate rose color complementing multiple shades.
It is amazing how taupe kitchen cabinets have the power to take different forms in darker and brighter variants, which makes them both neutral and luxurious.
How to Design your Kitchen with Taupe?
The taupe color is one of the best selections for your home interior because of its neutral tones. You can use taupe in your kitchen, living room, bedroom, and anywhere in your house. It is so minimalistic yet so elegant that it even makes a perfect choice for your bathroom tiles. The color keeps your space clean, stainless, and new for longer.
However, depending on where you are using taupe in your house's interior, you should vary the intensity of taupe. For example, if you use taupe for your child's nursery, it should be a brighter shade that leads to a lively view in the room.
With this, it is necessary to remember that many aspects contribute to how well this color turns out in your interior, including room lighting, size of the room, other colors, etc.
If you have a narrow room or small room, you can use lighter shades to make it look better. On the contrary, in a big room, a darker taupe works like a charm.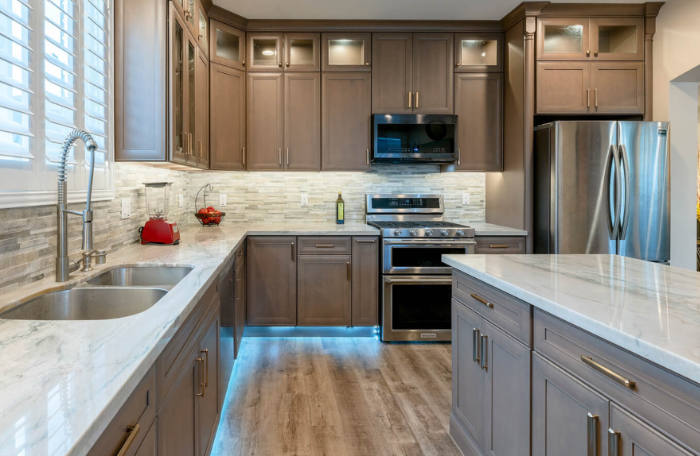 1. Select Right Counterparts
Taupe color, similar to its base shades – grey and beige – has the ability to combine with many shades. This means you have many possibilities for your kitchen design. However, you still need to pick colors from the palette carefully. Here's how you can do it:
Taupe color complements white color to bring out a practical and minimalistic kitchen design, which is elegant as well as extremely cozy.
If you are looking for a romantic and glamorous style for your kitchen interior, then match pastel tones with taupe to bring out the details of your kitchen interior.
Similarly, for bold designs, you use taupe with emerald green and black. These tones are more vibrant and statement styles.
You can create a unique kitchen interior with taupe even when the rest of the house is minimalistic or bold using different shades and colors. That's the beauty of this shade, it can be used in brighter or warmer tones.
2. Use it on Walls
Taupe is a classic and intriguing shade, so it would complement your walls as well. If you have white kitchen cabinets paired with a white kitchen top, then taupe-colored walls would look bright and shiny in your kitchen.
You can enhance these walls with different traditional or contemporary designs, such as silver reliefs, golden clocks, golden mirrors, macrame mirrors, pictures, photo frames, floral decorations, and other such interior elements.
There are so many options that help you create beautiful taupe walls in your kitchen. Just design a 3D for your kitchen and visualize how everything will look before moving forward.
3. Taupe Furniture
Taupe colors are also appealing for furniture designs. If you are placing a dining table in the kitchen, which we all do, then use a taupe dining table or chairs. You can buy a white marble or black table and pair it with soothing or darker shades of taupe chairs.
When you pair this with marble floors and countertop, there's an extra shine in your kitchen. Remember to improve the look of your kitchen with silver or golden centerpieces or modern interior elements.
If you need a cozy environment in your kitchen around the dining area, then in place of taupe furniture, you can use taupe cushions or blankets. These are a perfect addition to a comfortable space. Your kitchen will look soothing, calm, and minimalistic.
4. Classic Taupe Cabinets
One of the best ways to use taupe in your kitchen is through taupe kitchen cabinets. These cabinets cover most parts of your kitchen, and cabinets decide the entire look of your space. Hence. Using taupe kitchen cabinets can give your space a retro and clean look. You can pair it with white walls and a marble countertop. Add some gold or silver to the cabinets if you like to make them bling and shine.
5. Mix and Match
The last option is to mix and match all of the above. For example, you can use taupe kitchen cabinets and pair them with taupe dining table seats. You can also make taupe walls and pair them with taupe furniture.
Conclusion
Taupe is a soothing and neutral color that opens so many possibilities. Explore the above options and check how to match taupe kitchen cabinets with other components in your kitchen.