Are you a Jetson Wannabe?
It was not that long ago, relative to human existence LOL, that we would watch TV shows like the Jetsons and Star Trek that featured futuristic smarthome gadgets and innovations that we only wished we could have.
They had all these cool things that were just dreamed up by writers at that time and what incredible visions they had.
One cool gadget after another would suddenly appear and we were in awe. They had things we still can't make and they sure had a hand in shaping our future.
The futuristic Jetsons cartoon from 1963 was full of labor-saving home automation devices that just grabbed our imaginations and took us for a ride.
They had spectacular gadgets like a robot vacuum cleaner, smartwatches, video calls, drones and flat-screen TVs.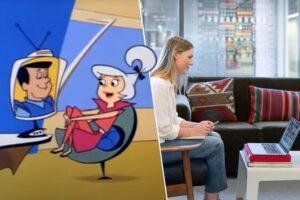 Can you remember wishing that you had some of those gadgets? Maybe you were a Jetson wannabe.
The gadgets were pure fantasy but we all felt like it was all possible and maybe someday it will happen.
So, the future is here and below are some of the ways you can take advantage of the most advanced home automation innovations today to make your new home a smart home.
1. The Smart Hub
If you have a large luxury home, you will probably get a company to install an integrated system for you.
Some of the popular platforms they use are Crestron, Savant and Control4. These are complex that require professional installation.
To install a system yourself, there are many smart hubs available and the list will keep growing but for the sake of this article, we will stick to the 4 most popular Amazon Assistant, Samsung SmartThings, Apple HomeKit and Google Assistant.
There are some excellent smarthome devices listed below here but the first thing you probably need to do is choose a platform hub for all your smart devices.
If all you want to do is have smart lights then you don't need a hub. If you want to do things like have a smart lock, and turn on the lights whenever the lock opens at night, then you will need a smart hub.
A smart hub is also referred to as a personal assistant and one of the main advantages of having one of these is that you don't have to carry your smartphone around all the time.
You can just activate commands using your voice. "Dim the lights please." Please is optional.
Do You Need a Wall-mounted Controller for a Smart home?
Your home automation setup can be controlled from your computer, smartphone or tablet. A wall mounted a controller is not required but it is nice to have one in a fixed position. Imagine that someone is at your door and you want to see who it is but you left your smartphone upstairs. It's nice you know you can go to your wall-mounted controller. You can install several of these in your home if needed.
The Brilliant SmartHome Control is one of the best. Just replace a light switch with the Brilliant controller. It has beautiful touchscreen panels and built-in Alexa making it easy for everyone at home to control all the connected devices, lighting, thermostats, cameras, intercom and more. It is compatible almost any smarthome device.
2. The Smart Doorbell
You don't even need to walk to the front door to see who is ringing the doorbell anymore.
The newest smart doorbells offer tons of cool features that lets you monitor and even converse with whoever is at your door without even being at home.
They are relatively inexpensive and easy to install, assuming your home has already been hardwired to accommodate one.
Once it is installed, you will wonder how you ever lived without a smart doorbell, as they are wifi enabled and connected to other smart systems throughout your home.
3. Locks with Smart Features
Adding a smart lock to your front door will increase security. Smart locks are typically keyless and touch-activated.
You can lock and unlock your door from your phone, in addition to basic features like automatic locking – a great feature if you're the kind of person who often loses their keys or can't remember to give a spare set to your dog walker.
Passcodes can even be created separately for each person who needs access to your home. The smart doorbell is the perfect solution for an added layer of security and ingenuity at your front door.
The ROOK™ 5-in-1 Smart Lock (picture above) has several valuable features including Custom Auto Lock Timer, Unlock with Smartphone, Fingerprint Scanner, Touchscreen Digital Keypad, Key Cards (included), or Keys (included).
It also has Low Battery Status Alerts and a Backup Power Plug.
4. Cameras for Both Indoors and Outdoors
Cameras are one of the most innovative home technologies today, primarily because they increase house security.
Although cameras are often used solely to record what takes place outside a home or to keep an eye on pets when the owner is away, they are actually very useful home security tools (even fake ones). In addition, they're now much cheaper to buy because of their popularity.
Geeni Freebird Wireless Indoor/Outdoor WiFi Security Camera (picture above). It's a Rechargeable Battery-Powered Home Security Camera with 1080P Night Vision/Waterproof, Motion Detection, 2-Way Audio and it works with or without a smart hub.
5. Using Smart Thermostats
Smart homes also focus on energy efficiency.
With a smart thermostat, you can replace your home's current thermostat, which monitors your energy usage over time to determine how much and when your home is typically heated or cooled.
Smart thermostats generally adjust the operation time on their own, limiting energy consumption when you're not there.
You can also use apps that connect to these devices so you can monitor daily and monthly energy usage and make small adjustments for significant energy savings.
6. Smart Water Sensor
Here's a must-have for serious peace-of-mind seekers.
Simply place these sensors near or under anything you want to monitor.
They're ideal for monitoring toilets leaks, water heaters, laundry machines, sinks, fish tanks, dishwashers and sump pumps. Add any other spots in your home that could be vulnerable to water leaks and flooding.
6. Outlets with Smart Technology
When it comes to energy conservation, did you know that even when you aren't using your electronic devices, they still consume power? Often referred to as vampire power, standby power wastes energy over time.
When you use smart outlets, you can take back control of your energy consumption and set up automated rules for this type of energy usage that align with your lifestyle and habits.
This way, you can stand up to vampire power. Besides smart outlets, a truly energy-efficient smart home will also have smart power strips and lights.
7. LED Bulb and Sockets
This is one of the simplest yet most efficient ways to make your home automation feel smarter.
LED light bulbs use about 50 percent less energy than traditional bulbs, and many of them last for decades.
Replacing your old bulbs with LED ones is a simple and cheap project that will save you money on both energy bills and bulb replacements.
A wide variety of dimming options is available with LED bulbs, especially when compared to fluorescent bulbs.
With the smart sockets above you can connect and control the lights through your smart hub so you can use voice commands, use group control so you can control several at once, set timers and much more.
You can add sensors so that lights turn on when you enter the room and off when you leave.
8. Smart Smoke and CO Detectors
Smoke alarm batteries no longer emit the "beep, beep" of a dying battery. Smoke and carbon monoxide detectors that are smart are constantly charging themselves, which ensures they will always function.
There are a few other benefits, too, such as the ability to detect smoke precisely and to notify you via mobile phone if the smoke detectors go off while you are not home.
Many of these detectors can also be integrated with smart thermostats where the heating system will be automatically shut down if smoke or carbon monoxide alarms go off, preventing a worsening of the situation.
The prices can get a little expensive, depending on how many you need to buy, but they are well worth it when it comes to efficiency and peace of mind.
Google Nest Protect – Smoke Alarm – Smoke Detector and Carbon Monoxide Detector (picture above).
A friendly voice gives you an early warning when there's smoke or CO in your home. It also sends alerts to your phone when you're not home.
9. Indoor Herb Garden
Have carefree indoor garden for up to 6 plants. It's easier and 5 times faster to grow your herb garden indoors with one of these.
The AeroGarden Harvest is an indoor garden with LED grow lights and a control panel that tells you when to add water, and plant food. It automatically turns lights on and off.
10. Ventilation Fan with Motion Sensor
Have a the ventilation switch on when you walk in the room and turn off 5 minutes after you leave. Super convenient and a real energy-saver. There are some fans that activate by a humidity sensor if that is more of a priority.
11. Smart Air Purifier
Fill you smart home with purified air. Make sure you get a purifier that is ultra-quiet: This LEVOIT Smart Air Purifier has no lights or noise, just air purifying at it's best.
The HEPA filtration system relieves allergies, asthma and dry throats by trapping 99.97% of airborne particles 0.3 microns in size. Just set it and forget It in Auto Mode.
It will sense any change in PM2.5, and automatically adjusts fan speeds.
12. Robotic Vacuum Cleaners
It is estimated that we spend approximately one and a half to two and a quarter hours each day cleaning and maintaining the house. Isn't that a lot of time spent cleaning when you could be doing something else?
With smart home technology, you can at least save time by skipping vacuuming.
Robots vacuum your home regularly to remove dirt, crumbs, pet hair, and other debris before manually returning to their charging stations.
The best part is that they don't need to be installed. Once the charging dock has been set up, it is ready to go.
13. Smart Garage Control
Open or close your garage from anywhere and give access to neighbors while you're away. Don't worry about whether you shut the garage door, just schedule it to close every night.
14. The Personal Assistant
If you took the advice above and got yourself a smart hub then you're all set to get start creating your smart home. You now have a personal assistant.
You can order your groceries, turn on your stereo, and put your favorite song on your stereo with just a touch of a button without having to get up from where you're sitting.
Virtual assistants today come in small devices that you set on your kitchen counter or nightstand.
Using a system such as Amazon's Alexa or Google Assistant can make your day-to-day easier if you want to automate your home and life.
If you have your credit card connected, it's easy to order products but be careful not to let the kids too chatty with Alexa! It could get expensive.
15. Kitchens with Smart Home Technology
You can't exactly ask your kitchen to make dinner for you yet, but you can access your fridge online so you can see what's inside it while you're at the store or listen to your Spotify playlist while you're making cookies.
Take the time to decide what items you would benefit from most so you can create the best smart home possible for your needs.
In addition to these smart slow cookers, there are also smart plates and forks to help you monitor your food intake when you are watching what you eat.
Always forgetting to update the essentials on your shopping list? When you throw out items, the smart garbage can scans their barcodes and adds them to a list you can take with you.
As you can imagine, nearly every kitchen appliance has a smart home version. Check out Multo By CookingPal (picture below).
It's a Smart Compact Countertop Multi-Functional Food Processor with guided recipes and built-in wifi. It chops, kneads, steams and cooks. It's an awesome All-In-One kitchen gadget.
How to Choose The Best Smart Home Gadgets For You
Creating a smart home in your new home doesn't have to be done all at once if it is not in your budget.
By adding more features, though, you'll be able to reap one of the biggest benefits of the best smart home technology: integration.
Many of these systems interface with each other, so that your security systems, energy efficiency systems, and even your kitchen gadgets (for example, a new LG refrigerator can tell your dishwasher when you have a lot of dishes).
The time has come to live in the house of the future if you have always dreamed of it. The popularity of smart homes is increasing rapidly, and many new and renovated homes will soon include smart features.
Discover which options work best for your home, your budget, and your lifestyle, then turn your home into a space that's both comfortable and efficient.
A Nod to One of The Greatest Innovators of All Time
Thanks to courageous and innovative minds like Steve Jobs, we are here enjoying so many of those things today.
There have been many, brilliant innovators and contributors through the years.
Steve Jobs is mentioned here specifically because it seems like the iPhone was an incredibly significant turning point in technology.
It just opened up many more possibilities for faster innovation.
The iPhone inspired innovative developers to dream up ideas that could tap into and piggyback off this amazing new technology.
An just like that, everyone in the world could be connected to each other wirelessly.
The speed at which other technologies have advanced since the iphone release in 2007 is astounding.
We can do so many things on a smartphone now that it is just commonplace and we would have a hard time getting by without them.
It seems like Smartphones are the remote control to our lives.
We use them to lock our doors, turn on the lights, do our banking, change the room temperature, monitor our homes, and oh yeah, even talk to people. Thanks, Steve!
If you feel that any of these installations are too advanced, consider taking a brief course at Udemy.
They have very inexpensive courses in Home Automation.
There are also many home automation installation services that you can hire to install these devices for you.
Check out our recent post about Cool Accent Wall Ideas.
I this article we discussed smart electronics, smart home automation products, home tech, home technologies, smart home sensors and more. Come back soon for more on home automation setups and scenes.