The increasing popularity of remote work has made home offices an essential environment for many people. A good home office will provide people who work from home with a space that allows them to focus on their work and be productive. This is especially true for people who are self-employed and run an entire business from their home office.
But building a home office that caters to your exact needs can be difficult because of the number of factors to consider. Your budget, the size of your office, your taste in style, and what you'll be doing in your office will all have an influence on how it should be designed. So, whether you're a self-employed start-up or you work for a large agency from home, here are some practical tips for putting together the perfect home office.
How to Set Up a Home Office Space
Don't Sacrifice Function for Form
Remember, your home office should adapt to you, not the other way around. You should feel like your workflow fits naturally into its design. Think about what you would normally do in your office and find furniture that makes it easy to do those tasks. For instance, if you spend most of your day drawing designs or blueprints, then be sure to purchase a desk wide enough to comfortably draw on.
However, remember that the opposite is just as true. Your office doesn't need to be dull and boring in order to be functional. Productivity can still be pretty if you take the time to carefully consider everything you purchase for your office. Don't just purchase a desk because it meets your needs. Instead, write down the dimensions and all of the features you loved about the desk and search for more attractive desks with those specifications. This will ensure that your office is both functional and easy on your eyes.
Get Natural Light
One of the few downsides to working from home is that there are some days when you won't have a reason to leave the house. But it's important for everyone to get some natural sunlight at least once a day. This is why windows and skylights are so important in home offices.
Unfortunately, we don't usually have a choice in where our office windows are located. Instead, we have to carefully design our office around the windows it already has and what light they allow in. Remember to consider the time of day when your office gets the most light when designing it. You don't want intense sunlight to inconvenience you and interrupt your workflow.
Install Ambient Lights
If you tend to work late nights or your office only receives limited natural light, then you should consider investing in ambient lighting. Ambient lighting is intended to provide a room with a consistent level of light without focusing too much brightness on any one particular area. In this way, ambient lighting can have the same effect on a room as natural light. There are several ways to rig up ambient lighting ranging from simple to complicated. One of the more creative ways to bring ambient lighting to your home office is to attach LED strips along the bottom edges of your desk to give the space around it a soft glow.
Keep Space and Equipment for Brainstorming
When designing your home office remember that you'll likely end up collecting more equipment or resources. Because of this, your home office should have some empty storage space built into it so that there is room for your office to grow. If you only build enough storage into your office for what you already have, then you will run out of space very quickly in the future.
Additionally, you should have a space in your office to jot down thoughts and brainstorm new ideas. How this space is designed is entirely dependent on what environment you feel helps you to be the most creative. Anything from a cozy couch and a notepad to a standing desk and a whiteboard will work.
Choose the Right Equipment
For the most part, the equipment you purchase for your home office will depend on what you generally do in it. For instance, let's say you run an e-commerce business and are fulfilling shipments from home. Then you'll need a desk large enough to package products on and room to store USPS flat rate boxes for shipping. Take a moment to consider what specific equipment you'll need in your office before finalizing any designs. But there is some equipment that is important for every home office regardless of what they're being used for.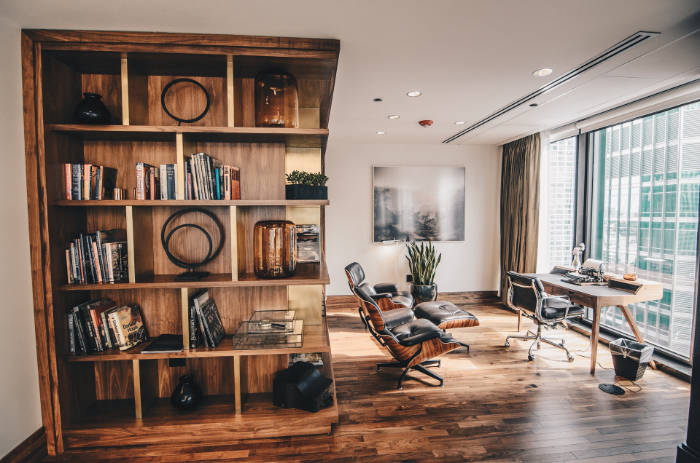 Invest in a Comfortable Chair
Your desk chair is arguably the most important piece of furniture in your home office design. You'll be spending a great deal of time in this chair so it is crucial that you are completely happy with it. Ergonomic features like lumbar support and a memory foam cushion are vital to a long-lasting comfortable chair. If you're shopping for a desk chair online, look for products that offer a guaranteed return window. This way, if you don't like the chair for any reason you can get your money back in full.
Use a Second Monitor
The work we do on computers typically requires a few different applications, resources, or windows. But clicking back and forth between all of these different windows can be annoying and impede productivity. Condensing all of the work we do onto one monitor is both frustrating and inefficient.
Fortunately, most computers allow for more than one display, meaning we can connect a second monitor and double our digital workspace. A second monitor will streamline your workflow by allowing you to access more applications or resources at once. This means less time is spent clicking between windows and more time is spent getting things done.
Add Some Greenery
Plants are the most overlooked aspect of home offices because their benefits can be very subtle. Plants bring a bit of the outdoors into our offices and are proven to improve moods while working. In fact, one of the primary reasons that many major offices feel so dull is because they don't have much greenery in them. Adding plants to your office is an easy way to relieve some stress and beautify your home office.
Also check out Best Ergonomic Office Chairs For Your Home Office